---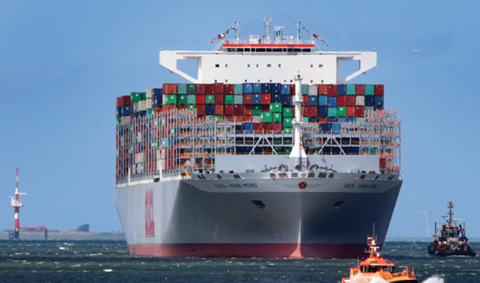 Will China's ambitious global development programme provide unprecedented opportunities for infrastructure investors? Christopher O'Dea reports
Four years after Chinese President Xi Jinping introduced the One Belt One Road policy – and just weeks after the Communist Party of China elevated Xi to the same plane as Mao Zedong – investment managers seeking profits along the New Silk Road are honing their navigation skills and gearing up for a long journey.
President Xi appears likely to influence Chinese policy for decades. While that is longer than the time horizons of many investment strategies, it is not beyond the bounds of what institutional investors consider when developing their asset allocations. Investment managers tell IPE Real Assets that, although there are relatively few direct Belt and Road infrastructure projects to invest in at the moment, the important question for asset owners is: how will the financial and economic impact of the Belt and Road policy alter the investment landscape, and what new investment opportunities – and risks – will institutional investors face as China continues to reshape global commerce?
"At this stage, it's hard to identify a list of specific One Belt One Road projects, their risks and potential returns," says Ross Israel, head of global infrastructure at Australian fund manager QIC. The initial stage has established official financing vehicles and procedures, and Israel expects the recently concluded 19th Congress is likely to lead to a quicker pace of implementation across Asia Pacific. But there is no doubt the Belt and Road theme "is shaping the environment", he says.
A recent QIC research paper concludes that China's Belt and Road policy marks a "shift of global economic power from the West to the China-driven East". Infrastructure has played an important role in China's rapid development and will continue to do so. But as this activity slows, China's Asian neighbours are embarking on their own development drives – and China is well positioned to capitalise on the demand for construction expertise.
Under the Belt and Road initiative, QIC says, China is seeking to deploy capital to build and control the infrastructure it needs along its trade routes. These investments will most likely be ports, pipelines, freight railways and energy infrastructure in some of the 69 countries included in the programme. Investors, says Israel, are working to assess "where we would look in a particular country, with the right linkages for the Belt and Road policy to enhance investment opportunities".
Despite the lack of immediate opportunities, managers are evaluating how to adapt existing strategies, and are developing indices to encompass what will be a wider investable universe. Capital flows to major projects are expected to come from Chinese state-owned enterprises, special-purpose Chinese financing vehicles such as the Silk Road Fund, and multilateral lenders, including both the Chinese-backed Asian Infrastructure Investment Bank (AIIB) and the infrastructure programmes of western development finance institutions. Those flows will shape the economic prospects of recipient countries, and influence the type of investment opportunities that arise along the New Silk Road.
What is the Belt and Road initiative?
China's One Belt One Road initiative is a major Chinese project introduced in 2013 by President Xi Jinping. Conceptually comprised of a land route from Asia to China, the Silk Road Economic Belt, and an ocean route lane across the Indian Ocean to Africa and the Mediterranean Sea known as the Maritime Silk Road, the project calls for economic co-operation and development between China and the countries along the route. The moniker recalls a network of trade routes formally established during the Han Dynasty of China.
The Belt and Road though, lacks a precise definition or a list of projects. Some Chinese scholars say it is a national philosophy that Chinese officials use in the same way US officials refer to freedom. China has not let semantics deter investment, and several state-owned companies in the construction, port, shipping and power sectors have rapidly expanded the Maritime Silk Road into a 21st century network of commercial, and increasingly, political influence. Land-based projects requiring property transfers take longer to execute, and many areas of Central Asia are difficult to access.
There is a strategic payoff to the maritime investments as well. Most of China's energy and raw materials, much of its food supply, and the large majority of its manufacturing exports must pass by ship through a few narrow ocean passageways like the Strait of Malacca between the Malay Peninsula and the Indonesian island of Sumatra. Belt and Road investments help China mitigate this: energy pipelines across Myanmar to southern China offer an alternative route, the development of road, rail and port assets along Thailand's east coast offer additional transport options for imports and exports and, in both cases, China gains political influence in neighbouring countries.
While most countries in the Belt and Road route need the infrastructure investment China offers, there has been opposition to the amount of control and economic power that China garners through the bi-lateral deals typically used in Belt and Road transactions. The port minister of Sri Lanka resigned during tense renegotiations of the terms and cost of a Chinese state-owned company's stake in the port of Hambantota, citing, in part, concerns that China might convert the struggling commercial port to a military base.
Such concerns are not unfounded – China's dual-use economic policy seeks both commercial and military value from its industrial and technology investments. Last July, the Chinese navy deployed troops to the port it built in Djibouti in east Africa – it was the first overseas deployment of troops and is unlikely to be the last. Chinese policymakers believe the country must protect its expanding commercial interests along the Belt and Road, and the country's naval presence is fast expanding.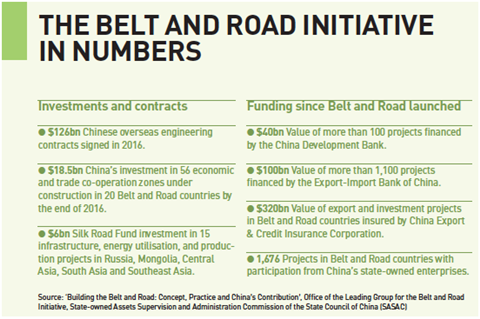 Financially, the Belt and Road initiative has spawned the $40bn (€34bn) Silk Road Fund and the $100bn Asian Infrastructure Investment Bank (AIIB), a new multilateral agency founded by China. But investment by Chinese state-owned enterprises (SOEs) dwarfs those sums: Moody's estimates that Chinese entities have provided over $750bn in Belt and Road-related financing through 2016, and the China Banking Association estimates that three state-owned banks plan to provide more than $525bn in loans and equity investments to more than 1,000 projects.
This leaves limited opportunities for western investors to directly finance infrastructure projects. For institutional investors, capital flows from China are generating opportunities beyond the direct infrastructure sector, but those flows promise to reshape the global investment landscape, presenting new regional and macro risks as the next chapter of the Belt and Road story unfolds.
Filling the vacuum
The Marshall Plan was devised by Secretary of State and former Army Chief of Staff, George Marshall, to rebuild Europe's infrastructure after World War II. Followed by the International Monetary Fund, the World Bank and the World Trade Organization, it kick-started a rules-based international system based on free trade, open seas, and multinational development finance under the rule of laws based on liberal democratic principles for forming alliances and resolving disputes.
Today, China is filling a vacuum. "The pullback by the US from the strategic international role it has played in the post-war period is a great opportunity for the Chinese," says Marcel Saucy, a senior partner in Zurich-based shipping investment firm Fincor Finance. President Xi, he adds, "is the right leader at the right time".
With the Belt and Road, China has created a parallel universe. Despite stiff, yet clumsy, opposition from the US, China's new multilateral lender, the AIIB, has more than 80 members, including US allies like the UK and Germany. There is no doubt about the need for infrastructure finance along the Belt and Road. The Asia Development Bank has estimated that developing countries in Asia Pacific will require $22.6trn in infrastructure spending between now and 2030 to maintain growth momentum – or $26trn when climate-change mitigation and adaptation costs are incorporated.
While it is not entirely clear how Belt and Road will develop, its recent elevation makes it the blueprint for Chinese economic and foreign policy for the foreseeable future. A new and distinctly Chinese approach to global infrastructure development is emerging, in which the Maritime Silk Road plays a significant role.
The explicit maritime focus is a unique feature of China's globalisation plan, illustrating the country's historical desire to gain control over seaborne trade in food, energy and manufactured goods its economy depends on. Earlier this year, Chinese state-owned shipping, port and power companies began increasing their investments in ports, container terminals and logistics facilities – the surge is being supported by alliances between Chinese and western port and container shipping companies and financing from Chinese state banks, and has ample ideological backing.
At the first Belt and Road Forum in Beijing last March – attended by 29 countries and the heads of the United Nations, International Monetary Fund and World Bank – Xi pledged a major funding boost to the programme: an extra $14.5bn to the Silk Road Fund, $55bn in loans from two state policy banks and nearly $9bn in direct aid to developing countries and international bodies in countries along the route. In addition, Xi said China would encourage financial institutions to expand overseas lending by about $40bn. An added attraction is that China's Ministry of Commerce projects that China will import $2trn of goods from Belt and Road countries over the next five years.
Despite ample funding, the new system looks very much like a one-way street. China will use alliances where it suits its interests, such as the formation of a Chinese-Malaysian port alliance to develop maritime logistics, and the restructuring of the container shipping industry into alliances to dominate ocean routes between Europe and Asia. But loans and finance from China are usually bi-lateral deals, which give rise to bi-lateral political leverage, with project terms negotiated by Chinese entities – often state-owned companies – instead of being specified and funded through open procurement systems.
Grabbing fewer headlines, but potentially more important over the long term, has been the establishment of China-Africa Joint Arbitration Centers (CAJACs) to settle legal disputes without resorting to EU-based forums like the International Court of Arbitration in Paris. The centres have been endorsed by the Chinese legal association that advises the Chinese government as a post-colonial system to help redress infrastructure under-investment during the colonial era; the China International Contractors Association says its members now derive 40% of their revenue – more than $82bn – from Africa, and they look to the CAJACs for help.
Under the banner of the Belt and Road, Chinese SOEs are creating one of the most extensive maritime networks in the world, acquiring strategically-located port assets in countries in the Indian Ocean, the Middle East and Africa, the Mediterranean and northern Europe, and Latin America. Chinese companies provide the capital to build or upgrade commercial terminals, and then direct container traffic to those port.
Typically, Chinese companies secure control of port investment and development decisions by acquiring port operating concessions from governments or by acquiring port agencies that hold those concession contracts. Other Chinese SOEs then often make investments to enhance or construct land-based transportation routes, electrical power assets and specialised facilities such as ship repair and wheeled-vehicle docks.
The most complete example of this new approach is the acquisition in 2016 of a controlling 67% stake in Piraeus Port Authority (PPA) by China COSCO Shipping. China COSCO began investing in a single terminal at Piraeus in 2009. In a 2014 visit, Chinese Premier Li Keqiang had vowed to make Piraeus the western anchor of the new Maritime Silk Road. Last summer, according to Greek business media, COSCO proposed at the port authority's AGM to change the company charter to allow board meetings to be held in China; despite objections by the Greek government, COSCO made the change since it held a controlling stake.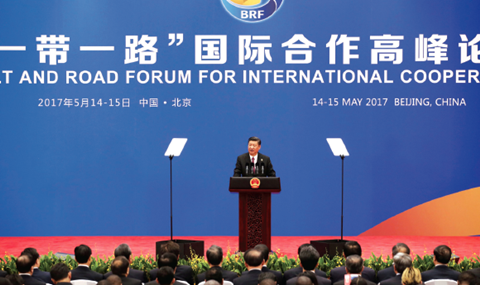 The Piraeus situation illustrates how China determines where to deploy capital. China demonstrated that its SOEs will capitalise on economic weakness in OECD nations by using development techniques typically applied to frontier and emerging nations. The sale of PPA was a master-concession form of privatisation of the state-owned port company, according to economists Athanasios Pallis and George Vaggelas. It enabled COSCO to act as owner, regulator, manager and operator of the entire port, supplanting public control over the port, they say.
Rare for European ports, master-concession privatisations are usually done in developing countries, according to Pallis and Vaggelas, but Greece opted for a master concession because of the severity of the economic problems facing the country after the 2008 financial crisis.
Supporting investments soon followed.
Last summer, the China Development Bank, the country's primary development lender, agreed a memorandum of understanding with the Greek Public Power Corporation, the largest power producer and electricity supply company in Greece, which is planning geothermal power plants – the agreement was reached shortly after State Grid Corporation of China acquired 24% of Greece's power grid operator for $356m. That brought total Chinese investment in Greek port, telecommunication and photovoltaic assets to $1.3bn, according to China's Ministry of Commerce.
In fact, Chinese entities made more than half of all acquisitions of global terminal assets in late 2016 and early 2017, according to shipping consultancy Drewry. COSCO has been rapidly expanding its network in the Mediterranean, acquiring a 40% stake in a joint venture with Maersk Group's APM Terminals in 2016 to build and manage a new deepwater terminal capable of handling the world's largest container ships at Vado Port in Italy. The first new facility in Italy in decades, the port will connect to road and rail links including the new Gotthard pass tunnel to reach a 70m consumer market in southern Europe.
In June 2017, COSCO acquired a 51% stake in Noatum Port Holdings in Valencia, Spain from Truria Port Investment Holdings, a Spanish-incorporated holding company for assets principally engaged in terminal operations, owned by JP Morgan Global Alternatives (67%) and APG Asset Management (33%), according to COSCO filings with the Hong Kong Stock Exchange. The assets of Noatum include Spanish container terminals in Valencia and Bilboa, and two associated rail lines that required substantial investment.
The Noatum situation illustrates that there is an element of timing for China's Belt and Road effort. Infrastructure investors say the port sector in particular has become more competitive in recent years, requiring large capital outlays to accommodate bigger ships and automated loading and container-yard equipment to compete with the automated facilities being built by Chinese companies.
One global investment manager notes that ports, seen as a source of reliable long-term income from multi-decade concessions only a few years ago, are now vulnerable to automation trends or changes in other parts of the supply chain, like road and rail access.
A major driver of the Belt and Road policy is the need to employ the large Chinese construction companies formed to build the cities, roads and airports as the country rapidly modernised. One analyst noted that China has become the world's low-cost specialist in managing and building large projects, presenting a challenge to private investors that must generate market-rate returns. In fact, Drewry contends that COSCO may have to write down the value of its stake in Noatum because of the difference in the cost of debt and equity capital. The deal will increase the amount of equity in the capital structure, reducing the value of the significant amount of goodwill on the balance sheet.
But such issues may not slow the pace of Belt and Road investment. According to Neil Davidson, senior analyst for ports and terminals at Drewry: "Chinese players are more comfortable with risk than the established international operators right now." The reason, he says, is they "have a geo-political strategy rather than a purely financial one". More important than putting idle construction crews to work – and distinct from promoting an open trading system – the Belt and Road initiative will help China to reduce its dependence on global shipping, which uses a handful of narrow maritime passages, according to a study by Huadong Normal University.
To protect its expanding commercial network, a former director of China's State Oceanic Administration in 2014 called for China to establish a port network, either by building or leasing facilities, that would enable the Chinese navy to sustain a presence in strategic locations in hostile conditions for extended periods of time in order to ensure Chinese commercial traffic could navigate key straits without interruption.
Such considerations can cause concern in countries that receive Belt-and-Road investment. Sri Lanka's former port minister resigned last summer due to unease about the potential for China to use a massive new commercial port at Hambantota as a naval base. The issues arose during restructuring of the project. Facing $8bn in debt to China for loans to rebuild after its civil war, Sri Lanka agreed to a 99-year lease of an 85% share of Hambantota port to state-owned China Merchants Port Holdings for $1.12bn, and assured India the port will not be used for military purposes. In July, Greece embarrassed the EU when it did not support an EU resolution in the UN that would have criticised China's human rights record.
China is taking steps to alleviate such concerns. Last summer, Athens News Agency, the Greek state's media arm, organised a "New Silk Road Forum" that characterised Chinese investment in Europe as an opportunity rather than a threat; according to China's state news agency Xinhua, the event was attended by 25 state news agencies from countries mostly in Southern and Central Europe, including Spain, Italy and Greece.
Whatever the opportunities, the Belt and Road initiative will remain an instrument of Chinese national policy. The 19th Congress brought personnel with Belt-and-Road experience to the pinnacle of power. In June, Shanghai mayor Han Zheng headed the Chinese delegation to Piraeus that signed a new strategic coordination agreement between COSCO, Shanghai Port and Piraeus Port. Han was also Shanghai party boss, and advancing the Belt and Road initiative proved to be a winning career move – in October the Party named Han to the Standing Committee of the Politburo, making him one of the seven most powerful men in China.
Whether the Belt and Road initiative brings similar benefits to private investors remains to be seen. "This is a serious long-term plan," says Saucy. "It will be implemented over the next 20 years."
A taste for luxury
The rapidly expanding middle class in China has a huge appetite for western products. Christopher O'Dea reports
The growth of the middle-class in China is creating opportunities for both domestic and overseas property investors who stand to benefit from changes in consumption as wages rise.
Marco Polo would have been proud to see the popularity of Italian luxury brands on offer at Chinese designer malls built by Silk Road Holdings, a retail property joint venture advised by TH Real Estate. Mike Sales, head of TH Real Estate, the largest institutional investor in designer outlets in Europe, says: "We noticed that most of the consumers who went to these malls were Chinese. We felt that the desire of middle-class Chinese consumers to own branded goods would resonate very well".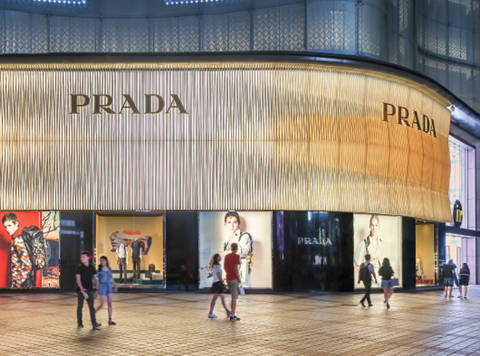 In 2011, TH Real Estate, together with its European outlet partner RDM, invested in Jingjin Luxury Designer Outlet. Dubbed Florentia Village, it was the first designer outlet mall in China to feature Italian architecture, canals and fountains. Florentia malls have since been built in Shanhgai, Guangzhou, Hong Kong, and Wuhan in Central China. "They're quite a sight," Sales says. "We've got top brands operating in those sites, and sales have been very encouraging."
Florentia Chengdu is due to open late this year, and its counterpart in Chongqing in 2018. Investors in this 21st century Silk Road project include Italian fashion company and RDM parent Fingen Group, Luxemburg-based China Outlet Mall, Gaw Capital Partners of Hong Kong, an affiliate of Sino-US supply chain, retail and apparel company Waitex, and a major US institution.
And the growing middle-class in China provides a tailwind to PGIM's agricultural property strategies.
There is an ongoing secular increase in demand for food around the world, says PGIM's David Durning. As wealthier consumers in China and other emerging markets add higher-quality food to their diets, demand for productive agricultural property increases.
PGIM invests both debt and equity in US agriculture, growing everything from row crops like corn and wheat to permanent plantings like fruits, nuts and vineyards. Like other forms of commercial property, agricultural land generates cash flows. "The difference is it's a diversifier for portfolios," Durning says.
China's Belt and Road initiative: New routes to profit
1

Currently reading

China's Belt and Road initiative: New routes to profit

2

3