Do the multilateral development banks, led by the Asia Infrastructure Investment Bank (AIIB), provide the answer to getting private institutional capital invested in Belt and Road projects? Christopher O'Dea reports
Many projects along the New Silk Road are unsuitable for institutional investors, who are constrained by credit quality limits, performance objectives and portfolio risk metrics.
Multilateral Development Banks (MDBs) – led by the Asian Infrastructure Investment Bank (AIIB), but including western institutions – are working to change that. The MDBs are pressing ahead with programmes and procedures aimed at reducing the risks – and costs – of bidding to design, build and operate roads, water systems and other critical assets in countries that might suffer from weak legal systems, political strife or volatile budgets.
In general, the programmes provide credit insurance or other forms of protection to attract private institutional co-investment in transactions originated by the multilateral. Typically, the MDBs provides a limited first-loss guarantee on its debt investments to meet the risk-reward profile that institutional investors require.
Such programmes are one step in the right direction for MDBs, says Christopher Heathcote, head of the G20 Infrastructure Hub that the group established in Sydney following the 2014 G20 summit in Brisbane. "The MDBs have been crowding out private capital, instead of crowding it in," says Heathcote, who is also working with AIIB to develop a transparent, reliable infrastructure procurement process for countries along the Belt and Road. "There's not enough money in the public sector around the globe to meet today's infrastructure needs," he adds. Closing the infrastructure gap "will need to be done in tandem with the private sector".
Some private investment managers are making significant allocations to MDB programmes. One that has attracted significant commitments is the Managed Co-Lending Portfolio Program of the World Bank's International Finance Corporation (IFC). Launched in 2013 with a $3bn (€2.6bn) capital commitment from the People's Bank of China, the MCPP concept was extended in 2016 to create an infrastructure platform aiming to mobilise $5bn through 2021.
The platform allows private-sector investment managers to invest in loans to infrastructure projects in up to 60 countries. A private-sector fund is established to invest in IFC-originated 'B loans'. The IFC then invests in the private-sector fund in a first-loss position, subordinated to senior investors, which improves the risk position of the senior investors to an investment-grade profile, according to an IFC loan syndication presentation.
Private investors have stepped up. Eastspring Investments, the Asian asset management business of UK insurer Prudential, agreed this summer to invest $500m in MCPP Infrastructure. The company set up the Eastspring Infrastructure Debt Fund as the vehicle to invest in the loans. In October 2016, Allianz established its own debt fund to invest $500m in MCPP Infrastructure.
The IFC aims to raise the $1bn by the end of 2018. At a conference in Hong Kong in September, IFC CIO for infrastructure and natural resources, Ram Mahidhara, said he expected the second tranche to be raised more quickly due to increasing interest from insurance companies and sovereign wealth funds. The MCPP approach helps close the gap between the credit requirements of developed-market investors, which steward the majority of funds targeted for infrastructure, and the credit profiles of projects in emerging and developing markets, which have the greatest need for infrastructure finance.
The World Bank expects the Belt and Road initiative to stimulate additional opportunities. At the September meeting of the '1+6 Roundtable', a conference of the leaders of six multilateral finance agencies convened by China in Beijing, World Bank president Jim Yong Kim said: "The Chinese initiative of the economic belt of the Silk Road catalyses infrastructure investments." Belt and Road investments "can bring substantial development benefits to participating countries through improved infrastructure, greater trade, and higher cross-border investment", he added. "We applaud One Belt One Road, and we're working to support it in any way we can."
Hub and spoke
As chief executive of the G20 Infrastructure Hub, Heathcote's mission is to encourage private investors, governments, and multilateral lenders to pull on the same oar in order to bring more capital to infrastructure projects in countries that do not automatically tick the same boxes for risk control, return potential and credit quality that institutional investors are accustomed to finding for projects in developed markets.
The Infrastructure Hub stemmed from the concerns about the lack of global economic growth that arose at the G20 meetings in Brisbane in 2014. Recognising that monetary stimulus and fiscal measures had been pushed as far as they could go, the group set its sights on increasing investment as a way to boost growth rates. "One of the most effective ways to invest to create growth is through infrastructure," says Heathcote. "You get the initial bump from the work being done, you have jobs created by managing the infrastructure, and most importantly – if you've correctly specified and chosen your infrastructure – you end up with an economic benefit to the country in terms of productivity."
The attraction is clear: $94trn is needed globally by 2040 to keep the world's infrastructure healthy, yet $15trn of that might go unfunded, based on current public spending trends, according to the Infrastructure Hub. One fact that has quickly become clear is that there is plenty of private capital targeting infrastructure, but too few projects that investors are willing to bid for. It falls to Heathcote to increase the flow of fundable projects that could help close the gap. "I sit in the gray area of being a public-sector and a private-sector body, to help the public sector understand how to more efficiently and effectively link with private sector capital to create the infrastructure they need," he says.
Asia alone will require $52trn – more than half of the capital needed globally by 2040 – to build or maintain adequate road infrastructure, utilities and other services to support growing urban populations. And in Asia, the Belt and Road policy has focused investors' attention on the potential to invest in infrastructure projects funded by Chinese capital.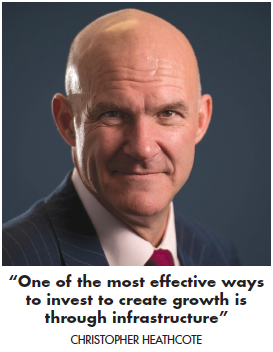 Western investors face several hurdles. "It is hard to look at One Belt One Road and see a truly coherent economic picture," Heathcote says. "The original Silk Road was a mechanism for getting goods from China to the west, and vice versa. It had the benefit of people using the road, so the countries along the route had the incentives to make sure the road was maintained in good condition and was policed, so it was a fantastic piece of infrastructure based upon economic necessity."
The Belt and Road is very different from the Silk Road. Heathcote sees "an interesting and varied group of projects, spread across the globe, that help link 'China Inc' with other countries".
One issue for private investors, Heathcote contends, is whether BRI projects are well-suited to the economic needs of the country receiving Chinese funding. "It's not clear to me how many of the projects have been created in active collaboration with the countries in which the project is going to be sited." Countries along the New Silk Road, he contends, need to be able to say, "irrespective of where the money is coming from to build these projects, we need to be comfortable that these would be the next projects that we would build". In addition, countries "need to be comfortable that the amount of revenue, tax revenue, that these projects are going to create are sufficient to pay for the infrastructure".
Heathcote emphasises that raising those concerns is not to suggest such negotiations are not taking place, only that it is unclear whether the process is taking place. Facing that uncertainty, "I don't see [the Belt and Road initiative] as naturally attractive to overseas investors and overseas developers", he says. Both land and maritime components are "being prosecuted through the massive and powerful Chinese contractor base, and the powerful China Development Bank", he adds. For perspective, he notes that, in 2016, multilateral development banks deployed $35bn in capital, while the China Development Bank deployed $250bn. "This is a very powerful beast."
Some contend that Chinese companies have a comparative advantage in the planning, execution and management of large-scale infrastructure projects, and that having such assets built by Chinese firms will be an economic benefit to recipient countries. But the dominance of Chinese state-owned and financed companies raises a second issue – the procurement process. "If a bidding process is not transparent or clear, then the international bidders just won't go there, because it costs a large sum of money to bid for one of these projects," Heathcote says. For the Belt and Road initiative to generate "investment opportunities for the west, it needs to be clear what the rules are", he adds. "At the moment, I think that would be difficult to say."
Seeking to improve the process, Heathcote is working with AIIB, which he says will play an important role. "Through its very diverse international ownership structure, we believe AIIB can have a very powerful impact on making sure projects are well planned, making sure that consultation is done to a high standard, and making sure that the projects that are being built are actually projects the countries need."
Such improvements would help close the infrastructure gap by attracting a broader bidder base to competitive tenders that will lower costs over time. Heathcote is confident the governance structure of AIIB will enable adoption of transparent procurement practices. And the Hong Kong Monetary Authority has established the Infrastructure Financing Facilitation Office to promote Hong Kong as a sort of information clearinghouse for infrastructure investors, including a co-operation agreement with the G20 Hub. But questions remain. "Whether China will be open to this becoming a very open bidding process, I don't know," Heathcote says.
Inside the AIIB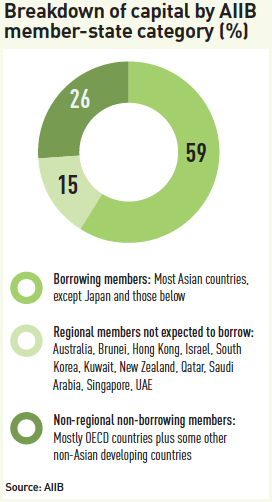 Little more than 18 months since its founding, the Asian Infrastructure Investment Bank remains a newcomer in the world of multilateral development banks. But the institution has already taken on a life of its own, charting a course that follows the path set by Western banks rather than working in tandem with China's state-owned bilateral lenders. The AIIB's success at attracting members, including 12 from outside Asia, prompted China to accept compromises pressed by EU members, such as environmental standards resembling those of the World Bank.
AIIB's governance, similar to other regional multilateral banks, is low-risk, according to Fitch Ratings. A board of governors and a board of directors act as the main governing bodies, and major decisions require a majority of two-thirds of the governors. The bank's president, elected by the governors, can serve two five-year terms.
The bank aims to finance projects in emerging Asia, mostly through loans and equity participations. It targets total loans of $50bn (€43bn) by 2027 and $2.5bn in equity participations, once operating at full speed. About 60% of loans are expected to be made to sovereign or sovereign-guaranteed projects, Fitch says, concentrating on energy, power, transport and telecommunications projects in emerging Asia.
As of July 2017, AIIB had participated in projects totalling $17.2bn, with the bank taking a $3bn share. Fitch says AIIB's capitalisation is excellent and, as of October, assigned its long-term borrowings an AAA rating.
China's Belt and Road initiative: New routes to profit
1

2

Currently reading

China's Belt and Road initiative: Lenders on the front line

3