Superannuation funds are under pressure to invest in domestic infrastructure, writes Florence Chong
Australia's superannuation funds silenced their critics in the government last year when they invested about AUD26bn (€18bn) in two infrastructure deals. The public display of financial muscle has – for now – hushed debate in government circles and the public on the role of superannuation funds and ownership of public infrastructure.
For international investors, these developments could be seen as a sign of an emerging 'economic nationalism' in Australia – a response to populist sentiment that critical infrastructure should not be sold to foreigners.
There was public outcry when Australia came close to selling its largest electricity network, Ausgrid, to Chinese bidders. Controversially, in what was seen as a blatantly political move, Australia's Treasurer, Scott Morrison, blocked the sale, causing outrage in domestic and international investment circles.
Morrison told Australia's super funds to put their hands in their pockets to keep the assets in Australian hands. In an interview, he talked of public frustration that not enough of the $2trn in the super funds is being lined up on such deals."So there is an opportunity now," he said. "I would like to see them appearing in the next round of transactions."
AustralianSuper, the country's largest fund, together with fund manager IFM Investors, answered Morrison's call in September last with an unsolicited bid to buy 50.4% of Ausgrid. The asset is now theirs for AUD16.2bn.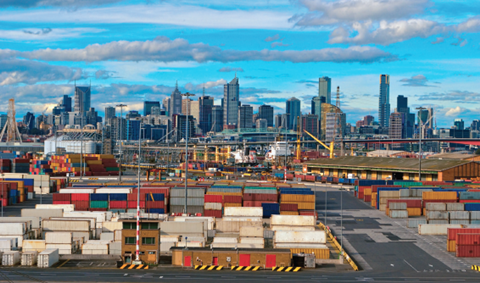 The bid came just weeks after a consortium led by Australia's Future Fund and QIC (albeit alongside two offshore investors, Global Infrastructure Partners and Ontario Municipal Employees Retirement System) paid AUD$9.7bn for a 50-year lease of the Port of Melbourne.
Having cherry-picked Ausgrid and Port of Melbourne – two of the most coveted infrastructure assets in Australia – a question remains: will more deals follow?
Peter Costello, chair of the Future Fund, has signalled that the fund's 10% allocation to infrastructure is close to being reached.
Privatisation of more public assets will invariably occur in coming years. But Australia remains conflicted. Should the savings of working Australians be used to invest in infrastructure at a time when the country's growing debt burden is under scrutiny by credit agencies, threatening to downgrade Australia's AAA sovereign rating?
Successive governments have been attracted by the mountain of savings and enticed into thinking about how super funds could do more to contribute to nation building. A problem for these governments has been the need to keep debt low to maintain favourable credit ratings.
And the McKell Institute, a public policy think-tank, says Australia requires AUD300-750bn of new infrastructure investment to sustain economic growth over the next decade.
Philip Davies, chief executive of Infrastructure Australia, an independent statutory body tasked with drawing up the Australian Infrastructure Plan, says: "Current levels of public sector expenditure in Australia will be insufficient to meet our long-term infrastructure needs, particularly when it comes to public transport. Australia's population is expected to grow to over 30m in the next 15 years. During this period, our four largest cities – Sydney, Melbourne, Brisbane and Perth – will increase in population by 50%. If we are to harness this population growth, Australia needs a material increase in funding for infrastructure from both public and private sources."
So is there a moral – and perhaps economic – responsibility for super funds to buy and build infrastructure to enrich a country's economic wealth?
"If super funds choose to invest in physical assets, for example, over time, that is going to lead to higher capital stock in Australia," says Stephen Anthony, chief economist at the Industry Super Association (ISA). "This, in turn, will lead to a higher standard of living per capita."
Anthony warns that the role of trustees is to maximise returns for their members. "That is their only obligation," he says. "Super funds are not an arm of government policy."
Brendan Lyon, chief executive of Infrastructure Partnership Australia, puts it bluntly: "The country's superannuation isn't there to be raided by the government. It is there to take pressure off the old-age pension and to provide a degree of financial stability for people in their retirement."
Lyon, whose organisation aims to bring public and private sectors together on infrastructure investment, adds: "It is simply a political construct to say that we have a backlog of X amount in infrastructure spending and we have $2trn in pension savings, so let's put them together."
Like Anthony, Lyon stresses that managers of super funds have a fiduciary duty to their members – to protect savings and get the best returns. He says discussions on super funds and infrastructure are often built on a false premise that there is a lack of appetite for infrastructure – and that is demonstrably not the case.
Davies says: "Australia's superannuation funds shouldn't be expected to donate money to infrastructure projects. The challenge for governments is to provide opportunities to invest in projects and assets in well-regulated markets, with appropriate risk-weighted returns and strong cash flows." He says greater private sector engagement in infrastructure is in Australia's best interests. "It brings with it commercial rigour and a powerful incentive for efficient delivery."
Don't preach to the converted
Infrastructure's long-term and relatively stable rates of return closely match the needs of fund members in the accumulation phase and retirees that need long-term incomes. "There are clear synergies between the long-term investment profile provided by infrastructure, and the low-risk, stable returns sought by superannuants during the accumulation phase," says Davies.
The funds are already well involved in the asset class. In June 2016, Australian superannuation funds held AUD68bn in infrastructure investment. About AUD17bn of this was in unlisted overseas infrastructure. Over the next 15 years, superannuation funds under management are expected to grow to AUD5trn, implying an allocation of about AUD200bn to infrastructure by 2030.
But Brett Himbury, chief executive of IFM Investors, one of the biggest investors of super fund capital in infrastructure, says he would be opposed to government mandating super funds to invest, because this would create inefficiencies in the capital market – and bad investment outcomes. Melbourne-based IFM, which was formed 21 years ago, has some AUD31bn of infrastructure assets under management.
Anthony says Australian super funds are already at "the cutting edge" of infrastructure investment. Initially through managers like AMP Capital, Macquarie Group and then IFM, Australian investors were the early movers in the infrastructure sector – so much so they are now seen as the prime movers in the global infrastructure market.
Himbury says: "It is a not a question of our appetite, capital or returns. It is about the availability of quality investable deals in Australia."
Lyon turns to a driving analogy. "There is a traffic jam of superannuation and other equity investors queuing at the traffic lights – waiting for the government to turn the light green," he says. "Governments control, own, operate and regulate infrastructure. It is up to them to remove the investment impediments. That means putting brown field projects up for sale."
He points out that just 0.1% of Australian roads are privately operated. Whether roads or water, the government needs to set the rules of the game first, and then privatise the asset, he says. "One of the complications in Australia is that we are in our 25th year of economic expansion. It is very hard for the government to have hard discussions on structural reforms with the community when times are good."
There is a recognition among investors of the complexity and sensitivity of domestic politics. Himbury says: "We are engaged with state and federal governments to try to understand not just the economic issues but the community and political issues surrounding infrastructure asset sales and development.
"It is probably more in the realm of governments to address those issues, but we, as an investor, also have a responsibility to explain to the community how fund managers like IFM and superannuation funds generally have been responsible long-term custodians of infrastructure assets."
Himbury says it is also important to demonstrate to the community that private – in particular, super fund ownership – of infrastructure has been outstanding. "From our experience, we have created jobs, we have improved working conditions, worker safety, productivity and standards of living," he says.
Missing piece of the puzzle
James Bond, director of investment with the Association of Super Funds of Australia (ASFA), says: "Superannuation funds have been reluctant to take on the risk of building new infrastructure, but are more comfortable with taking on operating risk. Bringing these two disparate desires together has been difficult."
Super funds prefer governments to build and operate a piece of infrastructure for a period, and then sell it once it is proved to have a known income stream.
It is the "one missing piece of the jigsaw puzzle", says Anthony. "The government needs to think about facilitating the construction of infrastructure projects."
The criticism of the governments is that they have allowed bottlenecks to develop due to inertia and a lack of funding. The funding logjam can be broken, says the industry, by selling existing assets.
"Asset recycling has the potential to solve this problem at the same time as bringing together the demands of both the government and the superannuation industry," says Bond.
He believes that political and investor interests can be aligned through initiatives such as asset recycling, which frees up capital for governments to invest while providing stable assets for superannuation funds and other investors.
Infrastructure Australia has identified AUD200bn in state-owned assets that could be privatised, says Himbury, but not all of them will be suitable for investment.
Australia's 2014-15 Federal Budget pledged to provide a 15% top-up to state governments on the price they received for selling assets, as long as the funds were allocated to new infrastructure.
Under that asset-recycling initiative, Lyon says Canberra offered states subsidies of AUD3.3bn. That, in turn, delivered about AUD24bn of reinvestment in infrastructure by the states.
The federal government needs to give state governments an incentive to sell assets and build infrastructure, Lyon says. So far, just New South Wales and, to a lesser extent, Victoria have embraced asset recycling.
Sam Crosby, executive director of the McKell Institute, says Australia's state governments carry the burden of building infrastructure. Crosby suggests that as an incentive to the states to increase infrastructure spending, the Federal government should reform its taxation and revenue-sharing systems.
"An elegant solution is to give state governments control over capital gains tax," says Crosby. "The Commonwealth can subtract the money from other grants to the states."
He also believes that governments should be wary about de-risking infrastructure investment to such a degree that it ends up costing taxpayers a lot of money.
He cites a desalination plant in Sydney, which was built to supplement the city's water supply in times of drought. The New South Wales government sold its plant to a consortium of Hastings Funds Management and the Ontario Teachers' Pension Plan for AUD2.3bn in 2012, but with a 50-year lease that guaranteed them payments whether the plant was working or not. Water consumers have reportedly paid AUD535m to keep the Sydney desalination plant in what its operators describe as a state of "hibernation" since 2012.
Davies says moving mature assets to private ownership is a valuable reform and funding tool for Australian governments. "It can help complete efficient regulated markets and release substantial capital to be reinvested in productive infrastructure," he says. "Ultimately, if a project is financed by an investor like a superannuation fund, taxpayers or users will still be paying for it – either through a government payment to the investor, or user charges."
Bond says a number of high-profile failures of infrastructure projects means there is little demand for greenfield investment where future income streams are uncertain.
But IFM is not averse to greenfield projects, says Himbury. "We are prepared for substantial investment in greenfield projects, if the risk-and-reward returns are acceptable."
IFM and its co-investors are building a second runway at Brisbane International Airport, costing AUD1.3bn. IFM is building an LNG export terminal from scratch in the US.
"The challenge we have is for governments to be more courageous in bringing investable – brownfield and greenfield – opportunities to us so that we can play a greater role and deploy more capital," he says Himbury.
US Infrastructure: Can Trump make infrastructure great again?
1

2

Currently reading

Australia Infrastructure: Deep domestic pockets

3

4