It was the one area expected to attract bipartisan support. But the US's desperately needed infrastructure plan has fallen victim to political gridlock, says Christopher O'Dea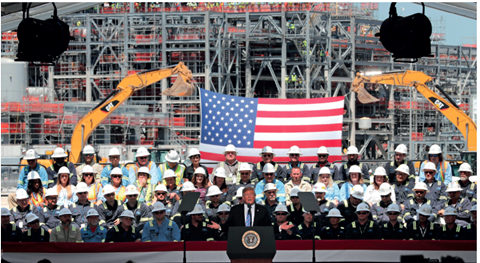 America's desperate need to rebuild and upgrade ageing infrastructure is well known. It was a key plank in President Donald Trump's campaign for the White House, and infrastructure investment has historically been an issue that could muster bipartisan support.
No more. Gridlock in Washington, DC has degenerated from a political standoff – which has happened before in the US two-party system – into an existential struggle between the President, whose economic policies have created a supportive environment for a big-ticket infrastructure programme, and the Democrats, who remain wedded to the notion that Trump must be guilty of something that would justify an effort to impeach him.
As Congress's summer recess approached, the $2trn (€1.8trn) federal infrastructure programme that had seemed within reach during the spring was looking more like roadkill.
As a result of the impasse, the US may miss a chance to get moving on a seemingly endless to-do list of infrastructure projects ranging from highways and bridges to water and waste treatment systems and energy grids. Analysts believe it would be a costly mistake, because the price tag will only go up as assets decay.
"The US government has a unique opportunity to take decisive action on ageing and obsolete infrastructure to provide a firmer foundation for the future," according to Cherian George, managing director and head of Fitch Ratings' global infrastructure and project finance group. "The current supportive economic environment can shoulder the investment," he adds, but "that window will close, so the time to act is now".
George cites three reasons why the timing for an infrastructure push is favourable. According to Fitch Ratings, the US economy is expected to sustain growth rates in GDP above 2.5% in 2019.
Second, transportation volumes at airports, roads and ports throughout the country, key indicators of economic activity, are quite healthy. For example, the number of enplanements – passengers boarding aircraft – is estimated to have grown by more than 4.5% in 2018, well above the rate in 2017. And, according to Fitch data, traffic and revenue on US toll roads grew steadily in 2018, rising an estimated 3.5% and 6.3%, respectively.
Third, infrastructure investment amplifies economic growth: the Federal Reserve Bank of San Francisco says each dollar a state receives in federal highway grants translates into an annual economic output boost of at least two dollars.
The infrastructure impasse comes as the US is moving rapidly into an era of infrastructure repair, according to the Brookings Institution. The US will need to cover not only maintenance costs, but also finance upgrades to replace assets that are beyond their useful lives. Doing so will be a "difficult balancing act", Brookings says.
This is because infrastructure spending is not keeping pace with economic growth. According to Brookings, from 2007 to 2017, total public spending on infrastructure fell by $9.9bn in real terms, and infrastructure spending relative to GDP dropped to just 2.3% in 2017, falling below the pace of 2.5% of GDP that had prevailed for the past few decades. The decline in real infrastructure spending masks what Brookings sees as a more significant trend unfolding across the country: the US is spending much more money to ensure existing infrastructure systems continue to function properly, and much less on building new systems or carrying out other significant upgrades.
While the shift towards greater spending on operation and maintenance and lower spending on capital projects has been slowly under way since the 1950s, the past decade marked an intensification of the trend: operations and maintenance costs now account for 60.5% of all US public infrastructure spending, compared with 54% a decade ago, while capital outlays have declined to 39.5% of total spending in 2017 from 46.0% in 2007.
The reality is that investment needs tend to grow over time. Even as road traffic has increased, as shown by Fitch's toll-road data, a new report from Transportation for America found that the percentage of the roads in poor condition increased from 14% to 20% between 2009 and 2017. The group is an alliance of elected, business and civic leaders from communities across the US that focuses on transportation issues. In total, the report found a worsening in the condition of the roads in 37 of the 50 states.
Road funding illustrates how financing in some sectors can buck the trend of falling capital outlays for new infrastructure. Transportation for America's report on US road repair needs identified a "costly backlog of roads in poor condition". Congress provides states with billions of dollars in capital under transportation funding formulas, which states are free to use for maintenance. "Yet, despite the backlog, states continue to spend a significant portion of funding to build new roads," according to the report, allowing existing roads to decay, while "creating costly new maintenance liabilities in the form of new roads and lane-miles".
In a recent op-ed piece, Transportation for America director Beth Osborne makes the case that, in light of the group's report showing how states neglect repairs in favour of costly road expansions, the long-discussed infrastructure plan to give them yet more money is a bad idea. At the same time, the federal government is taking steps to repair roads. Washington State University has received a $7.5m grant from the US Department of Transportation to lead a national university transportation centre focused on improving the durability and extending the lifespan of the nation's transportation infrastructure. The group will be led by Xianming Shi, associate professor in the Department of Civil and Environmental Engineering at WSU.
One bright spot is that most of the infrastructure assets in the US are owned and operated by state and local governments – more than 90% of all non-defence public infrastructure assets. Federal efforts would help stimulate spending by speeding up environmental and other approvals required from federal regulatory agencies and in cases such as dams and levees damaged by this year's spring flooding across the interior of the US, according to the US Army Corps of Engineers.
"It's crucial to acknowledge how the US is in an era of repair and replacement," says Brookings. The US needs a long-term, co-ordinated approach to infrastructure planning and investment, Brookings contends, not just another one-time stimulus like the American Recovery and Reinvestment Act passed in 2009 to help state and local governments shore up their battered finances in the wake of the global financial crisis. "There is a need to not only better articulate the federal role in infrastructure investment, but to also rethink how state and local leaders can partner more effectively with one another," Brookings says.
State and local leaders might have no choice but to create their own infrastructure finance solutions, given the gridlock at the federal level. "It's not going to get any easier," says George. "The country will inevitably face another recession, and the implications for budget deficits and the national debt will come to the fore again. The cost of inaction will be a more expensive price tag for infrastructure and greater barriers to tackling this problem given the inevitable rise in cost of other priorities, such as healthcare, social programmes and the national debt." In short, he says, "delay is not an option".