Online retail is boosting logistics markets in the US. But the real driver of growth is consumer spending, as Christopher O'Dea finds
Industrial property in the US is undergoing a sustained boom that has pushed the vacancy rate to a 30-year low. E-commerce has transformed supply chains and the way in which Americans shop, as well as raising expectations about how quickly everything from a bottle of water to a new kitchen sink can be delivered.
However, there is a significant lack of new supply of property suited to the demands of the digitally-driven economy, in terms of both type and location. Real estate investors have spotted the opportunity and have put capital to work to build the next generation of warehouses and logistics facilities. The latest survey of members of the Association of Foreign Investors in Real Estate (AFIRE) found that industrial was ranked as their top target, tied with multifamily.
Investors believe the positive trend for US industrial property could last another five years – because even with new construction under way, developments in retailing and distribution systems mean that fewer locations meet the criteria of today's warehouse occupiers. What they want more than anything is to be near major population centres with diversified economies and potential for job and income growth. This is because of the need for speed in meeting consumer demand. Industrial investment specialists are taking a page from the workbook of their peers in the office and apartment sectors and building large, multi-level properties in major metro areas.
The boom is so strong that prices of industrial real estate investment trusts reached a premium to asset value last year, while other sectors traded at a discount. According to private equity managers in the logistics sector, the shrinking list of suitable sites will necessitate careful underwriting of new projects. But it also means that institutional investors can expect industrial property to generate capital growth as well as the stable income returns traditionally associated with the sector.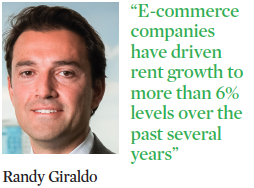 And while positive fundamentals across US real estate sectors have supported cap-rate compression and rental, industrial property has "outperformed its peers on the demand side", says Randy Giraldo, managing director and head of US portfolio management at TH Real Estate, which manages $7bn (€6.5bn) of capital in industrial assets.
Industrial occupiers absorbed a record 283m sqft in 2016, according to Jason Tolliver, a Cushman & Wakefield vice-president of research. That pushed industrial vacancy to a 30-year low of 5.5% after 27 consecutive quarters of net occupancy increases.
"What we're seeing now is just phenomenal," says Tolliver. The period from 2014 to 2016 was "the strongest three years we've ever seen in the industrial market", he adds. Occupiers absorbed 826m sqft, even as 550m sqft of new space came to market during the period. Tolliver says the strongest demand was for modern warehouses built to accommodate e-commerce tenants' racking and retrieval systems, rather than basic gear for pallet-storage warehouses.
"E-commerce companies have driven rent growth to more than 6% levels over the past several years," says Giraldo. "Supply is just now starting to really pick up to respond to demand, but the consensus among institutional investors is that industrial is the current darling, and that is rooted in the belief that we're in early-to-middle innings of the structural shift to online consumer spending."
While the economic recovery has been tepid by historical standards, it has been robust enough that total retail sales in the US in 2016 exceeded the 2007 peak by 23%, says Tim Wang, director and head of investment research at Clarion Partners, which manages $9bn in warehouse and logistics assets. E-commerce transactions now account for 11% of core retail sales, excluding cars and gasoline in the US, he adds, "and that can easily become a 20% share of sales".
Digital merchandising is leaving its mark on the property market, Wang says. Sales from e-commerce have been expanding 15-20% per year, while total retail sales are increasing by only 3-4% annually. Over the past five years, e-commerce tenants have accounted for about 25% of net absorption of all warehouse space and for 50% of warehouses of over 500,000sqft.
Given the pace of retail sales growth, the only way businesses can meet consumer expectations is by building new distribution systems. "You're talking about demand for brand new warehouse space," Wang says. The shifts are going to continue "unless you are a business that is e-commerce resistant – and I don't know any business that is," he says.
In fact, the correlation between e-commerce activity and industrial property markets is becoming ever clearer.
Logistics investment firm Prologis says e-commerce represents about 20% of all new leases, up from less than 5% five years ago, with e-commerce logistics operations steadily moving out of multi-use facilities that serve both store distribution and e-fulfilment into dedicated e-commerce space. What is more, Prologis says, online retailers need about 1.2m sqft of space per billion dollars of online sales, on average – three times the amount required for traditional brick-and-mortar retailers.
E-commerce has also changed the optimal location for industrial property assets. In the past, warehouses were in remote, low-cost locations. But it took several days to deliver goods stored at those sites. Today, consumers expect fast delivery, so logistics managers set up warehouses right outside major population centres. While land is more expensive, says Wang, sales increase, so this new generation of warehouses has real potential for rental growth and value appreciation.
As competition for 'last-mile' locations in or near cities increases, Prologis has looked to the sky. Later this year the company will start construction on a 580,000sqft facility near downtown Seattle which has three floors. Multi-storey warehouses are common in countries where land is scarce, and the geographic features that make Seattle an attractive place to live, such as nearby mountains and Puget Sound, reduce the amount of land that can be economically developed.
Despite the positive outlook, challenges remain. For one, new supply is coming online. At year-end, says Tolliver, there was 216m sqft of industrial property under construction, 146m sqft of that for speculative projects, and nearly half of US markets have over 1m sqft under construction. New supply could push vacancy rates up during 2017 and 2018, he says, "but we don't see anything that's making us think a glut of supply is about to hit the market".
Investors should keep an eye on the spread between replacement costs and the pricing of stabilised projects, says Giraldo. "There's some very healthy spread right now, and developers have an attractive profit margin," he says. Cap rates reflect the demand for industrial product, he adds, with cap rates nationally pushing well below 5% in some markets.
Amazon is not the only source of e-commerce demand for industrial space. Smaller companies are locating retail shops in the front of warehouses where they store merchandise, says Wang, which is helping industrial space replace traditional retail venues.
In the long term, Wang says, overall consumer demand is behind the positive outlook for investments in industrial and logistics property. "The logistics and warehouse sector serves consumption," he says.
And retail spending is about to get a second wind as young Americans establish new homes and fill them with items that require large amounts of space to store and ship. Wang expects the rate of household formation – 1.3m in 2016 – to continue for several years, bolstering the recovery in retail sales since the financial crisis. "Nothing can stop the US consumer from spending," says Wang. For institutional investors, that means US industrial property looks to be a good investment for years to come.
Logistics Asia-Pacific: Follow the traffic
1

2

3

4

5

Currently reading

Logistics US: Spending power