Providers are struggling to keep up with the demand for logistics space, and investors have taken note. Christopher O'Dea reports on a booming market
Like an eagerly awaited package, logistics property has arrived at the centre of institutional asset allocations, a favoured asset class among today's investors eager to benefit from the sector's rising prices and positive returns.
The only thing that is not arriving is the property itself – at least not enough of it to satisfy voracious demand for logistics and distribution space across core distribution markets and key secondary markets in the US. This mismatch in supply and demand has fuelled a steady rise in rental rates, sparked speculative development in core markets, and prompted a record number of private equity fund managers raising capital to include logistics within their industrial strategies. Cap rates and target returns remain attractive, and with institutional investors already buying US logistics assets, consultants are advising clients to raise allocations to industrial property.
After 21 consecutive quarters of positive net absorption of industrial property, availability of US industrial property in the second quarter of 2015 reached a low last seen at the peak of the last cycle in late-2007, according to CBRE Research. While rents are within a few percentage points of record levels, indications from fund managers, property service companies and investors are that industrial property appears headed for new records – and availability will remain at record lows through 2018. Logistics property – warehouses purpose-built to efficiently store goods for speedy delivery to consumers and business users – is leading the charge, and fundamental changes in the way companies manage supply chains and deliver goods to consumers promise to drive demand well into the next decade.
Overall demand for logistics space in the US is outpacing supply by a factor of about two to one, says Tim Wang, director and head of investment research at Clarion Partners. "That's made industrial the best-performing property sector over the past year in total return," Wang says.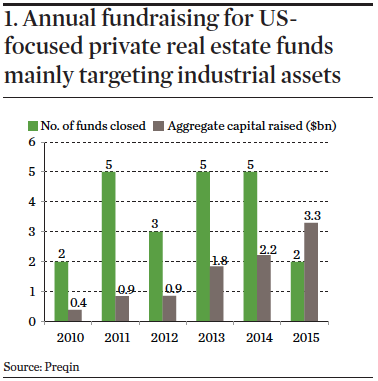 In the second quarter of 2015, the National Council of Real Estate Investment Fiduciaries (NCREIF) sector total returns showed industrial had the best total return among the five property types for the trailing one-year period at 14.8%, with the income return at 5.6% and appreciation at 8.8%. That was well above the sector's 20-year historical average of 10%. Industrials posted the second-best return for the three-year period ended June 30, at 12.7%, just behind retail.
Two factors are driving the performance of logistics property, Wang says. They are the increasing share of retail sales being made through e-commerce channels, and fundamental changes in how companies organise supply chains. "These are game-changers in this cycle for the logistics sector," says Wang.
The current rebound started from a low base. Warehouse property was hit very hard by the collapse of the housing sector during the financial crisis, and industrial rents lost 17% of their value between 2008 and 2011 – by far the most severe decline in memory, says CBRE. As demand for household goods – which tend to be bulky and require more space to store and distribute – dried up, manufacturers fearing depression cut inventories – and space used to store and ship goods – below minimum levels required to fulfil sales. "The warehouse sector was harder hit in this downturn than previous recessions," says Wang.
Coming out of the recession since 2010, logistics property has enjoyed a boost from e-commerce, a trend that shows no sign of slowing down. Property supporting digitally-driven sales accounts for a significant share of absorption of logistics supply, Wang says, and last year absorbed as much as 50% of facilities of 500,000sqft or more. Wang expects e-commerce to more than double its 9% share of retail sales over the next decade. "E-commerce is still in the early innings of a boom," he says. "All indications are that it could easily become 20% of retail sales." The upshot, he says, is that companies will need another 400m sqft of new space.
That space is already being built, most of it in the seven major logistics corridors that comprise the core of the US distribution system. Those markets accounted for the lion's share of activity in the US in the second quarter, says JLL, tallying over 44% of net absorption and more than 48% of new completions. The strong demand in core markets is spilling over to secondary markets due to the tight supply situation. "Underlying market fundamentals remain tight and many tenant requirements are being pushed to Chicago's secondary submarkets," JLL says.
To meet the demand, speculative development has become prevalent, CBRE says, and now represents "the majority of new projects in most core markets".
Despite this surge, "overbuilding is not a concern", says JLL. Nearly 43% of space under construction is pre-leased, it says. And with total average asking rental rates posting year-on-year gains in 43 of the 50 US markets tracked, there are few weak spots in the nation's industrial market. A key indicator of market strength, says JLL, is the percentage of new completions that have tenants. Anything above 50% suggests demand is ahead of development. The level stood at 62% for the first half of 2015.
The strong absorption reflects fundamental changes taking place within the building boom, says Wang. First, the 2011 Japanese earthquake and tsunami disrupted the US auto industry by cutting off supplies of essential parts made only in Japan. Companies perceived new risks in feeding production lines with far-flung supply chains based on just-in-time precepts of carrying little inventory at or near factories. This has kindled interest in bringing suppliers closer to production facilities and end-user markets, Wang says. The change is illustrated in an upturn in the US inventory-to-sales ratio that began in 2012, reversing a 25-year decline.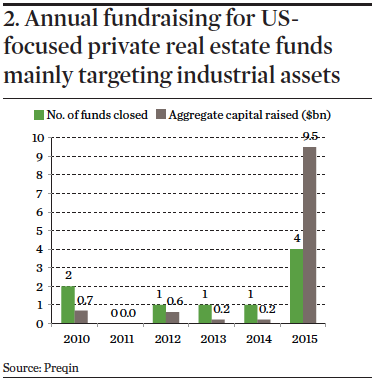 Second, e-commerce will continue to expand as Millennials form households and families, Wang says. "We are forecasting a stronger housing market going forward as Millennials age and start to seek space, safety and quality schools in new edge cities within easy commuting distance of urban cores," he says. Demand for household goods and the myriad products required to raise families will provide a sustained tailwind to logistics property as digital-savvy Millennials use e-commerce channels to purchase goods.
Changes in consumer and business buying patterns are driving changes in logistics product as well, Wang notes. Next-day delivery demands are fuelling the need to build out the 'last mile' of the US distribution system, spurring demand for logistics facilities in the 100,000-150,000sqft segment. The need for smaller space is acute in the Inland Empire, an area of California and one of the seven US core markets, says JLL. Spaces below 250,000sqft are "very limited and construction is accelerating", JLL says. This is one reason the Inland Empire "leads the US in construction activity".
Institutional investors have moved quickly to supply capital to the sector. Real Capital Analytics says $11bn of industrial property traded in the second quarter, excluding entity-level acquisitions.
CBRE projects a 15% rise in total transaction volume for the year, which would push industrial investment to a post-recession record of $53bn. Cap rates have steadily declined as volume recovered since 2011.
Foreign institutional investors have become fans of US industrial property, CBRE says, purchasing 95 properties for a total of $1.36bn in the first half of 2015, up from $1.15bn in 2014. Abu Dhabi Capital Management's purchase of USAA Real Estate Company's 23-property portfolio for $643m made the United Arab Emirates the largest country source, followed by Canada at $386m. Among major transactions this year are the $5.9bn entity-level purchase of KTR Capital Partners by a joint venture between Prologis and Norges Bank Investment Management, and the purchase of 58m sqft of space from Industrial Income Trust by Singapore-based Global Logistics Properties (GLP). CBRE expects the GLP transaction to close in the fourth quarter with a 5.6% cap rate on an estimated deal value of $4.55bn.
Pricing expectations have remained stable during the buying surge. CBRE surveys show second-quarter going-in cap rates are averaging 5.6% and exit cap rates 6.2% – both essentially unchanged from the prior two quarters. The average target IRR for second-quarter purchases averaged about 6.88%, down 7 basis points from Q1 2015. In the most attractive markets, CBRE says, investors are willing to transact at lower target IRRs averaging 6.5% due to projected gains in over both the short and long terms.
Underpinning expectations of continued investment in US logistics property, Preqin data shows that fund managers are identifying logistics as a distinct investment objective. Four property funds that have closed this year identified logistics as a target market; these funds raised a total of $9.5bn in capital, compared with $200m in 2013 and 2014.
Logistics Europe: Logistics delivers the goods
1

2

3

4

5

Currently reading

Logistics United States: Ready for dispatch