Online retail is a dynamic driving force, but it represents only one-quarter of Europe's logistics market, says Barbara Knoflach
The logistics sector is a vital part of the global economy. The evolving macro-economic framework, swings in trade patterns and changes in customer behaviour are having a big impact on global supply chains. Globalisation and cross-border trade have become an important component of the growth strategy for many companies.
At the same time, economic growth mainly arises in dynamic cities where immigration and urbanisation boost population growth. Since competition is stiff, the logistics industry has to be increasingly flexible – satisfying consumers' needs requires a flexible supply chain that can adjust easily to unforeseen circumstances.
Worldwide, e-commerce represents the most important driving force in logistics distribution networks. Formerly, supply chains were dealing with classic bricks-and-mortar retail, where goods entered warehouses in bulk and exited in bulk. E-commerce has changed the process as goods arrive in bulk, but they need to be inventoried and shipped out individually. As a result, e-tailers need to standardise business processes to have real-time access and insight to inventory movement. Consequently, demand is concentrated on grade-A warehouses and a large part of second hand, secondary space becomes obsolescent.
For logistics operators, proximity to customers remains essential and timely delivery vital: about three-quarters of European logistics leases over the past five years were in cities (or metropolitan areas) with more than one million inhabitants. Favoured locations are close to or within major cities, ensuring faster delivery times, lower transportation cost and greater retailer scale. Consequently, competition for last-mile delivery has been particularly fierce, and we anticipate it to stay so.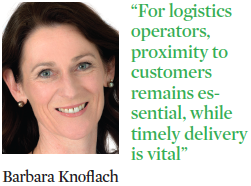 However, logistics is not only about closeness to the consumer, as there are other crucial considerations. For a start, logistics players value quick access to economic networks and important transport links. Multi-modality, or the use of several means of transport, is increasingly important. Last but not least, logistics companies need to be situated in areas where they can easily access skilled labour. For all these reasons, occupiers' requirements do not target smaller urban fulfilment centres only.
This trend is counterbalanced by the growth of large distribution hubs that supply smaller centres. It is confirmed by the data, which show that more than 40% of overall lease activity in Europe is for warehouses over 40,000sqm; this percentage goes up to 65% for warehouses larger than 20,000sqm.
While the sector is important, e-commerce is estimated to represent no more than 25% of all new logistics leasing in Europe. This means the core of lease transactions is still composed of traditional retailing, trade and manufacturing, for example the automotive industry in Germany. Investors should take into account that demand requirements can come from different parts of the economy and avoid focusing only on one, albeit important, source of demand.
We believe a holistic approach needs to be adopted. In our analysis, we look at a combination of both structural and cyclical variables and, based on this methodology, we rank markets accordingly. For example, from a structural viewpoint, we look at factors such as market size, structure of demand, market maturity (reflected by the importance of third-party logistics providers), market efficiency (including customs, quality of infrastructure, and timeliness of shipments) and, obviously, relative pricing. We also analyse cyclical variables, such as the scope for yield compression, rental growth and the risk of oversupply.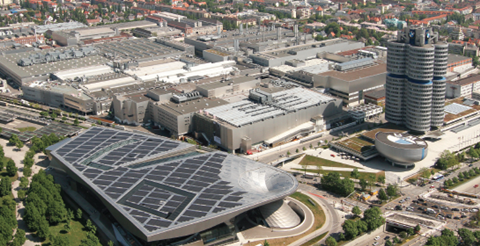 For all these reasons, we believe the best opportunities are in certain parts of Germany, France, the Netherlands and the UK. Some of these locations also have features such as important ports, airports and motorways. For example, cities such as Dusseldorf, Antwerp, Frankfurt, Lille and Rotterdam have catchments greater than 50m people, even if by themselves they are not mega-cities. Please note that opportunities are not unique to these markets, but may also be found in other countries such as Italy and Spain. Some locations in these latter markets are sizeable and enjoy higher yields than their counterparts in core Europe.
Nowadays, almost every European logistics market is showing signs of strength. Leasing demand remains generally strong, while availability for new, modern facilities is quickly trending down. Moreover, development activity, although rising in some places, remains historically low. Access to land, especially within urban areas, remains an issue in some markets and its cost varies, therefore affecting rents. The product is also different. In 2007, more than 70% of all logistics completions were speculative, whereas today this figure is just over 25%. As a result, we expect some rental growth across most European markets over the coming years.
Nonetheless, historically, rental growth for the logistics sector has never been spectacular and rental values are comparatively stable. Compared to the office sector, for example, if supply increases and rents fall, new projects will quickly stop as the building cycle is shorter than for other types of real estate, limiting the rental fall. The same applies in the up-cycle, limiting the potential for rental growth.
Overall, logistics investment has always been about income. Even taking into account recent yield compression, yield levels for European logistics still average about 180bps above the equivalent for offices, and enjoy a very comfortable premium over bond yields. This is reflected in investment performance.
While total returns have averaged between 6% and 7.5% across different sectors over the past 15 years, the return composition is different. For example, the importance of income return is on average 53% and 76% for the residential and retail sectors, respectively. The equivalent figure for the logistics sector is 91%. This is why investors should invest in logistics.
Barbara Knoflach is deputy chief executive, in charge of investment management at BNP Paribas Real Estate
Logistics Asia-Pacific: Follow the traffic
1

2

3

4

Currently reading

Logistics Online: Not everything is online

5