A pandemic, a war, overly-complex supply chains and a series of macro-shocks have raised the question whether manufacture and the end-consumer need to be brought closer. Mark Faithfull reports.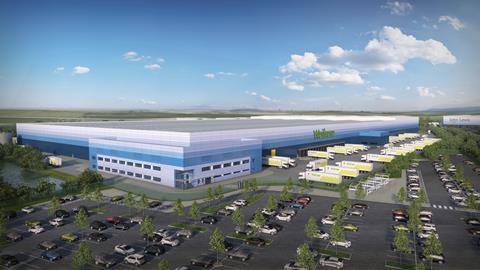 The global supply chain is at an inflection point. Having long been focused on price, the new mantra from industrial manufacture to fashion, food to components, is reliability – or, as the industry puts it, a shift from 'just in time' to 'just in case'.
For manufacturers, brands and retailers across North America and Europe, the change in emphasis has been prompted by a series of global supply-chain crises, which have seen container costs skyrocket, ships improbably stuck sideways down the Suez Canal and the latest Asian pandemic lockdowns, as well as the war in Ukraine.
Few sectors have been left untouched, with clogged ports, sea containers stuck in all the wrong places and some categories crippled by criss-crossing supply chains. An increasingly mooted solution is to shorten supply chains and increase nearshoring. The likely benefactors of such moves would include Mexico, Turkey, North Africa and Central and Eastern Europe, serving the US and Europe respectively.
Early evidence of a changing strategy includes toy maker Mattel announcing in March a $50m (€47m) investment to expand its plant in Monterrey, Mexico. This will make it the company's largest manufacturing site, overtaking hubs in China, Vietnam and Malaysia. European fast-fashion giant Inditex already manufactures 53% of its clothing in Europe, while others such as Benetton are boosting manufacturing in Serbia, Croatia, Turkey, Tunisia and Egypt, with the aim of halving production in Asia this year.
Anna Mirenda, partner at OC&C Strategy Consultants, believes such matters raise questions around the outlook for logistics. "We need to re-examine supply chains. COVID showed up the gaps; in the past we believed the global supply chain was the future," she says. "But it isn't any more – it's not reliable."
Dirk Sosef, vice-president of research and strategy at Prologis, says this series of global events has encouraged companies to think about shortening their supply chains, with logistics real estate playing a pivotal role in the efficient flow of goods.
"What we hear from our customer base is that there is a stronger focus on agility and flexibility instead of just pure cost," he says. "We see biggest focus on inventories. Why? I think it is because it's very simple. All those supply chains at the global level are so complex and intertwined that you can't start nearshoring the next day. So therefore you see now an immediate reaction."
In particular, operators are placing emphasis on the critical components that will have an impact on real estate because more inventory requires more logistics space. Sosef breaks this down geographically as "downstream" – close to the consumers – and "upstream" – close to gateway markets where goods enter Europe. He points to the Midlands in the UK and southern Netherlands – between the ports of Rotterdam and Antwerp, within reach of Germany – plus Lyon, for southern Europe, as areas likely to see increased demand.
James Ellis, director of investment and portfolio management for Europe at Nuveen Real Estate, says any nearshoring shift is more likely to be a "trickle effect, as opposed to immediate exodus", given the challenges with labour and the availability of space in mature markets.
"The cost of labour is higher, as opposed to Asia, but there are definite movements. It's a long-term shift," says Ellis. "We're going to see more traction in Central and Eastern Europe. The… lighter building restrictions in Poland and the Czech Republic and availability of labour are examples where we're going to see movement."
Nuveen's investment mantra is, proximity to population centres. The company is recording strong rental growth figures for multi-user parks, with more dynamic, third-party usability and flexible facilities. "These are going to remain key in terms of our investment focus, which allows us to be a little bit more flexible with our approach," Ellis says.
Sosef adds: "I expect further decentralisation. You keep the main control tower like southern Netherlands or New York, but open multiple smaller hubs as well, a little closer to consumers to begin that flexibility and to be more agile. I expect an increased demand for units of around 25,000-30,000sqm, and I think the market would love to see more product available, given all the constraints."
One emerging problem is labour availability. This is becoming apparent in major European hubs, such as the West Midlands in the UK, where labour supply has been a long-term issue. As a result, developers and investors need to be mindful of courting communities and delivering more sophisticated working environments, says Logan Smith, senior managing director and head of European logistics at Hines.
"Logistics warehouses are as integral a part of a city's or community's infrastructure as a mobile phone network or a tram network," he says. "Labour will undoubtedly have an impact on different locations. There are some very good warehouse locations that are a little bit capacity constrained. They don't have huge population bases – like Savannah, Georgia in the US or Poznan in Poland. They are good from a transportation standpoint, but they just don't have a 10m-person catchment area like London."
Thomas Karmann, global head of logistics at AXA IM Alts, adds that while the 'hardware' of logistics buildings remains largely unchanged, there is increasing investment in automation to cope with the shortage of labour. "We are seeing exponential growth of e-commerce in markets such as Spain where the penetration rate is very low," he says. "This shows the continued potential, and we expect many specialised online retailers to continue their expansion."
To that end, Smith says that to attract and retain labour, the industry needs to "talk about the S of ESG" in designing environments where people want to work. He says the perception of warehouse jobs as box-packing and low skilled is outdated.
"With more sophisticated automation, robotics and materials, handling equipment and supply-chain planning – they are genuinely becoming career paths in a meaningful way," Smith stresses. That means the sector needs to go up the "quality curve", focusing on what people want, including working close to home, flexibility and a career path – much more than "putting in a climbing wall or basketball court", he says.
Kevin Moffid, head of EMEA industrial and logistics research at Savills, says that warehouse demand in the UK hit record levels in the fourth quarter of 2021, only to be exceeded in the first three months of this year. He reflects on a challenging situation: "The war in Ukraine has brought inventory resilience and energy security to the top of the agenda. Without inventory you don't have a business, but also you have to be careful that you are not holding large amounts of stock that is not in demand."
While much of the focus has been on acquiring well-located urban sites, Moffid says that with cities still behind the tourism and office worker curve, locations with good transport links away from towns are becoming popular, although robust energy and labour resources are vital. Those facilities suitable for local power generation, such as solar panels, are also garnering additional interest.
Alistair Calvert, CEO of Clarion Partners Europe, says that, despite the planning challenges and rising construction costs, development opportunities persist in Europe and are supported not just by concerns over the global supply chain, but longer-term fundamentals.
"There is favourable public policy championing manufacturing closer to home, but one of the issues in doing that is it's quite difficult to close things down and quite difficult to start things up," says Calvert. "When you're closing things down, you've generally got contracts and lots of different durations."
Clarion is investing in assets critical to the supply chain, particularly the automotive industry. But Calvert says this is principally because such assets are becoming harder to replicate, as they need to be close to the manufacturing units where it is often difficult to build more space.
"There's a commonality of positive attributes for locations," says Calvert. "Clearly, you want them to be near cities, near manufacturing, if that's relevant, with good transport links. Significantly, we are focused on traditional markets. Germany, Netherlands, France, Spain, Italy to a degree.
"And we're very much basing our investment decisions on where we believe will benefit from most rent growth. We continue to build across the size spectrum, including very large units in France and a lot of mid-size units in Spain, in and around Barcelona, and in Germany and the Netherlands."
Likewise, Evert Castelein, fund manager of European logistic at Abrdn, believes that several drivers have created a reappraisal of real estate location strategies . He says uncertainty has prompted reconsideration of global footprints, as the labour cost arbitrage between Asia and Europe has also become less pronounced, alongside ESG considerations and costs.
"We have a very clear focus on certain parts of the market," Castelein says. "For me, the first question I always ask myself when we're looking into an investment opportunity is: worst case, what will happen? Is the building bespoke or very large? How easy would it be for me to find a replacement tenant? The average age of buildings in our portfolio is just three years old. Almost 50% of our portfolio is located in cities such as Barcelona, Madrid, Frankfurt, or the Netherlands where there's a lot of pressure on planning. We are expecting most rental growth to take place in urban locations."
Smith agrees: "We haven't even seen the rental growth yet in Europe that they've seen in the US. On the development side, the equation is getting a little bit trickier, but the reality is that rents have increased enough to compensate, and if we can find land that we're confident in, we will develop.
"I personally like good locations in secondary markets, but I think it may change a little over the next few months – the leveraged buyers are going to get priced out along with the portfolio aggregators. They'll get washed out of the market. I think it is probably healthy, because it will force people to go back and really focus on the real estate fundamentals and think carefully."
Castelein compares his role to being a stock picker, and says that to some extent he is agnostic on location as long as a property is well located alongside a main transport corridor.
"What's really on top of our agenda is ESG," he says. "We know what has happened with some of the stranded assets in the office market that didn't have the right credentials. We want to be on the front foot and look at that as part of the future-proofing of the business."
However, Sosef reflects that it is hard to predict another surge of developments, given all the regulatory and land constraints that make it hard to develop new products.
"The development of logistics is nuts, you know. It's only, let's say, two, three quarters to build, but the whole zoning, regulatory environmental procedures can take years," he says. "What's interesting is that customers have a more holistic view. When you look at the total supply-chain costs, rents are perhaps only 5%. But it's not that easy to switch on the market."
• A previous version of this article incorrectly named Logan Smith as Logan James
The shift towards multi-tenant real estate
"We went from zero multi-let to 100%, primarily because we love the sector. We really love the fundamentals and the supply is completely constrained," says Paul Arenson, CEO of Industrials REIT, who does not see this changing, with soaring costs making urban development prohibitive.
"You would really need to see 50% rental growth before building meaningful development opportunities, and there isn't any land, or developers would tend towards high-rise residential. At the same time, we've seen an explosion of demand, because these units used to be occupied by traditional manufacturers or services. Over the last five years or so, with the e-commerce revolution, many more businesses coming in are using the distribution networks. The big-box operators have created what I call the pipes for distribution for our type of tenants."
With businesses looking for local sourcing and holding much more stock, he adds: "Your traditional occupier base who were in decline for many decades, are having a renaissance, but they're also having to compete with a new-age occupier base. It's very fragmented and operationally intensive. You have short leases, lots of tenants and small spaces, and you are renewing or releasing 25% every year. We've built a digitally-enabled platform and a three-page smart lease and we think there'll be more operating platforms. So, in time, big funds and big institutions will come in."
Logistics: 'Just in time' to 'just in case'
1

Currently reading

Logistics: 'Just in time' to 'just in case'

2

3