European logistics last year outperformed the office, retail and residential markets. Russell Handy reports on an increasingly popular sector
In one of the understatements of this real estate cycle, a spokesman for Blackstone said in early 2013 a spate of acquisitions by the firm was a "sign of some determination to build up business within the UK and Europe".
Just three years later, its Logicor subsidiary is now the holder of a 12.7m sqm portfolio. However, there have been rumours that Logicor could be sold – something the company will not be drawn on.
Much of Logicor's growth has come since October 2015, with some 5m sqm added to Logicor's books.
The firm has moved quickly, closing deals in the UK, France and Germany, as well as Finland, buying a stake in Certeum, which holds a 1.3m sqm portfolio, from Sponda and Varma Mutual Pension Insurance.
It also paid €536m for a 1m sqm portfolio sold by Austria's Immofinanz. Assets have also been bought from Goodman's European Logistics Fund in France and Germany, as well as from AXA Investment Managers-Real Assets in Belgium.

Eight assets in Belgium, Germany, Italy and Hungary were recently bought from Standard Life's European Property Growth Fund. The off-market transaction dispelled any idea that Logicor was ready to exit a sector attractive for its secure, long-term tenants.
The influence of e-commerce has made the logistics sector more interesting to investors, as income is more predictable and less volatile than in the office and retail sectors. Long-term change in consumer behaviour means the logistics and industrial asset classes are being seen as a sound source of long-term income. Funds focused solely on Europe's industrial and logistics sectors outperformed the office, retail and residential sectors last year, returning 15.9%, according to INREV.
Karsten Kallevig, chief executive of Norges Bank Real Estate Management, says logistics balances the real estate portfolio.
"You can argue it's a hedge against internet shopping in the retail component," he said.
"But it's really a question of do you think over time the world will stay global, that products will be produced in one location and consumed in a different location? If you say yes, then chances are you're going to need logistics space."
Talk of a sale of Logicor has put the European logistics sector even further under the spotlight. Neither Blackstone nor Logicor is willing to comment on reports of a sale or listing of the €10bn firm.
At about that time, Blackstone carried out a similar sale in the US when it sold IndCor Properties, its US industrial platform, to GIC for $8.1bn (€6.52bn). The deal followed rumours of an IPO for IndCor, which then owned and operated a 117m sqft portfolio, roughly the size of Logicor today.
The majority of investor interest is still focused on the UK, Germany and France. Advisory firm JLL says that in a record year of €21.5bn invested in the sector in Europe, the three countries respectively attracted €7.4bn, €4bn and €2.1bn.
Logistics Capital Partners and Germany's Dietz AG recently jointly bought a development site in Roosendaal, one of Europe's prime logistics hubs. The firms will develop a 100,000sqm warehouse on the site.
James Markby, managing director of Logistics Capital Partners, says the Netherlands is the "logistics gateway to Europe, with its strategic position for western Europe, located at the mouth of the global shipping network".
Delin Capital Asset Management is investing in a 40,000sqm speculative development in the Netherlands. The firm says the €30m warehouse scheme, close to the ports of Rotterdam and Moerdijk, is attractive because of current low vacancy rates and strong take up.
Ekaterina Avdonina, managing director of the firm, says big box and urban units will benefit from strong occupational demand.
IDI Gazeley, owned by Brookfield, last year bought 13 logistics warehouses in its Dutch debut. The firm is looking to grow its logistics platform in the country.
West not necessarily best
Capital is, however, slowly spreading beyond Europe's core logistics markets, JLL says. Investment volumes in the Nordic markets and the Benelux countries increased in 2015.
Anthony Wirth, director of global strategy and research at CBRE Global Investors, says "many investors would still prefer to invest in logistics markets in the UK or in core euro-zone markets in western Europe.
"However, more capital is starting to flow into central and eastern Europe [CEE] because those markets are becoming more transparent and because of the attractive yield spread," he says.
Claus Thomas, head of Germany for LaSalle Investment, says the firm has forward-funded a logistics asset in neighbouring Poland.
"Poland has become a major distribution hub on the east to west goods stream," he says.
During the first quarter of this year, leasing and development activity in Poland's industrial and warehouse property market increased, according to Cushman & Wakefield.
With Poland's total modern warehouse stock above 10.3m sqm – roughly the size of Logicor's entire portfolio – Cushman & Wakefield says there is strong demand for warehouse space, with 637,000sqm leased in the first three months of this year. The figure is up 8% on the same period last year. Poland is competing with France and the UK for second position in the European ranking of take-up activity, with 2.5m sqm let last year.
"The situation on the modern industrial and logistics space market remains very positive," says Tom Listowski, Cushman & Wakefield head of industrial and logistics agency.
Strong economic performance and further development of transport infrastructure are key factors that will contribute to the growth of the Polish market, Listowksi says.
"High levels of demand are spurring further development investments not only in core locations, but also in smaller regional markets, where we expect further tenant interest and development activity to continue," he says.
Listowski says assets are being developed in Poland on a speculative basis, which, he says, "can be justified in a market where demand is currently outstripping supply.
"With the currently high absorption levels, space coming to the market will be quickly occupied – especially in locations such as Poznań, Upper Silesia and central Poland."
Macquarie recently made its CEE debut through a portfolio deal in the Czech Republic and Slovakia, paying €79m for the logistics and light industrial properties.
Steven Sewell, executive director and head of real estate for the EMEA at MIRA, said the logistics sector in CEE is "showing strong fundamentals and remains one of the most interesting property sub-markets in Europe".
Sewell cited the growing importance of the Czech Republic and Slovakia as "key European logistics markets".
Allianz Real Estate and Brussels-listed VGP entered a €500m joint venture to invest in the Czech Republic, Slovakia and Hungary. VGP, which has previously worked with Tristan Capital Partners, will act as property, asset and development manager.
As investors search for yield, Wirth says they are "gradually becoming more comfortable with emerging logistics markets" that can demonstrate several years of strong take-up and declining vacancy rates.
The lowest yields in Europe are still in Germany, Wirth says, as a result of "very strong demand for prime assets and good occupier fundamentals".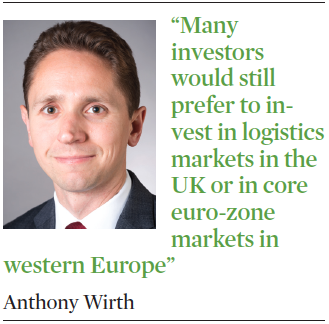 Gramercy Europe recently took full control of a mainly German portfolio it held in a joint venture with Goodman, which would not comment for this article. The Gramercy Property Europe fund took the 20% stake it did not hold in the 499,000sqm portfolio, which includes eight warehouses in Germany and one warehouse in France.
Wirth says southern Europe and CEE offer higher entry yields. "Pricing in those markets has also become sharper," he says, adding that CBRE GI expects yields in continental Europe to compress during 2016, before beginning to stabilise.
CBRE GI recently bought 16 assets between Madrid and Barcelona for a separate-account client, while Rockspring recently invested in a 84,968sqm Spanish logistics park, also for a separate-account client. The investment manager bought the Torrejón Logistics Park in Madrid for an initial €28m.
John Thompson, director at Rockspring Iberia, said that after "a number of years of falling rents and capital values", Madrid's logistics market is seeing a strong recovery. "The short to medium-term outlook for rental and capital growth in these types of assets is particularly positive," he said.
Norway's sovereign fund this year sold stakes in two Spanish logistics properties held in a joint venture with Prologis. The 50% stake in the properties, in Zaragoza and Valencia, sold for €25.1m, less than three years after being bought for €20.6m.
After the deal, Kallevig said: "It's a case of focusing on the global and regional supply chains, it not about buying everywhere for the sake of buying everywhere."
The fund tends to buy large portfolios and sell any assets that do not fit its strategy. "So the fact there's now been a handful of small assets for sale, it's really just adjusting the portfolio rather than a strategic approach," Kallevig said.
Wirth describes a "continued structural shift", in which markets become more transparent and buyers treat them as core markets in their portfolio allocation.
CBRE GI is forecasting rental growth across all European markets over the coming years.
"It will likely be more moderate in western Europe and stronger in southern Europe, where rents were severely hit during the global financial crisis and where there has been little recovery so far," Wirth says.
While the majority of investors originated from the US last year (€2.9bn), there was also a notable rise in Asian investment, JLL says. Investors from China, Hong Kong, Malaysia and South Korea invested nearly €650m in 2015 – double the Asian volume from 2014.
Wirth says the pool of investors allocating capital to European logistics is broadening.
"It is important to remember that the European industrial markets used to be primarily made of up much smaller facilities that were of a lower quality and were used primarily for production and storage," he says, adding that many institutional investors would not even consider investing in Europe's so-called "sheds" in the past.
He continues: "Most of buyers were private owners who were only willing to transact at a much higher yield than office and retail assets. Today, the product is much more sophisticated. Europe now has many larger facilities that are of a much higher quality."
Wirth says there are equally "many more sophisticated buyers who have chosen to enter the market. The number of bidders on prime assets has increased and yields have come down sharply for well-located assets," he says.
Aside from reasons such as the rise of e-commerce and the sector's predictable cash flows, the increased appeal of logistics sector is also due to the emergence of more dedicated teams and sector specialists.
Logistics Europe: Market delivers
1

Currently reading

Logistics Europe: Market delivers

2

3

4

5

6

7

8

9