The retailing and automotive sectors are supporting the growth of warehousing across Europe. Russell Handy reports
European logistics warehousing was the only main real estate sector to not register falling investment last year, according to Real Capital Analytics. The firm said that large-scale facilities of more than 50,000sqm registered a record €6bn of deals.
For Prologis, last year was the firm's "strongest year yet for leasing", according to its president for Europe, Ben Bannatyne. The firm's 17m sqm European portfolio is at its highest-ever occupancy rate, he says. The company leased about 3.5m sqm across Europe last year, a 54% increase on 2015.
"In spite of political shocks, customers remain focused on the long term and sentiment remains positive," Bannatyne says.
The retail and automotive sectors are driving demand, Bannatyne pointed out in a year-end statement. "With strong operating fundamentals and increasingly attractive yields, we anticipate another period of strong growth in the year ahead," Bannatyne says.
Prologis found that the strongest interest from occupiers in the fourth quarter of last year was in Germany and the Netherlands, where Gramercy Property Europe recently acquired a 60,500sqm logistics asset. The Utrecht warehouse is single-let to Kuehne + Nagel Logistics.
Alistair Calvert, chief executive of Gramercy Europe, said mature, liquid Western Europe markets continue to offer attractive returns for investors, as well as a yield that is "unattainable across most other asset classes".
In Madrid, where, according to Cushman & Wakefield, 410,000sqm of logistics space was leased in 2016 (compared with 385,000sqm in 2015), Amazon has moved into new facilities in the San Fernando de Henares district of the Spanish capital. The online retailer is also due to move into a site in Barcelona later this year.
Cushman & Wakefield's Spanish office says the city is breaking leasing records. Ramiro Rodriguez, associate director and head of research at Cushman & Wakefield in Spain, says an increase in retail orders – as a result of an improved economy – has boosted demand alongside the growth of e-commerce in Spain.
Logistics Capital Partners recently announced it had agreed a pre-let with Amazon in Italy, a country that has also attracted LaSalle Investment Management's open-ended E-REGI fund, which recently invested €26m in a 46,000sqm logistics complex in Mora di Liscate. The complex, fully leased to DHL Supply Chain, is the first acquisition that LaSalle has made in nearly 10 years in Italy.
Logistics Capital Partners' site, between Turin and Milan, will accommodate a 100,000sqm Amazon fulfilment centre, one of Italy's largest logistics developments.
The scheme is being funded through a joint venture with AEW's Logistis fund, which is aiming to have €3bn of assets under management in Europe.
Another firm with similar ambitions is Germany's Log4Real, which is planning a "multi-billion euro" European industrial real estate development programme. The German developer, owned by Bremen-based Zech Group, aims to construct three million square metres of warehouse and industrial space across Europe by 2019. The firm will focus on sustainable energy warehouses and hub locations for multi-sector tenants.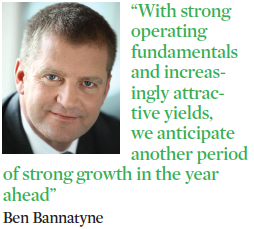 Chief executive Christian Bischoff says having multi-leased buildings is a lower-risk approach and avoids mass vacancy. The firm also has a preference, he says, for long leases.
Its targeted programme plans 800,000sqm in 2017, 1m 2018 and 1.2m in 2019, with an average investment volume per project ranging from €30m to €125m.
Key to the firm's investment drive is technology and design. "When you look at how units have been added over the years to create more space, something much more appealing can be created from a design perspective," Bischoff says.
The firm is focusing on cost saving through energy performance, with the addition of solar panels and heat monitoring devices in its assets. Bischoff says energy savings of up to 40% can be made and passed on to tenants.
Log4Real has its sights set on investments in the Nordics, the Benelux region and Central and Eastern Europe. Its domestic market is experiencing strong growth, he says.
"We see a strong economy in Germany and investors happy to invest there," Bischoff says. "But we don't see much speculative construction."
Segro CIO Phil Redding says the listed company is more focused on development than investment, with opportunities in and around urban areas. "What we don't want to do is chase returns up the risk curve."
Across Europe, speculative development remains "disciplined", says Joseph Ghazal, CIO for Prologis Europe, with big-box build-to-suit schemes characterising development activity last year. The sector, he says, remains a "resilient and attractive asset class that benefits from high demand, low vacancy and increasing rental growth across Europe".
UK shrugs off Brexit woes
Since the Brexit referendum, the UK has enjoyed record take-up of logistics space. Total take up last year rose by about 10,000sqft from 2015, according to CBRE.
In an update, UK owner and developer Segro said its portfolio rose in value by 4.8% last year. The result, the listed firm said, is due to a combination of strong rental value growth in its UK portfolio, as well as "modest" yield compression.
"The picture over the past few years has been really good," says Redding, with strong investor demand for good-quality warehousing. "Market fundamentals remain very strong, yields have fallen and the amount of investors targeting the UK remains really high. It's a favourable backdrop."
Occupier demand in the industrial sector strengthened during the last six months of 2016, according to a report by Knight Frank. A total of 21.7m sqft of units above 50,000sqft were leased in the last six months of 2016.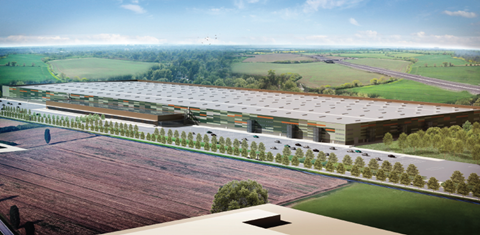 The Midlands remained the regional focus of industrial activity in the second half of the 2016. London and the south-east also saw a doubling of take-up to 4.8m sqft, Knight Frank says.
Knight Frank said Brexit has had an impact on speculative development, compounding the lack of supply in the market. Recent speculative schemes, meanwhile, have pushed rents ahead of previous prime levels as new developments are able to charge higher rents than older stock. The firm expects rental growth to continue this year.
"There is plenty of opportunity for this to continue into 2017, but the shortage of new and good-quality secondhand space across all size ranges will drive occupiers to commit to space through pre-letting or design and build options," says Charles Binks, head of industrial agency at Knight Frank.
Jonathan Priestley, commercial director at AXA Investment Managers–Real Assets' Baytree Logistics Properties platform, says there are "good, positive signs" for the UK in the coming years. "Clearly, there will be regional differences," he says. "But overall, we're seeing high demand and low supply." Such positive signs have made the sector more competitive.
Manish Chande, senior partner at London-based private real estate fund manager Clearbell, told IPE Real Estate last year that the opportunity to buy assets was now more challenging.
"There is still some mileage in the sector, but, in terms of value-add and opportunistic, the only way to get those returns is to create a platform," he said, after the firm's Property Partners II fund sold its Nevado industrial portfolio to Blackstone.
While continental Europe slowly embraces e-commerce, the UK's distribution sector continues to benefit from increased online retailing. One in four Christmas purchases in 2016 was made online, according to Knight Frank. Internet sales increased to 17% of all UK retail sales in 2016 and are expected to double by 2023.
"When you see how online now accounts for such a significant percentage of sales, you can see where the sector's heading," says Priestley.
Over 50% of take-up last year was driven by e-commerce and retail, CBRE said in its monthly industrial & logistics snapshot for January.
While one leading adviser on the sector points out that there is "more to life than the space requirements of Amazon", the impact that the global e-tailer has on sub-markets cannot be underestimated.
As widely reported last year, Brexit has not put the firm off the UK, with its UK country manager, Doug Gurr, refusing to press the proverbial panic button.
Last year the firm agreed one of the UK's largest pre-lettings, a 2.2m sqft lease in Tilbury to the east of London in Essex. The scheme, on which Amazon is taking a 20-year lease, is being funded by Legal & General's long-lease fund.
Other recent lettings by Amazon include 100,282sqft in Sunderland, 271,350sqft at MAG's Airport City Manchester and 176,080sqft at M&G Real Estate's speculative warehouse in Trafford Park. It has also taken space in Daventry and Dunstable, in a Prologis scheme.
Pure e-commerce is still a relatively modest part of Segro's portfolio. "We have a very diverse portfolio of tenants," Redding says. "But there's no doubting it's a big slice of the market, with the UK leading the way."
With London under pressure to find space for residential development and social infrastructure, brownfield sites are in demand. Urbanisation is, therefore, having an impact on the supply of logistics properties.
"There's pressure to build more housing and there are few potential sites in cities coming forward, with so much of that space, which could be used for employment and industrial buildings, being taken by housing developers," says Priestley.
Redding agrees. "Existing industrial estates are going to residential and there's a lot of infill," he says. "You need a balance."
Segro recently published a Keep London Working paper highlighting the need to identify new locations for industrial land that the UK capital is losing at a time when the movement of goods is key. The report points out that the amount of land the Greater London Authority expected to lose by 2031 could be lost as soon as this year.
Melanie Leech, chief executive of the British Property Federation, says the industrial and logistics sector is an important part of the modern economy. "The provision of industrial land does more than just ensure that online deliveries arrive on time – it also creates skilled jobs and delivers significant economic growth," she says.
Competition for land in London is intense, says Leech. "With an acute shortage of housing, we need a balanced approach," she says.
Bischoff says that the issue is less urgent in Germany, where industrial sites in brownfield zones are more likely to remain within the sector rather than become residential schemes.
Logistics Asia-Pacific: Follow the traffic
1

2

3

Currently reading

Logistics Europe: Europe sheds concerns over Brexit effects

4

5