Under the surface of a buoyant investment market, e-commerce is having lasting effects on the shape of logistics real estate, writes Machiel Wolters
An increase in private consumption has had a direct impact on demand for distribution space across Europe. Some core markets, including the Netherlands and Ireland, are heading towards a record year for take-up volume. The growth in occupier and investor demand is leading to increasing scarcity of prime accommodation in the most desired logistics hubs, prompting, in turn, a growth in new construction.
Under the surface, however, the rapid expansion of e-commerce retail is having structural and lasting effects on the logistics property markets in Europe, exacerbating the scarcity of prime product. Online sales are leading to an increasing number of orders, which generally contain small quantities of relatively low-value goods. Because of this, the number of parcels shipped is growing rapidly, whereas the average value per parcel is declining. This implies that logistics makes up an increasing part of the e-commerce fulfilment costs – up to 50% of total costs by some measures. As a result, the pressure on retailers and their logistics service providers (3PLs) to economise is high. In a search for economies of scale, a wave of mergers and acquisitions is currently sweeping through the logistics sector.
Simultaneously, these 3PLs are consolidating their warehouse operations in an effort to reduce operational costs and minimise inventories. This is resulting in a solid growth in the volume of occupier transactions, which are also increasingly linked to e-commerce.
It is difficult to present clear numbers, as many logistics operations have an omni-channel character, but indicative numbers from CBRE Research show that in the core markets of Europe, about one-third of current take-up of industrial space has a link with e-commerce.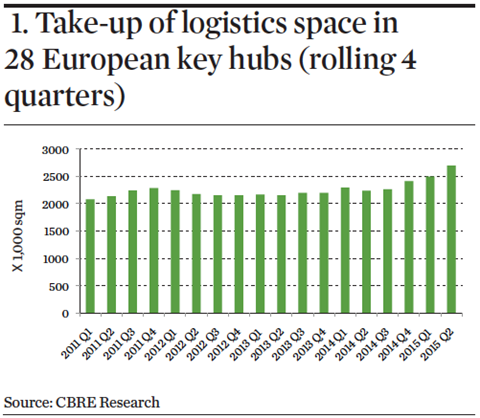 Take-up of logistics space in Europe has experienced an uptick in the final quarter of 2014 and has seen a further rise throughout 2015. It is worth pointing out here that a substantial part of this growth is not caused by a larger number of transactions, but rather by a strong increase in the average size of the distribution facilities involved.
Data from the UK, France and the Netherlands, three key logistics markets in Europe, shows a bumpy but visible increase in the share of so-called 'XXL warehouses' in total logistics take-up. XXL warehouses are defined here as modern distribution centres with a footprint of at least 50,000sqm.
Other typical characteristics are: a free height of at least 10m, one loading dock per 1,000sqm, and large premises to ensure efficient truck manoeuvring and parking space for the warehouse staff – resulting in a floor space ratio of no more than 40%. In the first half of 2015, more than a quarter of the total number of square metres taken up in these three markets concerned space in XXL warehouses.
The upturn in occupier demand and size requirement is leading to increasing scarcity of suitable accommodation in the most desired logistics hubs. This, in turn, is prompting new development. Construction activity in Europe has picked up considerably in the past quarters, providing pressure relief for some markets, particularly in continental Europe. However, new development has also started to act as a trigger for occupier demand in itself, as rents for new property are often lower than those being paid in the current accommodation.
The offering of new development schemes at competitive rent levels is partly being made possible by the continuing appreciation of logistics real estate, delivering correspondingly declining yield levels. This implies that investors targeting these assets are prepared to settle for lower rents, while still being able to make the required initial return.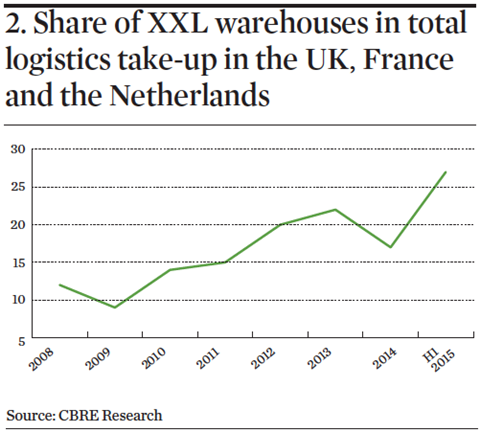 As the European markets are starting to adapt to the relentless increase in scale, the establishment of e-commerce supply chains has started to reveal another effect on real estate: the emergence of the final-mile hub. Increasingly demanding consumers require more customised deliveries. Delivery in narrow time slots throughout the day has become the new norm, and return management is a strong factor at play.
As these customers are increasingly living in cities, central 'XXL warehouse' hubs are increasingly supported by a ring of final-mile facilities around the big cities in Europe.
These final-mile hubs ideally have the shape of a cross-dock centre: a rectangular warehouse with its two long walls entirely fitted with loading docks. Manoeuvring space is even more essential here, as a result of which the built-up area only forms 30-35% of the total plot. Such cross-dock hubs are rather scarce around cities, however, and so are the plots to develop them. Often, in a search for final-mile facilities, other types of property have to be taken into consideration – for example, multi-let light industrial complexes, or less specific types of warehouses.
At first, only Europe's biggest cities, such as London and Paris, were attracting such final-mile facilities but, increasingly, mid-sized markets such as the German, Benelux and Central European cities have come into play. This has also stirred up investors, who for a long time considered cross-dock types of property as undesirable due to their small volumes, their low floor space ratios and their more specific, and thus costly, features. However, the rapid expansion of e-commerce retail has led to the acknowledgement that these type of facilities are starting to become a necessity, and that they can be viewed as an enhancement and diversification of both logistics and retail portfolios.
Machiel Wolters is head of EMEA industrial and logistics research at CBRE
Logistics Europe: Logistics delivers the goods
1

2

3

4

Currently reading

Logistics Europe: Electric currents

5