Positive fundamentals in logistics will outweigh the potential negative effects of Brexit, write Vanessa Muscara, Sean Rymell and Alex Lund
As the UK takes steps to leave the EU, the uncertainty around the renegotiation of trade agreements is likely to have a short-term negative impact on the demand for logistics space, particularly in markets that hold a trade surplus with the UK. In eastern Europe, this includes the Czech Republic and Hungary, due to the importance of the automobile manufacturing supply chain in the region.
In addition, the upcoming French, German and Italian elections have fostered a groundswell of support for populist rhetoric. This is threatening the delivery of a number of European projects, such as the TEN-T programme, which is designed to ensure the cohesion and integration of the trans-European transport network, as well as access to it. TEN-T infrastructure projects, which are located in every EU member state, include all modes of transport including logistics.
These more immediate uncertainties, however, are unlikely to significantly hit long-term growth prospects of freight transport activity levels across Europe. Even without the UK, activity levels in the remaining 27 member states are expected to increase by roughly 40% by 2050, according to Eurostat. That activity levels are forecast to increase by more than 50% in some markets, including Poland and Romania, is testament to eastern Europe's continued integration into the European market.
The emerging trend of right-shoring – placing a business's production in the country that can provide the best combination of cost and efficiency – will similarly provide additional stimulus to the European industrial sector in the medium to long term. China's long-awaited entry into the World Trade Organization in 2001, and the subsequent liberalisation of its economic markets, sparked a major off-shoring process, as developed nations looked to capitalise on China's cheap labour and production costs. However, with wage inflation in China averaging 12% per annum since 2008, the cost-saving benefits have become less clear. Rising oil prices and a desire to improve delivery services and quality control are equally persuading some European companies to reassess their supply-chain needs.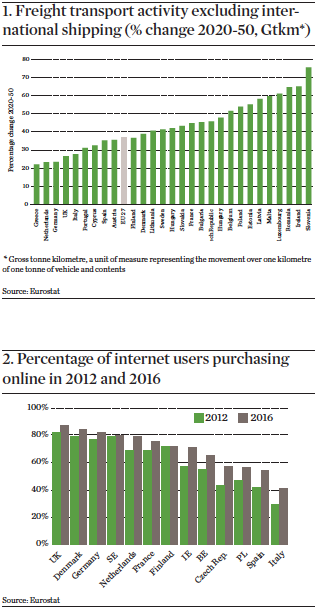 While the US has led the way in full re-shoring, something Donald Trump's new policies will only serve to speed up, right-shoring is more widely adopted by European firms. In a survey produced by UPS, 56% of European companies said they would implement right-shoring by shifting the production and/or assembly of goods to as close as possible to their primary consumer base.
Cost is still a deciding factor when optimising supply chains, but in a consumer-driven market, speed of delivery and the ability to respond to evolving market trends are equally important. With longer supply chains meaning more inventory and slower delivery times with no value-add, there is a growing desire to drastically reduce them. However, there is no industry consensus exists, with firms adopting strategies that best serve their individual customers.
Eastern Europe has positioned itself as the natural choice for this shift in production, with its proximity to European consumer markets, lower property costs and logistics rents adding to its strengths. However, while productivity has boomed in the past few years, wage growth in Poland has been significant and its economy is expected to grow by over 3% in the next five years, the fastest rate of any EU nation. Cheaper alternatives may well present themselves, but right-shoring will not always be driven by access to cheap labour, rather a customer-centric approach, where speed of delivery and consumer satisfaction are at the forefront.
A general drive to bring operations closer to the end consumer is mirrored in the e-commerce market as expectations of faster delivery and tight operating margins have pushed operators to rationalise and consolidate their existing networks to ensure they can offer rapid, cost-efficient delivery. This continues to fuel tenant demand. In 2016 take-up from e-commerce providers in Europe grew by 50% year on year, according to JLL.
It seems political risks are unlikely to derail this structural shift, either in the UK or in Europe. Even without the UK, Emarketer is expecting European growth to average about 7% over the next four years. However, this growth is uneven; as figure 2 shows, there is broadly a north-south divide, with the UK, Germany and the Nordics seeing the highest take-up rates and southern European economies Italy and Spain still sitting below the European average, despite a strong increase in recent years.
The growth in online retail is linked to increasing urbanisation as uptake is higher among younger, affluent, educated city dwellers. All of these factors have prompted developers and occupiers to focus on locations in northern Europe near to major conurbations and arterial routes, but Europe's more peripheral markets may offer opportunities for the brave. Italy and Spain have both seen strong growth in e-sales over the past four years and Amazon – generally a first mover in maturing markets – recently signed terms for a new hub near Milan. The use of internet retail has increased in central and eastern Europe – Poland and the Czech Republic especially – as wages and disposable incomes have risen.
Unlike the UK, Europe also has the advantage of easier cross-border travel, enabling operators to create international synergies in their supply chains. EU initiatives aimed at integrating member states into a digital single market have had some success, with cross-border purchases in the EU now averaging 20% of e-commerce transactions. In Sweden – which still does not have its own Amazon domain – over 85% of transactions were completed internationally, while Finland, Denmark, Spain and Portugal also had a high number of shoppers crossing national boundaries. Key drivers of this include greater choice of product, as well as the aforementioned uneven development of e-commerce networks.
Nevertheless, while there are signs of nascent cross-border markets emerging, the majority of traffic is likely to remain domestic in the short to medium term as a majority of consumers prefer to shop in their home markets. What is more conceivable is that online operators develop a multinational hub-and-spoke model to create efficiencies of scale.
Creating cross-border synergies in European supply chains is nothing new. Traditionally, the most popular area has been the triangle of land between Frankfurt, Paris and Amsterdam, from which drivers could reach one-third of Europe's population in a single day of driving.
And operators have started looking east as well. Amazon has already completed several warehouse developments near the western Polish border, largely to serve the German market. This process could be further accelerated by technological change. The introduction of driverless HGVs could transform the European supply chain, opening up new markets and giving the continent a distinct advantage over the UK.
In conclusion, Brexit poses a very minor downside risk to the European logistics sector as strong fundamentals and favourable structural shifts continue to have a positive impact on the market. In the short term, the depreciation of sterling has boosted UK exports, while recent manufacturing PMI data for Europe and the UK pointed to 56-month and 30-month highs, respectively. Moreover, the long-term structural impacts of both physical and digital infrastructure investment, and the combination of right-shoring and e-commerce growth, should see logistics cement itself as an institutionalised asset class.
While risks surrounding Brexit remain minimal, of greater concern is the general rise of populist parties in member states. Were an anti-free-trade party to win power in a major economy, we would be faced with the possibility of tit-for-tat measures that result in restrictive trade policies, or even the breakdown of the single market. This is not currently the consensus view, however, and assuming no great political shocks materialise, we expect European logistics to outperform in 2017.
This article is part of a series in collaboration with the Society of Property Researchers
Vanessa Muscara is senior research analyst and Alex Lund is research analyst at M&G Real Estate. Sean Rymell is European real estate analyst at UBS Asset Management
Logistics Asia-Pacific: Follow the traffic
1

2

Currently reading

Logistics Europe: Built to withstand

3

4

5