Will a rush of new entrants in Asian logistics saturate some markets? The established players think so, writes Florence Chong
The rapid influx of capital and new players into the logistics sector in Asia Pacific has begun to saturate some smaller markets.
Evidence is growing that pockets of oversupply are emerging in China, which faces an increasing array of economic problems. Industry sources say markets such as Wuhan, Chengdu and Tianjin are among those affected by softening demand. And some newcomers to the market are finding the going tough.
Steve Schutte, chief operating officer at Global Logistic Properties (GLP), says: "We find that competitors tend to go into those smaller markets where land is more available – and this is leading to short-term oversupply, putting some pressure on the leasing market."
Gary Anderson, Prologis's chief executive for Europe and Asia, says: "I am not surprised to see new entrants gravitating to second and third-tier cities, because that is where it is easier to access land, but I personally don't view that as a good strategy."
In markets with oversupply, tenants have been given rent-free periods of a month or so over the past year. But investors and developers remain sanguine, saying the oversupply is a short-term phenomenon that will dissipate in time.
Perhaps the oversupply would be worse if not for the distress in China's capital markets, the impact of which started to engulf many Chinese corporates from middle of last year.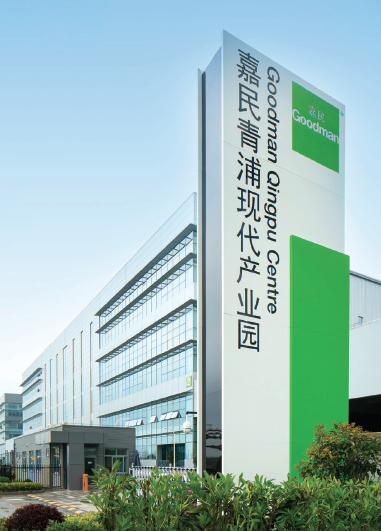 "The market volatility led to a slowdown in decision-making," observes Schutte.
The oversupply was, to some extent, anticipated because many foreign investors and local developers had switched their capital into logistics when China's office and retail sectors became overheated. However, according to some observers, prevailing uncertainty in China, as its economy decelerates, is a bigger worry than oversupply.
Anderson says the fundamentals for industrial real estate in the Chinese market are stronger than the general headlines would suggest. "A current concern is that China's growth is slowing to the 6% range," he says. "But given the size of the Chinese economy, 6%, in my view, is pretty good growth."
He adds: "Beyond that, I would say we are in the very early stages of building out a brand new supply chain in China, to support the changes in retailing and the shift to a consumption based economy."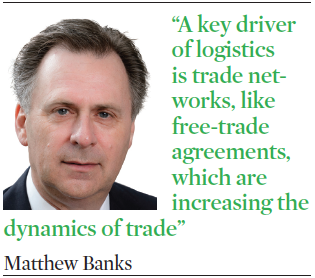 Matthew Banks, global head of real estate Macquarie Infrastructure and Real Assets, says logistics is becoming a large sector broadly around the world, but particularly within countries like China and India. "A key driver of logistics is trade networks, like free-trade agreements, which are increasing the dynamics of trade, and part of that is, of course, the growth in e-commerce which is growing at a very rapid rate," he says.
Despite the slowing of the Chinese economy and increasing competition in logistics, Banks says the Chinese market holds exciting potential. It is tipped to reach US$2.3trn (€2.02trn) in value by 2030, he adds.
The consensus is that the shift to modern logistics will accelerate because traditional retailing and outdated distribution systems are unable to cope with modern retailing.
Outside China, industry experts point to the undersupply of modern logistics and warehousing facilities in countries such as Japan. In both countries – and elsewhere – the internet is revolutionising retailing.
Some in the property industry see logistics assets as the 'new retail', driven by an irreversible transition from traditional shopping venues and shopping malls to online shopping. Rising awareness of food safety in China is also driving retailers into using cold chain facilities. Shoppers are turning to better-organised supermarkets – away from traditional retailers. These trends come as a boon to developers of modern logistics facilities in China.
So far, the core markets, meaning large cities, have not been affected by oversupply yet.
Global logistics giants, Prologis, GLP, and Goodman Group – which collectively own and manage assets totalling €108.6bn globally – have taken a defensive position by sticking to key cities.
They refer to China's first tier cities of Beijing, Shanghai, Shenzhen and Guangzhou as their core markets.
Greg Goodman, Goodman Group's chief executive, calls it his "gateway cities strategy".
In Australia, 80% of Goodman's facilities are located in Sydney, and in China, 60-70% of Goodman warehouses are located in and close to Shanghai and Beijing or in Hong Kong.
Goodman says assets located in densely populated urban conurbations like Shanghai will deliver best returns and growth in the next decade. The company has focused on consumerism, which requires services like e-commerce, which in turn require facilities in close proximity to the customer base.
When the Goodman Qingpu Centre (pictured) in Shanghai officially opened in April, 97% of its 110,000sqm space was already leased.
Schutte says: "Demand continues to be robust in our primary markets like Beijing, Shanghai, Shenzhen and Guangzhou, where we continue to enjoy occupancies of more than 90%.
"We have started to pivot to our primary markets. Our focus is on core markets and those where land for logistics is difficult to secure. So there is a natural barrier to entry for others.
"The scale of our operations gives us the ability to turn to where the market is strong – and gives us a long-term advantage over those players who are relatively new to the market."
In line with current demand levels, GLP has cut back China development starts. Overall, it will start development of US$1.4bn worth of projects in the 2017 financial year, and expects to complete projects worth US$1.2bn in that year.
As well as being customers, large e-commerce platforms, especially in China, have also become competitors. Where they have the resources, Chinese e-commerce operators are starting to build out their own logistics networks.
Anderson says these companies will quickly find that there are two main concerns. "First, their growth will be so rapid that by themselves, they won't be able to keep up with their own supply chain infrastructure needs," he says.
"And it is very difficult to secure land for logistics use, particularly in those key consumer markets where they want to be, so that in itself is a challenge. This will become clear to them over time. And secondly, many of the e-commerce companies are trading at high multiples. It is very difficult to trade at high multiples if you are asset heavy. Over time, these companies will tend to lease more facilities as they strive to be asset-light."
The Japanese retail sector is similar to that in China, where traditional retailing is being crowded out by the advent of e-commerce and new retailers. The change demands new warehousing and distribution facilities.
Schutte says the reason GLP has a 99% occupancy rate in Japan is because of the difficulty in getting land. But he notes that more capital is coming into Japan to build facilities.
"We may feel some pressure on our margins," he says. So far, however, GLP is enjoying development margins of 25-30%, which Schutte describes as "an excellent return".
Greg Goodman's view is that in the lead-up to the Olympics in 2020 Japan will do well. The Australian group's development projects centre around Tokyo and Osaka.
Compared with Japan and China, Australia has the region's most efficient and modern logistics sector. The Australian market is thriving, especially in Sydney, where older warehouses have been converted into other uses, such as residential.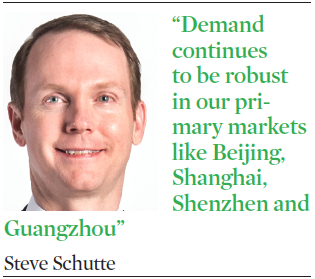 It is hardly surprising, then, that new players compete fiercely for a slice of the tightly held market. Singapore's Ascendas REIT recently paid AUD1.1bn (€720m) for a portfolio owned by Singapore's sovereign wealth fund, GIC, in Australia, setting a record low in yield. US group Blackstone is said to be negotiating to buy a portfolio worth around AUD600m from the Goodman Group.
Competition for opportunities is forcing investors to look beyond Australia, China and Japan to other markets in Asia Pacific. The Singapore-based e-Shang Redwood Group brought Dutch pensions group APG and Canada Pension Plan Investment Board into a new joint venture last November to develop logistics facilities in South Korea.
Australia's Logos Property Group and Canada's Ivanhoé Cambridge in June set up the Logos Southeast Asia Venture with an initial commitment of SGD150m (€97.6m) in Singapore to assemble assets in key southeast cities.
E-commerce is also taking off in India, but Anderson says: "Retail in India is not as sophisticated as in China, and last mile delivery is very difficult. India needs to develop its infrastructure." In time, though, he adds, India will be an important market.
Anderson also sees the large south-east countries becoming more important over the next 15 years. They will evolve like China, moving from export-oriented to consumption-led economies. He recalls that when Prologis first went to China it was building facilities to support China's export industries.
When asked if he sees any constraints to the future growth of the industry, Anderson points to three factors. First, he says, lack of land will be a major growth constraint. Second will be lack of infrastructure, such as deepwater ports, roads and railways. Last, but not least, will be rule of law with respect to real estate – ownership and titles.
Recent key deals
• September 2015: Singapore-based Ascendas REIT buys GIC's Australian portfolio for AUD1.1bn.
• November 2015: APG and CPPIB form new US$500m joint venture with e-Shang Redwood in Korea.
• December 2015: CPPIB tops up investment in Goodman China Logistics Partnership with US$1bn a capital injection.
• February, 2016: CPPIB and GLP form second Japan 50-50 joint venture with a start-up investment of JPY100bn.
• February 2016: PGGM increases investment in the Redwood China Logistics Fund to a total of US$430m.
• March 2016: Ivanhoé Cambridge and Macquarie Capital buy into Logos AUD$2bn logistics platform in China and Australia.
• March 2016: Partners Group forms venture with Logos to develop logistics assets in Australia.
• June 2016: Logos and Ivanhoé Cambridge established the Logos Southeast Asia Venture, with a start-up capital of SGD150m.
Logistics Europe: Market delivers
1

2

3

4

5

6

Currently reading

Logistics Asia: Tide rises in the East

7

8

9