Through its 'one belt, one road' programme, China is creating a modern day Silk Road, with big implications for global trade. Christopher O'Dea reports
Logistics investors in Asia have been weighing the relative effects of a slowdown in Chinese export trade, the changing composition of Chinese demand, and the potential trade boost from the new Trans-Pacific Partnership (TPP). But at the same time, a fundamental transformation of Asian economic structure, trade relations and policy has been taking place – one that could have a far-reaching impact on the flow of goods and on the infrastructure that connects producers and consumers from the South China Sea to the Mediterranean.
The 'one belt, one road' strategy, announced in 2013, aims to bring back China's historic land and sea trade routes, in the form of the so-called 21st Century Maritime Silk Road and the Silk Road Economic Belt.
Cheng-Chwee Kuik, associate professor of strategic studies and international relations at the National University of Malaysia, says this might well "mark the emergence of a third pillar in the 21st century Asian architecture".
In One Belt, One Road, or OBOR, China envisages the creation of a Silk Road suited for modern times – a network of logistics nodes connected by railways and highways, powered by oil and gas pipelines and electricity generation and transmission infrastructure, encompassing both overland routes and seamlessly integrated ports and maritime routes. The programme – which could cost up to $1trn – is perhaps China's biggest effort yet to boost both its foreign policy influence and revitalise its economic growth.
OBOR is "a brilliant plan" says Francis Cheung, head of China-Hong Kong strategy at brokerage and investment group CLSA. "Xi Jinping's ambitious strategic initiative – an adaptation of the historical Silk Road – could sow the seeds for a new geopolitical era."
PwC has started compiling a database of more than $250bn worth of projects that have been contracted since OBOR was announced in 2013. Numerous Chinese institutions are financing road, rail, port and power projects in countries ranging from Uzbekistan to Greece, Nigeria, and Pakistan. Capital comes from several sources. The China-led $40bn Silk Road Fund, launched in 2014, is backed mainly by China's foreign exchange reserves, and managed like China's sovereign wealth fund. Jin Qi, formerly assistant governor of the PBOC, chairs the board.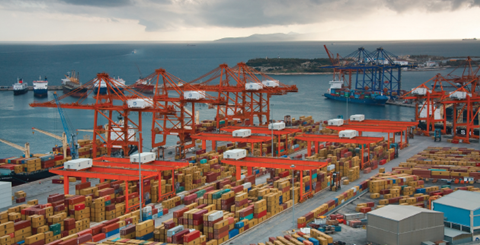 Last summer, Chinese conglomerate CITIC said its various divisions will invest more than ¥700bn (€99bn) in approximately 300 overland and maritime infrastructure projects in the 65 countries encompassed by OBOR.
In 2014, Chinese state-owned enterprises began tapping the Eurobond market to raise capital in several currencies, and PwC expects that issuance to grow to as much as 15% of debt capital this year for some enterprises from just 5% when OBOR began.
The Greek port of Piraeus has emerged under OBOR as China's new gateway into the EU, creating a shorter link between Southeast Asian production and consumer markets in Europe and Central Asia via the Silk Road maritime corridor across the Indian Ocean and Suez Canal. Since first investing in the port in 2009, China Overseas Shipping Company (COSCO) and its subsidiaries have obtained a contract extension to 35 years, built or rebuilt two terminals, and added modern cranes enabling the port to ramp up annual volume five-fold, from 700,000 standard 20ft containers to 3.6m.
Plans for additional investment in rail lines in Europe would cut four to 10 days off the time needed to distribute goods from Asia compared to ports like Amsterdam or Hamburg. Hewlett Packard in 2013 moved a major portion of its European logistics operation from Rotterdam to Piraeus. Huawei, ZTE and Sony have also begun using Piraeus as distribution hub. Northern European ports' "long-standing status as the primary gateways into and out of Europe can no longer be taken for granted," wrote Frans-Paul van der Putten in a report on Chinese investment in Piraeus for Dutch think tank Clingendael.
In September, COSCO led a joint venture with two other Chinese state-owned enterprises that invested $940m to buy 65% of a logistics terminal in the Turkish port of Ambarli, on the European side of the Marmara Sea. COSCO is one of three bidders for a 51% stake in Piraeus, most of the Greek government's 67% share. A decision was expected in late October.
OBOR is a massive programme and embodies China's most vital strategic goals, according to a paper by the Center for Strategic & International Studies (CSIS). "The Chinese leadership is struggling to manage a difficult transition to a 'new normal' of slower and more sustainable economic growth," the paper says. "The infrastructure projects proposed as part of the Belt and Road – many of which would run through some of China's poorest and least developed regions – could provide stimulus to help cushion the effects of this deepening slowdown."
For starters, the projects will jump-start new demand for China's massive export infrastructure. But OBOR now includes promotion of enhanced policy co-ordination across the Asian continent, financial integration, trade liberalisation, and people-to-people connectivity measures, according to CSIS.
Ultimately, the programme could yield diplomatic dividends if China can emerge as a leading source of funding to cover the shortfall of capital needed for infrastructure in the region, which The Asian Development Bank estimates could be as high as $9trn by 2020. "Against the backdrop of a regional 'infrastructure gap' estimated in the trillions of dollars, the initiative highlights China's enormous and growing resources and will provide a major financial carrot to incentivise governments in Asia to pursue greater co-operation with Beijing," says CSIS.
Despite the sharp slowdown in its export-oriented economy, and slow progress in ramping up domestic demand, China has forged ahead with OBOR projects in the region. In September, it beat Japan in bidding to build Indonesia's first high-speed railway, linking Jakarta with the West Java provincial capital of Bandung. The Indonesian government had previously dropped plans for the high-speed line, citing steep costs, but China came back with a new proposal – one that did not require Indonesian fiscal spending or government debt guarantees.
"Xi Jinping's ambitious strategic initiative – an adaptation of the historical Silk Road – could sow the seeds for a new geopolitical era"
Francis Cheung
Thailand is also receiving investment in its transport and logistics from OBOR. China is moving to create a network connecting Kunming, the capital of southwest China's industrialised Yunnan province, and an economic bloc including Cambodia, Laos, Myanmar and Vietnam, called CLMV. China Railway Construction Corporation will participate in building a rail line running more than 840km from Kunming to Bangkok and ports on Thailand's coast.
Thailand's growth has been hurt by lower demand from the EU and US, and part of its strategy for boosting GDP – and escaping the middle-income trap – is to become a logistics hub for the CLMV, southern China, and the Eastern provinces of India that border the bloc. The new Chinese-backed railway would cement Thailand's role at the centre of the CLMV, whose population of about 240m people would make it the world's fifth-largest if it were a country. Thailand is expected to spend about $83bn over the next seven years to build new railways, roads and customs checkpoints to remove bottlenecks that hamper trade with its neighbours in the CLMV.
The agreement of a Trans-Pacific Partnership pact in October is not likely to derail China's bid for regional and global influence through OBOR. Some analysts say it might add impetus to Beijing's support of the Regional Comprehensive Economic Partnership (RCEP), a pan-Asian effort to liberalise trade and increase exports among a 16-country bloc.
Already suffering a slowdown, China could lose further ground to competitors such as Vietnam which as a TPP member will enjoy greater duty-free access to markets in the US and other TPP member nations. While China's central bank estimates OBOR will add $2.5trn to Chinese trade in the next decade, the country could miss out on a 2.2% boost to its GDP by not joining TPP, increasing the value of an alternative pact like RCEP.
China has strengthened its support of RCEP since it was first conceived by the 10 members of the Association of Southeast Asian Nations (ASEAN). The 21-member-nation group APEC, the Asia-Pacific Economic Cooperation council, has suggested RCEP and TPP could become part of a Free Trade Area of the Asia-Pacific (FTAAP). Seven nations – Australia, Japan, Malaysia, New Zealand, Singapore, Vietnam and Brunei – are already in both TPP and RCEP.
China is now Australia's largest trading partner, export market and source of imports, says To Xinhua, associate director of the China Institute of WTO Studies at the University of International Business and Economics in Beijing. New Zealand has indicated that the two trade pacts are complementary stepping stones towards FTAAP's pan-Asian vision.
"These different efforts are, in fact, complementary," says David Dollar, senior fellow at the John L Thornton China Center at the Brookings Institution. While competing US and Chinese initiatives could stifle trade, Dollar says in a recent paper that it is "more likely that Sino-American competition will lead to strengthened institutions and deeper integration throughout Asia-Pacific".
While Beijing's regional activism is not new, OBOR is different, says Kuik. Where Beijing had previously mostly reacted to outside initiatives, "under Xi Jinping, China is moving beyond this," he says. Instead, he says, "China's initiatives are promoted mainly on instrumental ground, leveraging on participating countries' common need for development as well as China's growing ability to reward and its image as a permanent factor in Asia as a basis for co-operation."
Logistics Europe: Logistics delivers the goods
1

2

Currently reading

Logistics Asia: Respinning the Silk Road

3

4

5