E-commerce is taking off in Asia, and a number of groups have spotted a huge opportunity in logistics. Florence Chong reports
Over the past three years, about US$45bn (€42bn) worth of transactions have taken place in Asia-Pacific's industrial and logistics sector, and activity is expected to accelerate further in 2017.
Deep-pocketed sovereign wealth funds such as Singapore's GIC, and large global managers led by Blackstone are at the forefront of this growth. Over the past 12 months, GIC has secured deals in Indonesia and South Korea. GIC also established itself in Europe, acquiring the P3 portfolio from Ivanhoe Cambridge and TPG Real Estate for €2.4bn.
Among global fund managers, Blackstone is a leader with its multi-country strategy in building exposure to logistics. In China, Blackstone is in partnership with China Vanke, a large Chinese developer. Given softness in other sectors in China, observers expect the two to focus on logistics.
In Australia, Blackstone is due to settle on a second tranche of logistics properties from Goodman Group, valued at AUD640m (€455m). This will take its total purchase of Goodman assets to almost AUD1.3bn within 12 months.
Blackstone is now one of the largest owners of sought-after industrial assets in Australia. AMP Capital, another new entrant in Australia, purchased an AUD250m portfolio from JP Morgan last July.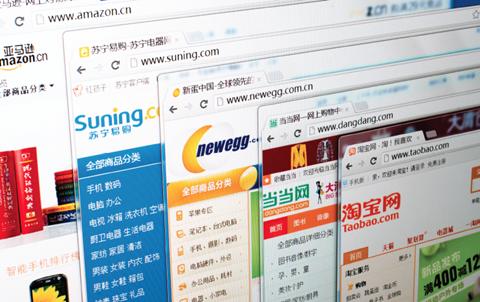 However, Blackstone's China and Australian transactions may yet pale into insignificance should Blackstone succeed in outbidding a Chinese consortium, led by China Investment Corporation (CIC), to privatise the Singapore-listed Global Logistic Properties (GLP).
Blackstone is jointly bidding with Warburg Pincus for GLP, which is capitalised at SGD12.2bn (€8bn) and manages assets valued at US$40bn. Warburg Pincus is a founding member of e-Shang, which at the beginning of 2016 merged with Redwood Group to form Asia's second-largest logistics group, e-Shang Redwood (ESR). The group has amassed assets worth US$5bn (€4.6bn) in North Asia.
ESR has also expanded into Southeast Asia, with the acquisition of a stake in the Singapore-listed Cambridge Industrial REIT. It is taking a majority stake in the REIT's management company.
Another rapidly-growing company, LOGOS Property Group, which has its main operations in Australia and China, has already established a base in Singapore from which it plans to expand to Indonesia (see Indonesia: the next great opportunity?).
New institutional investors include the leading Chinese insurer Ping An, which has committed US$300m with ESR, and a further US$1bn with Denver-based Blumberg Investment Partners, to develop a logistics investment platform in the US.
Smaller regional groups led by Mapletree and Ascendas, both in Singapore, are also planning to expand in logistics overseas.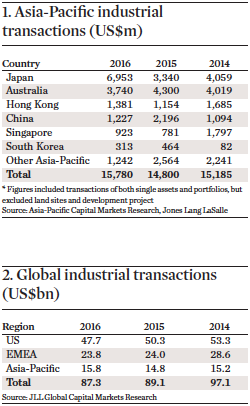 Extrapolating from past trends, and given strong investor interest in this category, Myles Huang, director of research at Jones Lang Salle's capital market unit, says industrial and logistics transactions in Asia-Pacific could increase by up to 10% this year. Transactions rose 7% last year from 2015.
The bulk of these transactions were in Australia, China, Japan and South Korea.
"If there is one thing that has changed in the past year, it is the increased interest from global investors with capital to invest into the logistics sector," says Gary Anderson, chief executive for Europe and Asia at Prologis, the world's largest owner, operator and developer of industrial real estate. He is seeing more new competitors, which he describes as a trend to watch.
Anderson says the investor interest reflects the maturing of logistics into an institutional-grade investment class over the past five years. "It was a well-kept secret for more than 20 years that the logistics sector could drive consistent cash flow and stable dividends," he says. "Yields have now narrowed to more closely match office, retail and residential investments. Sovereign wealth funds and other institutional investors were focused on Europe several years ago, and are now turning their attention to the Asia-Pacific region."
Hannah Jeong, Colliers International's director of valuation and advisory services, says fast-growing demand for logistics space will continue to outpace supply in Asia for the next five years. The sector has enjoyed consistent rental growth and value appreciation over the past 15 years.
Anderson says market rental growth in Japan this year is expected to be in the 1-2% range, with 5-6% growth in Shanghai and Beijing.
Online traffic drives real traffic
Greg Goodman, group chief executive of the Goodman Group, says the company's global occupancy rate is about 96%. In the UK and Europe, logistics occupancy is 100%. Demand underpins Goodman's current AUS3.5bn worth of work in progress – it has 80 projects around the world.
A key reason behind the demand is the exponential growth in online retailing. "Asia-Pacific is growing at more than double the rate of mature markets," Goodman says. "Without doubt – and without exaggeration – the demonstrative underpinning growth is coming from e-commerce and digital technologies.
"Primarily, this is because the middle-class is growing at a faster rate, and there is rapid adoption of digital technologies in the region's emerging economies. Asia-Pacific is following the trend we see in Europe and the US. More Asian consumers are using mobile phones and mobile technology to shop. Online sales are snaring an ever-bigger slice of retail sales."
As Goodman sees it, disruptive technologies – the internet, robotics, artificial intelligence and so on – are forcing irreversible structural changes in global economies, including those in Asia-Pacific. And these changes lend themselves to the development of modern logistics facilities.
Goodman says new entrants to online retailing are causing a change in the way other companies look at their own e-commerce platforms. These new retailers are, in turn, forcing traditional retailers to reassess how they do business.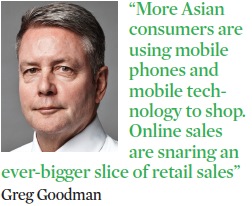 "They are reorganising to offer both bricks-and-mortar sales and online sales," Goodman says. "You also have the overlay of automation in warehouses. To offset rising labour costs, companies will increasingly turn to artificial intelligence and robotics to reduce costs and increase efficiency."
Anderson says bricks-and-mortar retailing store inventories are held both at a centralised warehouse and the point of sale. "When you move from bricks-and-mortar to online, the amount of warehouse space required triples for a number of reasons," he says. "Firstly, there is no retail outlet to store inventory. Secondly, e-commerce companies carry a huge number of stock-keeping units and, lastly, they need space to handle and store returns."
But with the world economy facing heightened uncertainty, what happens if global trade is disrupted because of government policies? One risk is the threat by US president Donald Trump's administration to impose high tariffs on Chinese imports. This could lead to a trade war.
Anderson says: "To the extent that you focus your investments in key population centres, you will be fine. These are unlikely to feel fallout from international global trade friction."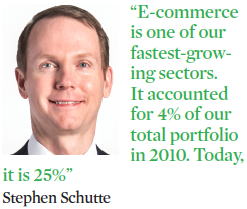 GLP's CIO, Stephen Schutte, says that, whatever happens to the economy, people still have to buy groceries. "The bulk of our portfolio is driven by domestic consumption, and we think that is something that helps weather [economic] downturns," he says.
"I don't think anything can protect us if there is a global meltdown, but if you are grounded in domestic consumption, this will absolutely help soften any blow we are likely to experience."
Schutte says market dynamics in China today are different to those of five or 10 years ago, when domestic consumption was less relevant because China was an export-oriented economy.
Today, China is the world's largest e-commerce market, with sales reaching US$4.9trn in 2016 and forecast to rise to US$7trn by 2020, according to the specialist research firm, eMarketer. Chinese developers and investors have charged into logistics as the overall Chinese property market has softened in recent years.
Anderson says new supply continues to come online in second and third-tier cities, where demand is not as robust as in the largest cities. "These markets absolutely have challenges."
"But," says Schutte, "compared to last year, things are shoring up. Our lease ratio in China went to 87% last quarter."
One cause for optimism is the rapid take-up of online sales in rural China. Many Chinese e-commerce retailers, such as Alibaba and JD.com, believe the key to incremental e-commerce growth in China will come from outside the tier-one cities.
Rural Chinese do not have the same access to retail malls, but they have mobile phones, so those with disposable incomes will shop online.
"Within the next year or so, we expect much of the excess supply in weaker sub-markets to be absorbed," observes Schutte. "So we remain positive on China in the longer term."
He says location is important. "We see demand continuing to be very robust in Beijing, Shanghai, and some secondary cities, which are close to infrastructure and ports. We're lucky that more than half of our portfolio is based on these markets, which we think bodes well for the future."
Schutte adds: "E-commerce is one of our fastest-growing sectors. It accounted for 4% of our total portfolio in 2010. Today, it is 25%." Online sales in China have grown at a 9-year compound annual rate of 74%. But, Schutte says, GLP has "tempered its development starts to stronger markets".
In the 2016-17 fiscal year, GLP expects to commence work on US$1.3bn worth of new projects in China. The new developments GLP started in China in the fourth quarter of 2016 were situated in sub-markets and had an average lease ratio of 92%.
Goodman has long spoken of his overarching strategy to focus on global gateway cities. "In Australia, 80% of our assets are in Sydney; in New Zealand, almost 100% are in Auckland; and elsewhere in Asia-Pacific, 93% of the total is in Hong Kong, Shanghai, Beijing, Tokyo and Osaka," he says.
Of the group's global assets valued at AUD34bn (at September 2016), AUD25.5bn is in Asia-Pacific, split between Australia (AUD13.6bn), New Zealand (AUD2.4bn) and Asia (AUD9.5bn). Close to 90% is in the four key cities of Sydney, Auckland, Hong Kong and Shanghai.
"Why do we talk about those cities? Because they have growing populations, and the biggest concentration of middle-class," says Goodman.
In the major Chinese cities, the key operators are convinced that oversupply is unlikely to be an issue because the supply of industrial land is constrained.
"Land does not trade often," says Schutte. "Our Chinese partners have connected us with some of the largest state-owned enterprises, and we are getting land transactions done with these groups."
GLP's joint-venture partners in China provide it with access land. GLP has 83% of its net value assets in China and Japan, and a first-mover advantage in China, where it is now the largest logistics group.
While e-commerce is becoming an increasingly important source of growth, it should be remembered that logistics has been the backbone of industrial output in all economies. That position has not changed.
Today, the automotive industry, third-party logistics and manufacturers of consumer goods all require logistics facilities to service their operations.
Looking ahead 10 years, Goodman says the global – and Asia-Pacific –logistics markets will consolidate, and that, with the advancement of innovation and technology, continue to throw up new opportunities.
Indonesia: the next big opportunity?
Institutional investors have a watching brief on Indonesia, with the country shaping up to be a new frontier for global logistics companies. Explosive e-commerce growth is expected, with Indonesia seen as the next China, which has embraced e-commerce like no other. Some expect Indonesia to become one of the world's largest e-commerce markets within a few years.
Singapore's sovereign wealth fund GIC has partnered with Indonesian developer PT Mega Manunggal Property (MMP) and plan to spend SGD1bn (€660m) building logistics warehouses over the next three years.
Steve Hawkins, managing director at Logos Property Group, an Austrialian logistics specialist that has expanded into Asia-Pacific markets, says: "Twelve months ago it was hard to interest global investors in the prospects of Indonesia." Today, he senses a change in mood.
Logos has partnered with Australia's Macquarie Capital and Canada's Ivanhoe Cambridge to create an AUD5bn (€3.6m) logistics portfolio, based mostly in China and Australia.
Hawkins says institutional investors have started to research Indonesia. "We are looking at parcels of land and customer requirements, and getting ready to move into implementation phase," he says. At the time of writing, Hawkins was close to finalising the first Logos transaction in the country.
Indonesia, he says, can be deceptive because most of its 261m people are poor and do not have bank accounts or credit cards. Its roads are terrible and it lacks infrastructure.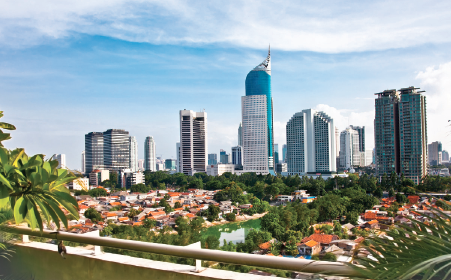 He says: "One invariably asks, 'how can e-commerce work in this environment?' But it does."
Hawkins says parcels are delivered by motorbike. "They can be delivered quicker than in Sydney or Shanghai. Young Indonesians use systems like Paypal, and they buy and pay using their mobile phones. It is a very exciting market."
Paul McKenzie, a consultant to Hong Kong brokerage firm CLSA, says Indonesians are developing their own logistics systems, using local convenience stores as intermediaries in sales and payments.
He says online sales in Indonesia grew by 55% in 2015. They still account for just 3.5% of total Indonesian retail – compared with 25% in China – but he expects e-commerce market share of total organised retail to reach 9.2% in 2020.
According to US consultancy Mckinsey, for every dollar spent on retail in Indonesia, 60 cents replaces offline sales and 40 cents is on incremental sales.
McKenzie says capital from private equity groups and large established companies is starting to flow into Indonesia. Between the third quarter of 2013 and the second quarter of 2016, at least 65 deals took place in the private, e-commerce logistics and online payment sectors in Indonesia. Full details of the deals have not been disclosed, but of those that are public CLSA says the aggregate amounts to almost US$1bn.
Hawkins says a convergence of many factors – including Indonesia's youthful population, growing middle-class, rising consumption, high uptake of mobile phones and internet connectivity – is driving online retailing.
Economists say Indonesians have achieved a per capita level of US$10,000 – a level at which consumption is supposed to take off.
Significantly, the government has introduced a more accommodating investment policy, Hawkins says. "Certain types of logistics activities were taken off the negative investment list [of banned foreign investments] in 2015," he says.
Foreign companies, which had previously operated under restrictions, have been given more freedom. It could prompt them to expand their Indonesian operations.
"They can now create their own supply chains and create logistics and distribution facilities," Hawkins says.
Although companies such as Unilever and Procter & Gamble have been in Indonesia for a long time, Hawkins says they are only now upgrading their distribution chains and looking for good-quality logistics facilities.
"We are seeing Indonesian demand opening up for good warehouses and supply chains," he says. "The big multinationals and logistics players are ramping up their own operations to make them more efficient."
McKenzie says many major e-commerce companies are aggressively establishing a presence in Indonesia. One of these is Amazon, which is reportedly looking to invest US$600m in the country.
Among those that have started to invest is China's Alibaba. The Chinese e-commerce giant plans to invest a total of US$1bn – its single largest overseas investment so far – in Lasada, one of Indonesia's e-commerce market leaders.
Many logistics players, including the Alibaba-Lasada partnership, see Indonesia as a stepping stone to the south-east market of 630m people.
Logistics Asia-Pacific: Follow the traffic
1

Currently reading

Logistics Asia-Pacific: Follow the traffic

2

3

4

5