The logistics giant is reducing its use of large fulfilment centres in the US and has redirected some of its investment. Mark Faithfull asks what this means for investors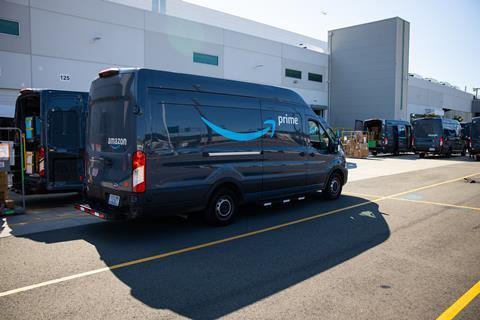 In April this year, Amazon announced that it had established a $1bn (€952m) industrial innovation fund to invest in supply chain, fulfilment and logistics. A pioneer in the adoption of robotics and automation since it acquired Kiva a decade ago, Amazon's fund initiative represents a move to embrace more technology.
As Amazon announced the fund, Alex Ceballos Encarnacion, vice-president of worldwide corporate development, said: "We see an opportunity to look beyond our own experience and empower companies that are developing emerging technologies in customer fulfilment operations, logistics and the supply chain. We're excited to help advance these technologies as online shopping becomes even more important to people who are looking for more convenience and time savings."
Amazon says that the fund's purpose is to identify companies that increase delivery speed and improve conditions for workers, and its first investments are around wearable technologies and robotics. Recipients include wearable safety technology maker Modjoul; Vimaan, which uses AI to improve inventory management; Agility Robotics, which is developing a walking robot; Mantis Robotics, a tactile robotic arm specialist (all US-based companies); plus Israeli BionicHive, which develops adaptable robotics for existing warehouse shelving racks and boxes.
The announcement comes at a time when Amazon is cooling its take-up of new fulfilment centres. Instead, it is turning its attention to innovation and transportation, after nearly doubling its operations capacity in the US over the past two years and growing its number of US fulfilment centres by 30% in 2021, according to data from supply chain consultant MWPVL International. However, Amazon is turning to other operational opportunities, including better last-mile facilities. Consequently, MWPVL estimates its fulfilment centre growth rate at 22% this year.
Yet the Amazon slowdown does not necessarily mean that its so-called mega-sheds are going out of fashion, according to James Ellis, director of investment and portfolio management for Europe at Nuveen Real Estate.
"I think there's always a place for these large, centrally located fulfilment centres," he says. "Amazon is the key in the market right now. So all eyes may be on Amazon, but there are other e-commerce players with similar kinds of business models, so there is a place in the market for these sheds. From an investment viewpoint, they offer benefits for the long term – you're looking at a long-term lease and, if your strategy is purely income, that could be a good bet with a strong covenant in place."
Logan James, senior managing director and head of European logistics at Hines, feels that the market has moved to be far less reliant on the logistics giant. "Amazon is maybe a little over capacity with warehouses," he says. "But you read between the lines and the reality is that, even if Amazon is slowing in the US, this sector is so different from where we were five to10 years ago, that it almost doesn't matter. Its absorption of total logistics space in Europe is far smaller than it was a few years ago.
"There are structural changes going on that are bigger than Amazon. Logistics real estate is really just a consequence of these changes. We simply respond to where demand is. Even in spite of potential over-capacity in Amazon's supply-chain network, rents are increasing, while vacancy is at an all-time low."
The way goods are moving to people and throughout the supply chain is changing, which means real estate platforms need to be flexible and dynamic. James points to potential new players and space takers. "We haven't even heard from Alibaba yet, or JD.com, because there's still a lockdown in China," he says. "Do you really think they are just going to let Amazon have Europe for the next 10 years?
"So we're continuing to see growth in the sector. Not that logistics isn't prone to overbuilding – many of us lived through 2008 – but there's still a number of very large, global transportation companies and logistics providers that don't have enough warehouse space."
Alistair Calvert, CEO of Clarion Partners, agrees. "Mega-sheds are still relevant," he says. "We still think they'll be needed, so it's a case of development with caution. Obviously you never hear Amazon say that it's not speeding ahead, so I guess it has slightly more resonance when it comes from them. There are a number of factors to think about though. One is that the US is quite a lot further along with the build-up of logistics than Europe, and Amazon is comparatively more dominant in North America.
"Amazon's footprint in the US also includes a lot of second-generation assets that they may be trying to cycle out. And finally, a lot of the comparables at the moment are against periods when online was largely facing closed stores. So it's inevitable there's going to be some sort of reset."
Logistics: 'Just in time' to 'just in case'
1

2

3

Currently reading

Logistics: Amazon pivots from space to innovation