Rent control is gaining momentum in the US, with a number of local governments looking to step in to help make living more affordable. Stephanie Schwartz-Driver reports
With new statewide rent control laws coming into effect in both New York State and California, the real estate community is concerned that a wave of new laws could roil the residential landscape from coast to coast.
The New York State government rolled out sweeping tenant protections, including measures focused on New York City's rent-regulated apartment stock, with the passage of The Housing Stability and Tenant Protection Act of 2019. This new legislation replaces rent regulation that expired in June 2019.
While the new legislation will make it harder for landlords to remove apartments from rent stabilisation and rent-control rolls by limiting the amount they can raise rents once an apartment leaves the rolls, it also restricts rent increases that could be used to cover the cost of significant maintenance and infrastructure improvements.
This act cuts back on programmes that previously let building owners charge tenants for the costs of improvements. Major Capital Improvement (MCI) rent increases are now capped at 2%, down from 6%, and Individual Apartment Improvement (IAI) rent increases are capped at $15,000 (€13,502) over a 15-year period.
There are close to one million rent-regulated apartments in NYC, in various categories. About 22,000 are rent controlled, according to the Rent Guidelines Board, which was created in the 1940s when rents skyrocketed after World War II. For a tenant to benefit from rent-control status, they or their family must have been occupying the apartment since 1971, in a building constructed before 1947. When a tenant moves out, the apartment either becomes rent-stabilised or unregulated, depending on the number of units in the property – in buildings with fewer than six units, vacated apartments are freed from regulation.
About 50% of NYC apartments are rent-stabilised. For these apartments, rent-increase caps are set annually by the NYC Rent Guidelines Board. Before the passage of the new law, there were exceptions to the cap – for example, where a landlord made substantial building improvements or unit improvements. And once the rent exceeded $2,700 and the tenant vacated, a unit left the rent-stabilised rolls, giving landlords an incentive to increase rents as much as possible. This is no longer the case under the new legislation.
Affordable housing is a another category. These apartments are included in new construction, reserved for lower-income tenants, in exchange for tax breaks.
The ramifications of the new legislation in New York City appeared quickly. Transaction volume froze after passage of the legislation. "The rent-stabilised world sort of stopped," said Chris Balestra, CIO of Taconic Investment Partners, at a conference in November. He noted that investment sales in the multifamily space were down 79% in September as the real estate community began to come to terms with the new legislation. And from June to November there were only six trades in the rent-stabilised sector.
"To sell a rent-stabilised building in this climate, it has to have already had infrastructure improvements," Balestra said. "We will end up with three classes of properties: deteriorating and will continue to do so; already improved; and buildings somewhere in the middle. A lot of rent-stabilised stock needs work; if you are a seller, your value is not what it was."
The trend continued. Across the city, sales volume was down 60% in November, according to PropertyShark statistics, owing to a slowdown in the rent-regulated sector. As a result, the citywide price per foot increased 19%, indicating that transactions prioritised higher-value properties.
These statistics reflect a response to the new legislation. Transactions in the rent-stabilised space have buoyed NYC real estate over the past few years, as investors bought buildings to raise them to market rate by improving units. This strategy is no longer possible under current regulations.
Building owners have markedly reduced spending on renovation in the wake of the new legislation. The Wall Street Journal reported in December that the number of renovation projects fell by 44% in the second half of the year compared with the same period in 2018.
The NYC apartment market was also squeezed at the top end following the introduction of the Mansion Tax in New York State, according to the Douglas Elliman Q4 report looking into condo and co-op sales. "Without the significant year-over-year skew caused by the introduction of the Mansion Tax in the prior two quarters, the market-wide number of sales [in Manhattan] declined modestly by 1.2% this quarter," it said. "Most of the decline in activity occurred above the $5m threshold with sales falling by 37.6% since the last quarter of 2018."
The Mansion Tax is levied on property sales over a certain threshold – statewide there is a 1% charge on sales over $1m, but in New York City there is an additional escalating charge over $2m; at $5m the Mansion Tax amounts to 2.25%.
Building owners are challenging the new legislation. A lawsuit was filed in federal court in July by the Community Housing Improvement Program, the Rent Stabilization Association, and seven large landlords. Investors and owners are watching anxiously. Their concern is magnified by the fact that progressive politicians are highlighting rent-control standards.
New York is not the only state where owners and investors are contending with the prospect – or reality – of rent control. New York is joined by California and Oregon in passing statewide measures, although New York's measures are not applied uniformly across the state. In other states there is no rent control without state approval, or limited rent control under localities' control. But this may change soon, according to the National Multifamily Housing Council, which reports that a dozen other states are considering or implementing rent control.
Oregon was the first state to approve statewide legislation in 2019. There, rent increases are limited to 7% above inflation, and the bill includes other tenant protections against eviction without just cause.
In California, Assembly Bill 1482 came into effect on 1 January this year and will remain in effect for the rest of the decade. The bill is a compromise, following the 2018 defeat of Proposition 10 where voters rejected a stronger version of rent control, which was also fought by the real estate community. Opponents of the rental controls under Proposition 10, including Blackstone, Equity Residential, Essex Property Trust, and AvalonBay, contributed nearly $80bn to wage a successful PR campaign.
The new law caps annual rent increases to 5%, plus the local rate of inflation. Landlords also have to show "just cause" to evict a tenant. Buildings less than 15 years old on a rolling basis are exempt; condos and single-family homes, unless they are owned by a corporation or REIT, are also exempt. These measures are designed to avoid discouraging new construction.
Crucially, local rent-control laws take precedence over the state law, and as a result Los Angeles can maintain its more stringent regulations, including rent increase caps ranging from 3% to 8%, depending on inflation. In the Bay Area, rent control regimes in San Francisco and other communities will also take precedence.
The impact of the rent cap might be muted in the longer term, according to a study from the Terner Center for Housing Innovation at UC Berkeley. An analysis of 10-year rental trends found that the median rent increase was below 8%, within the cap after factoring in inflation. However, it will make rent increases more predictable by protecting tenants – particularly those in fast-gentrifying neighbourhoods – against large annual increases.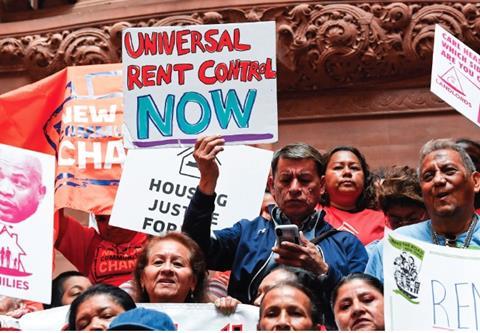 Rent control legislation in San Francisco has had little effect on the real estate landscape, according to a 2018 study The Effects of Rent Control Expansion on Tenants, Landlords, and Inequality: Evidence from San Francisco, issued by the National Bureau of Economic Research. While rent control resulted in tenants, especially those aged 40 and over, staying in their apartments longer, older tenants tend to move less frequently anyway. But the study also found that in households with shorter rental tenure, the impact of rent control can be negative. "The evidence suggests that landlords actively try to remove their tenants in those areas where the reward for resetting to market rents is greatest," the study says.
In addition, it was also found that rent-controlled buildings were 10% more likely to undergo conversion to condos compared with a control group, and that decline in the number of renters living at formerly rent-controlled addresses indicates that old housing has been torn down in favour of new construction that is exempt from rent-control regulation.
Other states follow suit
Recently, Florida and Massachusetts have taken steps to allow rent regulation in major cities, including in Miami and Boston, and Illinois is looking at the possibility of doing so.
In Washington, DC the existing rent-control legislation is set to expire at the end of this year. First passed in 1985, the law sets the rates for annual rent rises, capping them at inflation plus 2%; there are also allowances to raise rents to cover increased operating expenses or capital improvements, as well as in the case of vacancy. The DC Council had indicated that it would extend the law for another 10 years but, last year, groups supporting tenant rights called for an overhaul to the law by implementing a lower cap on annual rent increases and increasing the types of buildings subject to rent control – currently only buildings built before 1975, containing more than four units, and owned by a landlord with more than four holdings fall under the legislation.
Investors and owners, as well as tenant advocates are watching closely, as the DC market has one of the highest rental rates in the country – around 60% of residents are renters – as well as one of the highest rates of gentrification.
Where does affordable housing fit in? Affordable housing in many cities, including New York City, is promoted through inclusionary zoning, in which tax benefits accrue to developers that allocate a certain percentage of units to tenants who meet established income criteria.
At the federal level, the Low-Income Housing Tax Credit (LIHTC) awards grants that are administered by the state housing agencies. This programme has financed the construction of some 3m units. The LIHTC is supplemented by programmes funded at the state level. In New York City, for example, under the Affordable New York Housing Program, developers of market-rate (but not luxury) buildings can get a 35-year property tax exemption if they allocate 25% of their units to lower-income tenants.
Across the US, the demand for affordable housing is so great that investment in the sector, while at times complex, is growing in appeal for institutional investors. And the tax breaks mean that private investors can shelter income from other revenue streams. But should the growing push for rent regulation give them cause for concern?
The answer is maybe. One of the attractions of inclusionary zoning was that regulated affordable units would convert to market rate after a certain period of time. However, under New York State's new legislation, for example, affordable housing units may remain in the regulated pool because there is no mechanism to transfer them out.
And there is concern that even the market-rate units in a new development will be permanently rent-stabilised, with rent increases capped at the regulated rate.
This changes the financial profile of new development, and already some groups are halting projects: Crains New York reported that Durst ceased work at its Hallets Point development in Queens, with only one building out of a planned seven completed, claiming that rent-control legislation made the project unaffordable.
Housing affordability: Social impact funds to solve the UK puzzle?
1

2

3

4

5

6

7

Currently reading

Housing affordability: The spread of US rental controls