Australia's superannuation fund has spotted an opportunity in the affordable housing market. Florence Chong reports
In the coming months Australia's third-largest not-for-profit superannuation fund will buy more apartment blocks to boost its fledgling affordable-housing programme. Just six months after kicking off the programme, the A$100bn (€63bn) First State Super has assembled a portfolio of more than 200 apartments, establishing itself as the leader in affordable housing among its peers.
Damien Webb, First State Super's head of income and real assets, says the fund has A$160m invested in affordable housing projects, and expects to increase that this year. "We are hoping to commit a total of around A$200m by early 2020," he says.
First State Super has bought six apartment blocks from different developers in densely populated suburbs such as Epping, Waterloo, Hurstville, Miranda and Westmead in Sydney and Moonee Ponds in Melbourne.
"Ideally, we are trying to buy or develop affordable housing in suburbs with a large number of public hospitals, schools or police stations," Webb says. "But we must also match pricing [of the units] with a good rate of return."
Webb is aware that the major issue facing key workers involved in community services is that they cannot afford housing closer to the city. Most have to travel long distances to fulfil what are critical roles in society.
Of the take-up of First State Super apartments, which are offered for rent at 20% below prevailing market rent for their respective areas, Webb says: "We have had a pleasing response to the developments we have released so far, with almost all of our key-worker, affordable rental units in Epping and Waterloo [in Sydney] already leased. We currently have 203 key-worker, affordable-housing units in Sydney and Melbourne. Some have already been rented, and we expect to settle on some others over coming weeks."
The fund is exchanging contracts on further apartments and has handed property management to specialist affordable-housing real estate agency, Echo Realty. First State Super also works with Sydney-based boutique fund manager, Altis Property Partners, to source assets.
Affordable housing is a relatively new strategy for the fund, which is in discussions with VicSuper to create a $130bn joint entity.
Webb says the key to making the economics of low-cost housing work is to buy cheaply. The recent downturn in Australia's residential market has forced some developers to clear unsold stock at a discount.
The fund negotiated a 32%, or A$35m, discount on the first block of 61 apartments it purchased in Epping – the book value was A$52m. However, with successive interest-rate cuts recently, and the residential market seemingly roaring back to life, will there continue to be opportunities to buy apartments at distressed prices?
"We believe the opportunity might be there for a bit longer," says Webb. "The market for existing residential units has picked up, while the market for off-plan units is still fairly depressed." He believes there remains "a very large oversupply of built units" which will take time to clear. First State Super is continuing to look at opportunities in Sydney and Melbourne.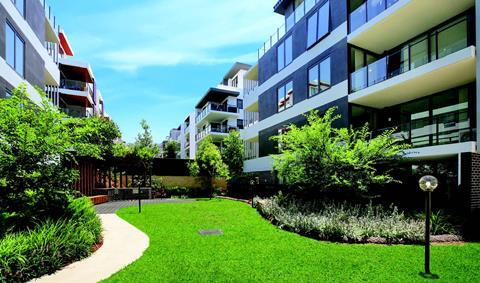 For the fund, developing its own affordable housing is an option. It is pressing ahead with its first own build-to-rent (BTR) project in the suburb of Miranda, in Sydney. "We hope to commence work early [this year]," says Webb.
The project will have 107 units, 47 of them classified as affordable housing and nine as key-worker affordable housing. "Our primary purpose is to deliver the best long-term returns to our members, so we will consider all opportunities with this in mind, whether in purchasing-to-rent or build-to-rent opportunities."
Webb says development of affordable or BTR housing will benefit if the federal or state governments work with the industry and if investors come up with a more structured approach to establish the sector. Government concessions, he says, would go some way to make the economics more attractive.
First State Super is also looking at affordable housing for seniors. "We already have an affordable-housing strategy for seniors through our majority shareholding in Oak Tree Retirement Villages, where we provide affordable retirement housing on the eastern seaboard of Australia," Webb says.
"We are actively expanding our footprint with Oak Tree Retirement Villages by developing new villages in regional and metro areas." Over the next five years, he says, it is possible that the fund's affordable retirement portfolio could be worth $500m. "We manage retirement savings for the carers of our community. Our purpose is to provide risk-adjusted returns for our members on their retirement."
Returns will come from a combination of rent and potential capital growth. "We believe very firmly that we are here to make Australia as a society a better place in which to work, live and retire," Webb says.
Housing affordability: Social impact funds to solve the UK puzzle?
1

2

3

4

Currently reading

Housing affordability: First State mover

5

6

7