Hong Kong has the world's most unaffordable housing market and the government is under increasing pressure to do something about it, writes Florence Chong
Since September 2019, three of Hong Kong's wealthiest property developers have donated or 'lent' almost 4m sqft of land, valued at billions of Hong Kong dollars, for social housing. Wheelock Properties is the latest developer, handing over 500,000sqft of land in Hong Kong's New Territories and on Lantau Island to non-government organisations. The rent is a nominal HK$1 annually for each of three plots.
The Wheelock move comes after Henderson Land and New World Properties opened up their land banks to help Hong Kong authorities address, at least temporarily, the city's crippling housing shortage.
Henderson Land allocated 428,000sqft, while New World made the biggest gesture with 3m sqft – about one-fifth of its 17m sqft of farmland reserves across the New Territories.
Cynics will see these as acts of appeasement, mainly to Beijing, which has rebuked Hong Kong and its developers for allowing the housing crisis to boil over, fanning anti-government protests in Hong Kong since July.
For years, social commentators, non-government welfare organisations and the public at large have accused Hong Kong's mega-rich property tycoons of inflating house pricces to such an extent they have left many stranded homeless, or trapped in squalor. The Hong Kong government itself has been accused of pandering to property developers at the expense of providing affordable housing.
Addressing the media to announce the land giveaway, following presentation of his company's annual results in September, New World executive vice-president Adrian Cheng Chi-Kong said: "In today's business world, corporations cannot live by just maximising their profits. [They] must also have the obligation to take care of different stakeholders in society."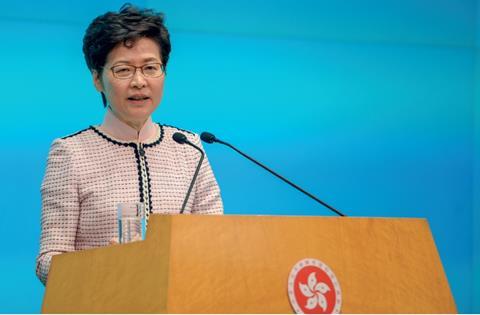 Hong Kong's property companies are facing up to the reality that the government is poised to seize land for "public purposes", such as housing, under its Lands Resumption Ordinance (LRO), which has been invoked to seize land for 14 for public rental housing since 1997.
In a policy speech in October, Hong Kong's chief executive Carrie Lam described the move by the property groups as "a proactive act of shouldering a share of social responsibility". But, she said, the initiative would not affect the government's "full strength" in taking forward various land supply measures.
Henderson Land confirmed to Hong Kong media that if it had not voluntarily offered the three plots of its farmland, totalling about 10 hectares, to the government, it would have been "seized" for public rental apartments under the LRO.
The land is in the city's northern New Territories, where the government plans to acquire 784 plots of private farmland covering 68 hectares for the first phase of development of two new areas planned to provide 718,000 housing units. The government's initial target over the next five years is to take ownership of 400 hectares of private land in Hong Kong to relieve the pressure of land shortage.
Hong Kong is by far the world's least affordable housing market, according to Demographia, the US-based international housing affordability think-tank and urban development advocacy organisation (see Housing affordability 2018). In its last survey covering 2018, Hong Kong topped Demographia's list of 90 world cities for the ninth consecutive time.
Demographia says affordability in Hong Kong worsened further in 2018 as the so-called median multiple (median house price divided by median household income) rose from 19.4 in 2017 to 20.9 in 2018 – the least affordable median multiple recorded. Demographia is due to publish its 2020 survey, but Hong Kong seems unlikely to lose the top spot.
Hong Kong is just one of many global cities faced with a housing crisis. Many of those cities are now looking to the residential-for-rent sector to ease housing affordability.
Asked if the Hong Kong government would be prepared to outsource development of affordable housing to the private sector, or to use institutional capital to develop a rental sector, a spokesman indicates it is unlikely – at least for now.
In 1978, the government enlisted private developers to build subsidised-sale flats (SSFs) at below-market prices under its Private Sector Participation Scheme (PSPS). That scheme was terminated in 2002 following a repositioning of the government's housing policy.
"In 2015, taking into account past experiences with the PSPS, the government again examined the feasibility of leveraging the private sector's capacity to provide SSFs," the spokesman says. "However, after careful examination, the government considers that private-sector involvement will unlikely be able to help expedite or increase SSF supply in the short to medium term."
There are two reasons influencing the government's decision, according to the spokesman. "First, there is the problem of ensuring good building quality. Reviving PSPS would require the government and the housing authority to devote extensive supervisory resources, which could be deployed to develop other public housing projects," he says.
"Second, given the current tight supply of land, existing 'spade-ready' sites have either been earmarked for private housing development, or are undergoing preparatory work for public housing construction."
The spokesman emphasises that the key problem is tight land supply, which in turn, restricts supply of sufficient affordable housing. "It is doubtful whether large-scale private-sector involvement would be effective in increasing housing supply," he says. "This notwithstanding, the government maintains an open mind to the concept of private-sector involvement in general."
Hong Kong is a rocky outcrop abutting the South China Sea. To say that the city – home to more than 7m people – is land-scarce is an understatement. A government taskforce on land supply, established in September 2017, describes the city's land shortage as "urgent and dire".
Its report, published in December 2018, said: "Obvious signs of the problem include unaffordable property prices, soaring rents and a shortage of public housing. The land shortage has also caused more deep-rooted issues, such as less upward mobility for our young people, less graceful ageing for our retired seniors, and a more difficult environment for businesses and start-ups."
Hong Kong's population density is about 27,000 per sqkm, at least five times higher than that of international cities such as London, New York and Tokyo. A government source tells IPE Real Assets that the government has twice in the past decade lifted selected density zones (domestic plot ratios) of public housing sites in Hong Kong's main urban areas and new towns by a total of 30%.
"This measure will enable us to take fuller advantage of projects in the pipeline to increase public housing units more readily," says a government source. "To benefit from this policy, we are working closely with government departments involved with the provision of housing to maximise the flat production of each site as far as practicable."
The source says the Hong Kong Housing Authority, a statutory body with oversight on all matters related to housing, continually looks to better and higher usage of vacant and under-utilised space, within or near existing public housing estates, for additional development. "This optimises the development potential of existing estates while providing an opportunity to enhance facilities there," she says.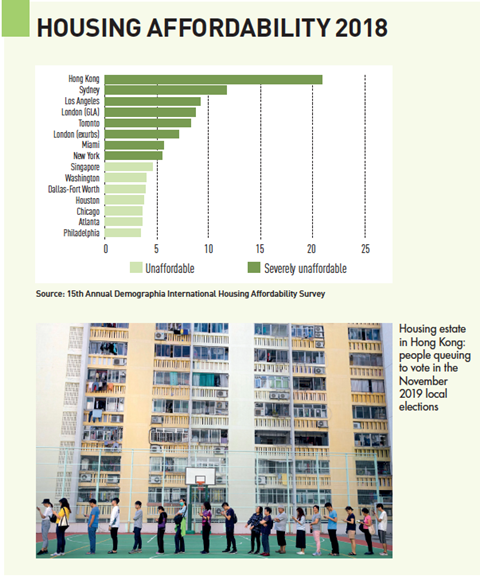 The ongoing housing-authority policy has been responsible for providing more than 2,500 additional flats over the past five years. Conservatively, the land taskforce says Hong Kong has a long-term land shortfall of 1,200 hectares. Among its recommendations to create space, it suggests redeveloping brownfield sites, tapping into private agricultural land reserves, and increasing land reclamation, including the development of caverns and underground facilities.
It also recommends going down the private-public-partnership (PPP) route to create more affordable housing, but only after the government sets specific benchmarks for the proportion of public housing in PPP projects, and the establishment of a system that stands up to public scrutiny.
Land is still available in the New Territories, and the taskforce says this is where PPP projects can be implemented to realise the potential of private land "as soon as possible".
The government has moved gingerly into partnerships with the private sector through what is known as its Land Sharing Pilot Scheme (LSPS). Under LSPS, applicable to projects of no less than 50,000sqm, Hong Kong's planning authorities will require 70% of new space to be allocated to affordable housing.
In response to the current political impasse, Lam unveiled a series of reforms to increase affordable housing supply in her October policy speech. She said the government had adjusted the public-private split of new housing supply under its Long Term Housing Strategy for the coming 10 years from 60:40 to 70:30. Her government has undertaken to provide a total of 10,000 temporary housing units within the next three years to relieve pressure on families living in unpleasant conditions – and those who have been waiting for public rental housing for a long time.
After eight years of restrictions aimed at dampening Hong Kong's hot residential market, the government has relaxed borrowing limits for first-time borrowers. They can borrow up to 90% of the value of the property, capped at HK$8m (previously HK$4m).
Lam is not the first Hong Kong chief executive to attempt to wrestle with the city's intractable housing problem. Earlier attempts failed, but optimists believe that this time the outcome may be different.
Hong Kong is under unprecedented pressure – from citizens and Beijing – to address a housing crisis that has caused considerable political strife and damage to the economy.
Housing affordability: Social impact funds to solve the UK puzzle?
1

2

3

Currently reading

Housing affordability: Expensive island

4

5

6

7