---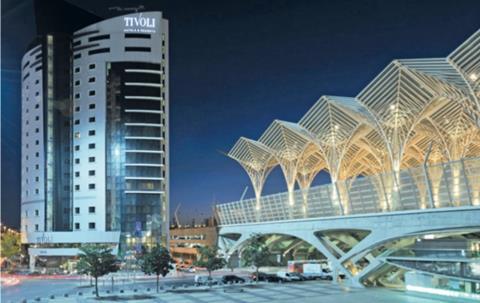 With so much institutional capital moving into the sector, are hotels about to lose their niche status? Christopher O-Dea reports
For some time, hotels have taken their place among other alternative forms of real estate, such as student housing and healthcare. But is the sector fast becoming the fifth 'major food group' of real estate investors, after office, retail, residential and industrial?
As the hotel investment market has matured, new investors have entered the market and new strategies have emerged. It become a mainstay in diversified portfolios and today offers investors a wider range of options to gain exposure.
"This is a sector that's here to stay," says Gilda Perez-Alvarado, Americas CEO for hotels and hospitality and lead of the global hotel desk at JLL. "Hotel property is becoming an established food group," she says.
Theodor Kubak, managing partner and head of hospitality at Arbireo Capital says: "In no other year have I seen as many hotel-dedicated funds as I've seen in the last six months. Hotels have proven to be a safe haven."
But there has also been a shift towards more general investors coming into the sector. JLL notes in its 2019 hospitality outlook that 70% of hotel investments over the past five years were made by investors and funds pursuing diversified strategies rather than those dedicated to the sector. That is expected to be the case owing to the positive outlook for the travel and tourism sector globally, with business travel and the conference and meeting segment remaining critical to hospitality asset performance.
Investment managers raised nearly $30bn (€27.1bn) in closed-ended fund capital targeting hotels in 2018, and JLL predicts total transaction volume involving hospitality assets globally this year will be $67.2bn, on par with the $67.7bn tally recorded in 2018, and a bit over the $66.4bn the year before. Transaction volumes in the Americas in 2019 is projected to match the $36.5bn mark set in 2018, which was a notable increase from the $28.2bn in hotel transactions recorded for the region in 2017.
JLL expects activity in Asia-Pacific to increase 15% in 2019, but that will still leave transaction volumes in that region at just $9.5bn, below the $13.5bn recorded in 2017. Japan is expected to be one of the most active markets in 2019, with the Rugby World Cup in September 2019 and the Tokyo Olympic Games in 2020 expected to build investment momentum as investors explore selling their hotel assets to capitalise on the tourism boom.
In the US, JLL predicts large portfolio deals will dominate investment. Single-asset deals are expected to be prevalent in Europe, the Middle East and Africa, where JLL predicts overall transaction volumes will decline by 5-10%, to $21.2bn. Europe has also seen some acceleration in hotel development activity, with Germany and the UK accounting for nearly 60% of pipeline rooms under construction in the region.
While remaining strong, the pause in the growth of hotel investment transactions expected this year reflects the risk environment – global economic growth is expected to slow, according to JLL, and some catalysts have emerged which will test investor sentiment throughout the year, such as increasingly volatile equity markets, uncertainty over future interest rates, trade tensions between the US and China, and lingering political uncertainty in the UK, France, and Italy. Despite those risks, which affect all assets, JLL contends that "hotel investment defies global caution".
The reasons are clear. Slower growth notwithstanding, JLL expects global hotel investment volumes this year to hold steady, thanks to record levels of dry powder raised for acquisitions, pressure to deploy capital, ongoing large portfolio and entity-level activity, and the attractive yield profile of hospitality compared with other sectors. At the same time, hotel occupancy and underlying property performance remain strong, with travel and tourism slated for another record year. The upshot, JLL contends, is that "2019 is expected to represent another strong year – perhaps the last of this growth cycle – to dispose of investments and benefit from competitive bidding".
Perez-Alvarado says the sector is being supported by a "major tailwind" in the form of a booming travel and tourism industry, and it is likely to remain robust. "People always ask whether we are concerned as to what is happening in some of the emerging markets, or about the US relationship with China," Perez-Alvarado says. "We have zero concern about that. The rapid rise of the new middle class is extraordinary, the number of people who are getting passports for the first time is extraordinary and travel is becoming democratised."
Those positive fundamentals have fuelled the emergence in the past decade of low-cost travel, engendering new segments such as hotels that offer good value for reasonable rates, as well as new entrants such as Airbnb, and derivatives that are now being offered by some of the major hotel brands and some of the new players in the hospitality sector.
Many new funds are looking to economy or mid-scale properties. "These have proven to be the most resilient when it comes to a downturn – in particular, considering the fact that capital market fundamentals will change," Kubak says. "It's logical to shift some exposure towards hotels."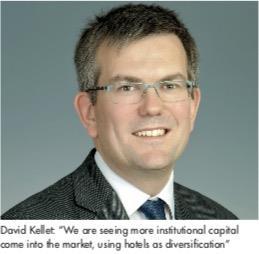 The wide range of asset types and strategies in the hotel sector provides an additional source of diversification. "We are seeing more institutional capital come into the market, using hotels as diversification of a portfolio," says David Kellett, senior director, hotel transactions at Invesco Real Estate. "It's built up over the last 10 to 15 years to become a core holding."
In addition to the growth of the global middle class, which is driving demand, supply fundamentals are also favourable. As the number of tourists and business travellers increases, there are only so many places to visit. "There is a finite supply of core city-centre locations where you have good hotels," says Kellett. "We're seeing increased urbanisation, with more and more people living in cities."
Invesco focuses on the top 20 gateway cities in Europe. "The trends, at a high level, are all positive," Kellett says. While there are fluctuations in supply as properties are built, "on a 10-year view, the long-term trajectory remains favourable, in terms of projected revenue per available room, and the growing presence of major hotel brands. Looking back, we've seen revenue from hotels outpace inflation over long-run cycles."
Recent hotel yields were about 80bps over those of offices in the same location, he notes. In addition, hotels offer long-dated leases and long-dated income. "All things considered, hotels offer strong relative fundamentals."
Invesco recently made a significant investment in Lisbon, acquiring three Tivoli hotels in a transaction with NH Group. The 20-year initial lease could be extended to 60 years if all extensions are exercised, providing Invesco's investors with a long-dated income stream. Lisbon is attractive because it has a blend of demand drivers, and infrastructure to support travel and tourism is strong, including a new airport under construction which will increase access to Portugal. "That will bring more people into that market, which we think is supportive of long-term growth," Kellett says.
The effect of adding hotels to real estate portfolios can vary by region, and is particularly positive in Europe, Kellett says. "Because of the nature of leased assets in Europe, hotel property has a very positive stabilising effect on any portfolio to which it's added," he says. "The lower volatility in the return profile of European leased hotels lowers the volatility of funds and slightly increases the returns, so it has a positive effect when included in a portfolio.
In the US, institutions typically invest in hotels through a management contract structure, which leads to more volatility in the P&L (profit and loss) of the asset. In Europe it is more common to invest through a lease structure with more of a fixed-return profile, albeit with less income than the same asset might produce for an investor if held with a US-style management contract. The fixed-return element of a lease provides downside protection to the investor, but leaves more money in the pot for the hotel operator or tenant to enable them to meet the fixed obligation.
Kubak says performance is being supported by the efforts of global hotel companies to expand, and some companies are adopting European investment structures. "There is an incredible drive by the hotel brands to establish their new brands, their mid-market brands most predominantly, and to give incentives to local operators as well as developers which makes sense for the cities where they're being built," he says. "Sometimes, hotel chains which traditionally have not entered into leases, which is the predominant contract form here in Europe, will go the extent where they are contemplating turning to leases for certain products."
Some believe the hotel market might be overheating. "The business models of some operators might not be sustainable," says Dirk Schuldes, global head of hospitality at Commerz Real. "In many markets, leases have been going up – and so has the development activity. Operators that accept [high lease rates] simply in order to increase their market shpare are questionable – especially in this market."
Schuldes has the same concern for franchisees that accept high lease rates – and for the franchise holders that insist on such contracts. "A small bump in the economy might be enough to pose serious difficulties for these market participants," Schuldes says. "Unlike other property assets like office towers or shopping centres, a hotel only has one operator, to whom the success of the investment is tied rather closely. A hotel investor needs to know his operators very well and be in a constant exchange of information with them in order to be prepared for any eventualities."

Reliance on operators has implications for diversification. "Since it is not possible to diversify the occupier in a single hotel, investors should instead diversify by investing in a portfolio with different brands or operators," Schuldes says. "In addition to new formats, hotel operators are also getting involved in the blurring of borders between property types. Multi-use buildings combining hotel, residential, office and retail in a single building are just starting to appear in Germany. Already a proven concept internationally, this both increases diversification and offers the different occupiers to profit from the services offered by the other occupiers." He points to Commerz Real's recent acquisition of One Forty West in Frankfurt, a high-rise combining hotel and residential space.
Investing in hotels is not without challenges. "The operating structure of a hotel is more complex," says Perez-Alvarado. Hotel operation involves employees, labour unions, licensing, and franchises. "It is much more demanding, as an owner, to operate a hotel where rents fluctuate on a daily, and I would argue, on a real-time basis, given all the technology that is available. As an owner, you're yield-managing your hotel, responding to demand fluctuations, so it is more operationally-intensive. That was the biggest hurdle to overcome, and many investors have overcome it, yet some have not."