---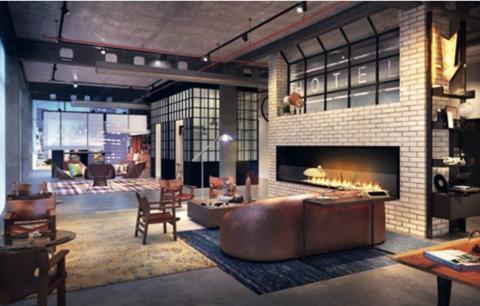 Investor demand for hotel assets in Europe coincides with an evolving market of new brands and concepts, as Andreas Ewald explains
The EU hotel market continues to be strong. Transaction volumes in the main markets, such as the UK, Germany and France, as expected, remain stable in 2019. Spain and Netherlands have not been able to reach the levels seen in 2018, mainly due to fewer keys being sold rather than the prices per key – pointing to a stable market overall and confirming a lack of investment opportunities.
A high level of stagnation can be expected across the EU hotel transaction market in 2019, as fewer portfolios are available on the market. Nonetheless, the interest of both international and domestic institutional investors is unbroken and remains high as ever.
Due to continuously strong performance, Europe's hotel market is defined by an increasing lack of opportunities, especially in the traditionally sought city destinations. While investors chase a dwindling supply of assets in A destinations, the abundance of products in B and C destinations become ever more attractive.
Prime yields in these destinations are also edging closer to those of top destinations. In Germany, the prime yields overall are at around 4%, not far from those of A destinations. Investors follow established and experienced operators in these destinations who boast a combination of local expertise often with an international brand.
This trend of brand extension has become quite evident, after a period of acquisitions of niche operators, as brands further broaden their portfolio through soft brands and white labels – for example, Curio by Hilton, Autograph Collection by Marriott, Unbound by Hyatt – to incorporate smaller, boutique-style properties. This constellation opens up new destinations and properties to potential investors.
Another factor reassuring investors and driving the attractiveness of B and C destinations is the further professionalisation of all segments, especially those operating a focused service model. B&Bs, budget hotels and hostels have all become much more developed as a result of the new and revitalised interest in the segment by industry giants. Investors are keen to follow suit as these new and stylish brands dive into previously neglected markets, offering attractive yields.
This development is also reflected by all multinational hotel chains such as Marriott or Accor as well as smaller, national chains taking a new focus on the midscale and budget segment. Marriott has been pushing its lifestyle brand Moxy throughout Europe, Hilton launched Tru and Motto as focus-service, life-style brands which therefore appeal to a more price-conscious and often younger travellers.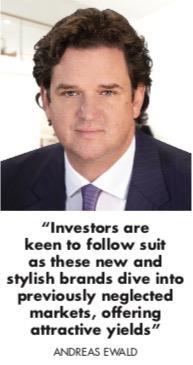 France's Accor Hotels launched a new concept with their "open house living space" called JO&JOE in 2018. Regional chains such as Deutsche Hospitality are also quick to see the market change, acquiring a majority share of the Scandinavian budget brand Zleep Hotels.
Thanks to an improvement in a variety of factors, leisure properties are also back on the rise. These include an improvement of the leisure products in Italy, Spain, and Portugal, as well as longer summer seasons and professionalisation of operators in the segment.
The popularity of leisure properties amongst investors comes as no surprise, as prime yields in leisure heavy cities such as Lisbon range from 5.5% to 7% depending on contract type, while Berlin or London's yields are much lower at 3.75% to 5%.
However, pure leisure destinations, such as the Mediterranean, the Alpine areas, and other established tourist destinations are also making considerable steps. The rise of operators and brands specialising in such destinations pave the way to broaden the range of potential investors away from mostly locally rooted family offices to multinational hospitality dedicated funds.
A further significant change is the origin of capital for investments in leisure destinations. Having benefitted almost exclusively from domestic investment in the past, these now see a shift, where capital inflows from all over Europe become much more commonplace. This change is traced throughout most destinations, as both inner-European and international investment is getting stronger.
When it comes to the smaller markets, it seems that domestic and European investors are the trailblazers due to their superior expertise in the local markets, but international investors are following suit. European hotel investment totalled about €23bn last year, up slightly from 2017. It shows how investment has remained steadfast despite largely stagnant yields.
In conclusion, prices for prime locations are skyrocketing due to the constant and increasingly high demand as well as high costs, rendering them too expensive. Alternative investments in the European hotel markets are at the ready; B and C locations and the leisure segment still offer high returns – and this is where we will see some more action in 2019.
Andreas Ewald is managing partner of Engel & Völkers Hotel Consulting