Healthcare systems in the US are being put under strain, but the medical office boom is expected to roll on, writes Christopher O'Dea
As a result of the COVID-19 pandemic, there is sure to be a substantial rethink of the organisation and funding of frontline healthcare, in terms of personnel and facilities, as well as the type of mission that healthcare systems are designed to carry out.
The policy, scientific and investment responses to the pandemic will take time to play out. But as they unfold they will accelerate fundamental changes in the medical office and healthcare property sectors that were under way before the virus began to spread.
The sector will continue to offer opportunities, according to Christopher Merrill, co-founder, chairman and CEO of Harrison Street, which focuses on alternative real assets. "We're continuing to evaluate transactions in our focus sectors, including medical office and life sciences, and expect to deploy capital in the near term in a balanced and risk-adjusted manner, as we always have done," he says.
One of the most prolific private investors in healthcare property over the past 18 months, Harrison Street closed on 109 assets within the healthcare sector across 27 states for about $6bn (€5.5bn), in transactions involving the acquisition, development and repositioning of properties in the senior housing, medical office, behavioural health, life science and hospital infrastructure segments.
"We've got a significant amount of dry powder, are [sector] experts, believe in the sector's fundamentals and have deep relationships with best-in-class operators and partners," Merrill says. "Right now, we're able to offer certainty of closure, which is what our partners and clients are looking for."
As 2019 ended, the market for medical office property was booming in most regions of the US. Vacancy rates were at or near multi-year lows in many cities, and even the delivery of large new medical office assets built in response to the demand surge caused only small upticks in vacancy.
The situation reflects a long period of strong increases in healthcare spending, which has led to the need for larger medical office complexes and sparked an increased in transactions sizes.
Societal attitudes towards health are changing. Older people are opting to live in urban locations and are seeking residential properties that provide health amenities and access to physical activity rather than isolated, box-like nursing homes. Ageing urbanites are meeting up with millennials who want a piece of the live-work-play experience.
Across the US, traditional forms of medical office property are being replaced. In the suburbs, modest one and two-storey brick structures with examination rooms and limited space for routine procedures are on the market. Urban markets are seeing the transformation of similar facilities in utilitarian office buildings that are as old as the retirees flocking to the area. For property, 70 is not the new 50. Medical services are increasingly being delivered through new formats, ranging from free-standing clinics to medical amenities built into retirement housing projects. Some larger, campus-like office projects include innovation centres that encompass scientific lab facilities and office space for medical or business functions.
One of the more sweeping changes is the rise of 'health-centred communities' – urban and suburban spaces that are developed in ways to promote the wellbeing of residents throughout their life, guided by evidence that demonstrates how communities and built environments can influence health and disease. According to Dennis Frenchman, director of the MIT Center for Real Estate, non-medical drivers of health – commonly known as social determinants – are finding their way into the real estate development marketplace.
While a health-oriented urban environment takes shape, medical-office property looks set to continue on the long-term positive course that saw vacancy rates for medical office assets reach the lowest level this decade during 2019.
One of the primary drivers of the demand for medical-office property is that "healthcare is the fastest growing sector in the US economy", as concluded by Think office: The evolution of office investment opportunities, a report issued late in 2019 by the Americas research team under Melissa Reagen at Nuveen Real Estate. "Stronger occupancy and lower levels of cap-ex relative to traditional office markets in recent years" allows medical offices to offer "higher risk-adjusted expected returns," the report says.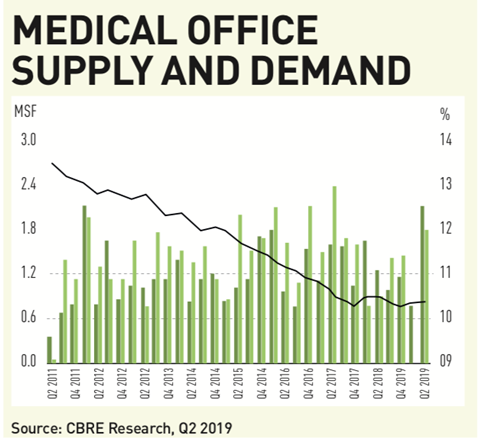 According to the US Centers for Medicare & Medicaid Services, healthcare spending in the US reached almost $3.5trn annually in 2017, and it is expected to grow to $5.7trn by 2026. With such tailwinds, US medical office market fundamentals have been resilient, according to a CBRE Research assessment of medical office trends at the end of 2019. "Demographic and healthcare industry trends are firmly entrenched and forecast to persist, supporting long-term demand for medical office space," the research concludes.
The US medical office vacancy rate was at 10.3% in the middle of 2019 – its lowest level of the expansion – and average asking rents stayed near record levels. Rental growth fell to 1.8% year-over-year in Q2, down from the five-year average of 2.6% as net absorption softened since mid-2017. In terms of transaction volume, top-tier domestic institutional and foreign capital, as well as REITs, have fuelled demand for medical office properties, and although medical office investment volume dipped from 2018, pricing remains strong.
CBRE notes that the Chicago market significantly outpaced other major US cities for net absorption and deliveries of medical office product, with nearly 1m sqft of positive net absorption in the year ended in the second quarter of 2019. Chicago saw medical-office completions of nearly 750,000sqft in the same time period, leading the nation in terms of both total square footage and as a share of total inventory. But despite the new product, demand was sufficient to drive Chicago's vacancy rate down by 1.3 points, to 10.1%.
Chicago is one of the most competitive healthcare environments in the country, attracting international investors. Sheba Medical Center, the largest hospital in Israel, will be the first anchor tenant to occupy a medical innovation centre at the site of the former Michael Reese Hospital, which is being redeveloped by a joint venture led by Chicago-based Farpoint Development. Reports suggest Farpoint plans to include the innovation centre in the first phase of a planned 15m sqft campus, at an estimated cost of $7bn.
While that would add significantly to Chicago's medical-office inventory, it would still leave the Windy City some way behind Houston, which has the highest medical-office inventory. In the US, Houston ranked ninth in terms of completions as a share of inventory, despite it having the third-highest level of medical-office completions through to mid-2019.
Harrison Street believes partnering with the world-class health systems in Houston is an attractive target for institutional capital. In March, the firm acquired The Woodlands, a 208,000sqft, class-A, state-of-the-art medical office building serving University of Texas's MD Anderson Cancer Center, one of the world's foremost cancer research and treatment facilities, and is located in a populous and growing sub-market of the city.
Healthcare: A $15trn prognosis
1

2

3

4

5

Currently reading

Healthcare: Vital signs look good for US medical offices

6