The COVID-19 crisis has exposed the chronic underinvestment in social infrastructure. Institutional investors could, and should, respond
Health infrastructure has suddenly become the centre of attention for everybody, not just for those in need. For investors, the priority is to get a grip on the longer-term implications of the coronavirus crisis for markets and their own portfolio strategies. This is also likely to inspire a review of their approach to social infrastructure and initiate a search for new investment opportunities in that sector. Health and care is one of the three core sectors (alongside education and social/affordable housing).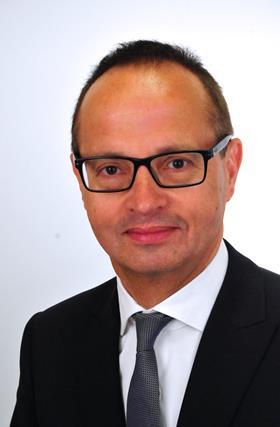 Healthcare is, of course, not new to investors. Assets are typically scattered around various traditional and alternative asset classes. Healthcare is one of the largest sectors in global stock and corporate bond indices, not only owing to the size of the pharma industry but also to the broad range of equipment, med-tech and service companies. This article focuses on the 'hard', physical facilities in health and care, and on businesses that operate them. They typically fit into infrastructure, real estate or private equity allocations of institutional investors.
Investable assets are found in two main areas; in healthcare, they are mostly hospitals, outpatient, emergency and other medical facilities; in social care, nursing homes, accommodation for the elderly or vulnerable young, independent and assisted living, among others, have become popular with some investors in recent years. Nonetheless, portfolio allocations to social infrastructure tend to be tiny overall, if not insignificant. Is there potential for more investment?
Social infrastructure has faced a long period of neglect and decay, with chronic underinvestment almost everywhere, as highlighted by a new study (Social Infrastructure Finance and Insitutional Investors: A Global Perspective). Following the 2008 global financial crisis there was a pronounced dearth of social investment by governments. In future, demographic factors will put even more pressure on care and health spending, as will chronic illnesses and rising expectations on standards. Quantitative estimates of annual investment gaps in health infrastructure vary between 0.4% and 1% of GDP across regions – this was already before the coronavirus crisis.
Funding, financing and ownership of social infrastructure are traditionally under the domain of the state. However, there are significant differences across countries and sectors. In Europe, for example, education infrastructure is about 80% publicly financed, while health is roughly half public and half private. Private-sector finance, too, has widely fallen back over the past decade – in contrast to economic infrastructure. Interestingly, corporate investment and deals in health and care is one of the few positive statistics in recent years. In emerging markets, the focus is more on transport, energy and telecoms, with social infrastructure being the Cinderella. However, an estimated average of 20% of health infrastructure is financed from private-sector sources, with an encouraging trend noted by the United Nation Conference on Trade and Development.
The world is changing fast. Even under more normal circumstances, the state would remain the dominant funding and financing source for social infrastructure in most nations. Nonetheless, much more private capital could flow under favourable macro and sectoral conditions.
For many institutional investors, the investment characteristics of health infrastructure assets are potentially attractive, such as non-cyclical demand, predictable flows and low correlation to other asset classes. Crucially, the long-term trend is your friend. However, investors face various challenges and risks:
• Healthcare assets tend to be small and fiddly and rather heterogeneous;
• They are typically 'local' and heavily regulated, subject to different laws and customs across countries, regions and municipalities. Contracts are complex and subject to some political and renegotiation risk;
• 'Outputs' of social infrastructure facilities are more difficult to measure and assess than, for example, for a railway or a power station;
• 'Severe operational issues have been experienced by users and investors in recent years, some of them leading to corporate failures in health and care;
• Technological change – for example, digitisation and medical diagnostics – might lead to faster obsolescence and could potentially change the risk-return profile of assets very quickly;
• 'People have strong feelings about the workings of hospitals and care centres, their owners and operators. Media headlines constitute a reputational risk.
"Investor experiences with health infrastructure have often been a roller coaster. Since the 1990s there have been some significant clusters of investor engagement in hospitals"
Investor experiences with health infrastructure have often been a roller coaster. Since the 1990s there have been some significant clusters of investor engagement in hospitals – for example, public-private partnerships (PPPs) hospitals in the UK (PFI), Canada (P3), Australia, France and other Europe, South Korea, and also in some Latin American and other emerging markets. Turkey, for example, launched its massive PPP programme for mega hospitals in 2012.
However, the supply of social infrastructure assets has dwindled in most places, particularly over the past couple of years (see figure on page 30).
Matching private-capital investors' expectations with government programmes in social sectors is a bigger challenge than had been previously thought. Many policy initiatives to mobilise private capital may sound good but they have not been that effective in practice. Investors require greater clarity, especially credible longer-term funding propositions and consistent rules. What must be provided by the public sector in support of the vulnerable or as a public good? What can reasonably by funded by consumers and users of services?
Working out an investable pipeline for social projects might be strenuous across financial and welfare departments, but governments finally need to get their act together. For healthcare particularly, there is not single perfect funding mode. Innovative combinations could be explored further – at least for certain segments, including asset recycling or value capture used in a socially acceptable way. The degree of 'financialisation' of social infrastructure is, in the end, a matter of political choice, and it should be transparent to create consensus.
In health, care and emergency infrastructure, there are various investment strategies and instruments that can realistically be improved, scaled-up and expanded. Here are some examples of different – direct and indirect – investment routes for asset owners:
• Alternative real estate: Many pension funds and insurance companies have moved into health and care property, ranging from surgeries to senior or mixed housing. Steady, inflation-linked income might come from tax payers, users, or in hybrid forms – for example, with foundations involved. A number of dedicated, unlisted funds have been set up in various markets;
• Healthcare REITs and other listed property: Healthcare or social real estate investment trusts (REITs) are sizeable in the US, and also used in Japan, Australia, UK, Belgium and other countries. Healthcare constitutes about 5% of the MSCI World Real Estate index with a market capitalisation of US$55bn (€51bn);
• PPP hospitals: Different models of PPPs or concessions – even if controversial – can work in different places, from hospitals to university buildings for life sciences and innovation parks, with availability payments from trustworthy public authorities. However, they require adequate capabilities in both the public and private sector, transparency, competent management and good governance;
• Private equity and debt: Many private-equity businesses are already active in these sectors, including venture-capital funds that provide capital and management support to start-ups. Arguably, some investment groups have generated public controversy, with a record of (promised) innovation and efficiency gains versus (delivered) poor service quality, cost cutting and profiteering;
• Municipal bonds, social or sustainability bonds: Sub-government revenue (for example, municipal) bonds, designed for specialised purposes including hospitals and other social infrastructure, are well-established in the US. Local authorities in other places could make much more use of them. Social and sustainability bonds see expanding markets, following the path of green bonds. They need to find appropriate investment targets;
• Impact and community investing; 'blended' vehicles: More and more asset owners are looking to scale-up impact investments into social projects, with care facilities a core element. Multilateral and public banks can broaden the range of more difficult, blended projects for co-investment with private-sector investors – for example, in developing countries with some form of guarantee.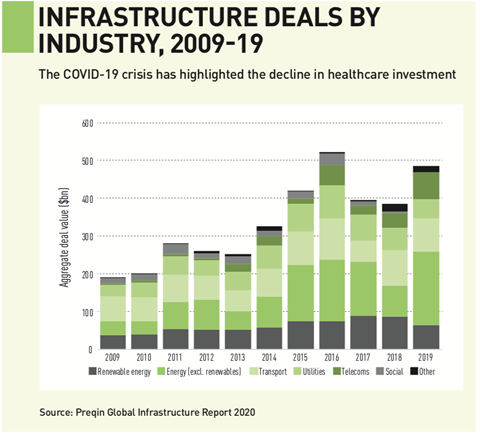 Some investors have already advanced their thinking in this field. For example, Queensland's QIC studied the opportunities in the healthcare sector from a long-term investor's perspective. It identified a narrow subset of suitable assets: day and short-stay hospitals, and long-term care facilities; less so pharmaceuticals and med-tech.
Investors normally lack the detailed experience and expertise in this field. Smaller investors in particular would need more well-diversified (and cheap) bundled products or investment platforms, with the help of sector specialists.
Sustainable and impact investing and sustainable-development goals are gaining traction, opening new doors for investors to enter healthcare and social-care infrastructure. One of the outcomes of the last global financial crisis was a – slow – revival of economic infrastructure policies, and a growing activity by asset owners. Will this decade see a renaissance of – public and private – social infrastructure investment?
Georg Inderst is an independent adviser to pension funds, institutional investors and international organisations
Healthcare: A $15trn prognosis
1

2

Currently reading

Georg Inderst: Social infrastructure, the Cinderella of the asset class

3

4

5

6