Worsening trade relations between the US and China could lead to significant problems for global logistics businesses
The headline-catching trade friction between the US and China has yet to impact the daily business of those facilitating trade. The operative word is yet.
"To date, we have seen little impact in activity levels on the ground," says Gary Anderson, CEO for Prologis in Asia and Europe. "Having said that, if trade relations do deteriorate further between the US and China, we could certainly expect to see a global slowdown in GDP. In that scenario, there will be an impact on all businesses, not just the logistics sector.
"Obviously a lot of discussion is going on between the US and China, and we are all hopeful that there will be a resolution in the near term. But we will have to wait and see what happens."
Alan Yang, GLP's CIO, says trade tension has not yet affected customer demand. "We are still experiencing record leasing velocity, good rent growth and occupancy," he says.
Across its portfolio, GLP has seen rental growth of about 10%, with more than 90% occupancy in all its markets (99% in Japan, 98% in Europe and 96% in the US). GLP leased 19m sqm of space in 2018, its best leasing performance to date. But Yang is mindful of the potential trade fallout for business.
"At GLP, we spend probably a lot more time now focusing on the interplay between policy and economics, as opposed to the past when we [only] looked at macro-economic indicators – such as interest rates, currencies and so on," he says.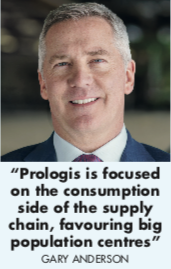 Greg Goodman, group chief executive of Goodman Group, says customers are concentrating more on their domestic markets. "It makes people more inward-looking, and generally they have become more focused on the fundamentals of their business," he says. Goodman believes some traders are concerned that goods are going to cost more. If this occurred, it would force companies to look at reducing business costs.
Logistics owners say it will take time for higher tariffs to work through the supply chain. Because orders are placed in advance, the impact may not have trickled through yet.
But despite current political rhetoric, Yang says globalisation is irreversible. Countries engaged in imports and exports worth a total of US$34.8trn (€30.3trn) in 2017, according to latest World Trade Organization figures. Not surprisingly, the top two trading countries were China and the US, accounting for US$4.1trn and US$3.96trn, respectively.
In a recent report on the logistics industry, CBRE Research says the escalating trade conflict between the US and China has prompted manufacturers to diversify capacity to Southeast and South Asian markets, such as Vietnam and India, to mitigate supply-chain risks and costs.
In its latest World Economic Outlook, released in January, the International Monetary Fund (IMF) downgraded its global growth forecast for this year and next, blaming the negative effects of tariff increases imposed by the US and China. It says an escalation of trade tensions is a key source of risk to the global outlook.
Reports are also emerging that the trade conflict is starting to hurt the Chinese economy. This is confirmed by the IMF, which says China's growth is losing steam.
Economists point to China's latest growth rate of 6.6% in 2018 – the lowest in 28 years. And, as a consequence of an economic slowdown, Chinese purchasing power could be adversely affected.
"That is a possibility," says Anderson. "We haven't seen that play out yet. But again, if you have an extended period of trade tension between the US and China, that really could happen. When you have volatility in the geopolitical landscape, there can be a psychological impact, and ultimately that can have an impact on how and when companies make their capital investment decisions."
Anderson is hopeful it will not come to that: "I am hoping that the situation will be resolved in 2019.
Future trends: Follow the consumer
1

2

3

4

5

6

Currently reading

Logistics: A watching brief on trade tensions

7