Since becoming private, GLP has overtaken the Goodman Group to become the second-largest logistics investment company. Florence Chong reports
The 2018 performance of global logistics group GLP mirrored the frenetic pace of growth in the international logistics industry. Freed from the shackles of being a public company, the now privately owned GLP has launched new funds in Europe and India, and expanded its existing markets in Japan and China.
In 12 months, GLP has increased its assets under management by US$21bn (€18.4bn) – that is US$7bn in Europe, US$6bn in Japan, US$6bn in China and US$2bn in India – to US$55.9bn. Its growth has been supported by new and existing investors. Canadian investors QuadReal and Oxford Properties, the UK's Tesco Pension Investment, and the Korea Fire Officials Credit Union have joined GLP's roster of limited partners over the past year.
Since delisting from the Singapore Exchange following a S$16bn management-led buyout 12 months ago, GLP now manages 780m sqft of logistics properties – a whisker ahead of Prologis, the global leader, which manages 771m sqft of assets, valued at US$93bn in September 2018.
Alan Yang, GLP's CIO, says: "Our strategy pre- and post-privatisation has been consistent. It has always been about how to best capitalise on the environment for logistics real estate. The reality is that not much has changed, but the settings under which we are executing our long-term strategy are much more hospitable than they would be if we were still in a public market."
Since 2017, GLP has made two company-transforming investments – in Europe and India. Its global footprint now encompasses markets that represent more than 70% of the global economy and 50% of the world's population.
GLP had been exploring Europe, one of the world's top-three logistics regions, for some time, and, in October 2017 struck a US$2.8bn deal with UK-based Gazeley, providing an immediate platform of complementary assets and staff.
Thinking outside the big box
GLP is a leader and innovator in global supply-chain management - Christopher O'Dea
For GLP, innovation in the industrial-property sector is about what is happening outside the walls of the US$60bn (€52.7bn) of warehouses it owns and manages.
Consumers and businesses now demand speedy delivery of online goods, from apparel to holiday gifts to the myriad components required to build a car. Before those items are used, they spend time in warehouses, journeying through the 'global supply chain' on untold journeys to innumerable destinations.
Digital technology has unleashed fundamental changes in the way components and finished goods are designed, produced, stored and delivered. As extensive as the impact of e-commerce has been on the industrial property sector, GLP believes there is more to come.
The company's growth strategy hinges on the global supply chain becoming much more efficient. To GLP, the optimal way to maximise the value of industrial property assets in that environment is by pushing outside of the traditional warehouse box – adopting innovations in technology for internal management of warehouses as well as the interface between warehouse and transport vehicles, getting involved in tech research and financing, and working with customers and local governments to maximise the value of land in light of new distribution practices.
From this perspective, warehouse property is no longer primarily a rest stop on the global supply chain, but a frontier outpost of the technology revolution. The company has adopted a unique organisational structure to pursue its vision, bringing together a team of tech investors, zoning experts and data scientists.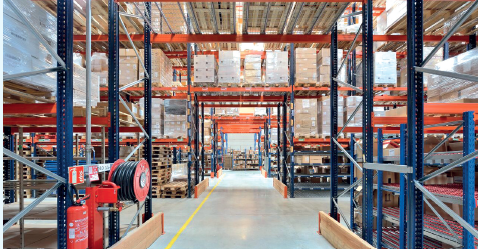 GLP's The Altitude, at Magna Park in Milton Keynes, UK, has a 69ft ceiling to increase storage capacity
The timely adoption of technology has been a big part of its growth, says global COO Steve Schutte, but its sector expertise is the foundation. "We have grown at a fairly brisk clip, and we believe the reason we've done so well is because at the core we're very good operators," he says.
Several years ago, GLP began creating specialist teams with expertise outside of logistics property. It has an in-house private-equity team focusing on investing in logistics technology, experts in zoning law and regulations to address situations where land use might change as the global supply chain evolves, and a M&A team to carry out growth transactions.
The global executive team is also looking at new asset classes. "We wanted to grow the platform beyond just traditional warehouse ownership and operation, touching many points along the supply chain."
In China, GLP has started to expand into industrial parks, having developed an i-park for BMW in Shenyang that encompasses manufacturing and distribution. "It happens that China is a phenomenal incubator for a platform like this," says Schutte.
"We have such scale there that we get immediate feedback from varying investments, strategies and approaches, which allows us to [respond] more quickly and undertake more innovations, and decide if it's something that we can adapt in different parts of the world."
Approaching logistics property as a growth investment flips the traditional way of thinking about the asset class on its head. "To us, there's a bridge that's always existed. You've had technology on one end, and you've had property owners and operators on the other. Very few actually connect, cross over and find ways to use technology to drive the warehouse or operations and holistically to improve the competitiveness of customers."
Leading with innovation gives GLP an edge. The company's global leadership team meets regularly to evaluate new innovations and determine which are ready to go to market. "When we brought robotics to the US," Schutte says, "we had been incubating and developing that technology in China for some time".
Market conditions in the US determined the timing of the introduction. "When we were hearing more from our customers about the rising cost of labour, or shortages of labour, and the need for alternatives and increased speed of delivery, we felt that was the opportune time to advance that technology in the US."
This highlights the need for strategic discipline. "I don't think it does any good to take a technology that isn't going to be received or utilised in a market, and just send it over."
The technology is only as good as the operator's ability to integrate it into supply chains. "Different markets have different needs and requirements. Getting an edge from technology investments comes from the ability to use new technology to tie together customer requirements into a new service or an improvement in the warehouse product."
"Within six months, the Gazeley platform grew more than it had in the previous five years," says Yang. "In under a year, we doubled our Europe AUM to US$7bn." GLP sought out IndoSpace, India's largest industrial real estate company. IndoSpace had achieved a dominant position in the country over 10 years with a 180-strong team capable of navigating the difficult market.
"Buying into that team and having [access to] their ongoing capital partners was an important aspect of our decision to enter an environment that is equally as hard, if not harder to navigate, than China."
India might not follow China's growth trajectory, but it has all the elements – internet penetration, mobile phone technology and a growing middle class – that make for a "fantastic" e-commerce market, Yang says. He expects GLP's Indian business to grow from US$2bn today to "multiples of that in the medium term".
Shortly after the IndoSpace deal, GLP established a partnership with Everstone, a sponsor of IndoSpace, to invest US$500m in strategies and technologies to enhance logistics efficiency in India. The collaboration will capture opportunities across the logistics value chain in India, including express delivery, smart trucks, telematics and robotics.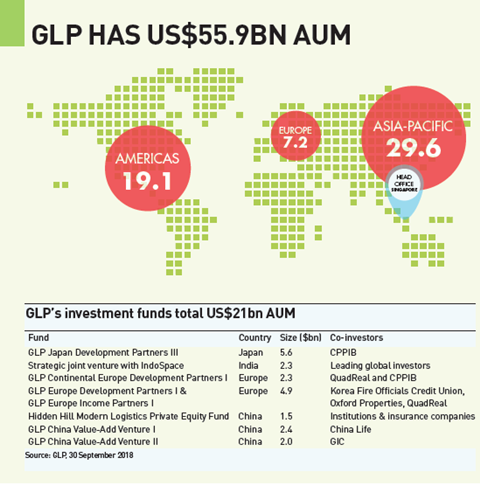 As a real asset, logistics has historically delivered solid returns, Yang says, and GLP's rapid expansion is being propelled by global investors' desire to be part of the fast-growing property sector.
A convergence of structural trends – e-commerce, technology, and millennials – has changed consumption patterns, while globalisation has opened up access to cheaper merchandise from all over the world. Yang says the 25-35 age group has growing purchasing power. "They are the first digital native generation. They grew up with iPhones, computers and the internet. They are sophisticated and demanding consumers."
E-commerce is evolving and technology is transforming supply chains, helping retailers make faster, more reliable delivery. Automation, robotics, sensors, materials-handling technology and autonomous vehicles continue to advance, with costs declining quickly – to a point where they can be applied on a broad scale to a simple warehouse. "The warehouse has become the connecting point for a broad swathe of new technologies. But in all markets, the warehouse has also become the most constrained point in the supply chain."
Real estate is unable to keep up with the exponential growth in e-commerce – and the gap is widening as retailers close stores and go online. "If you are a retailer and not able to deliver in two days, you are at a huge strategic disadvantage," he says.
GLP sees itself not just as a landlord but as a provider of logistics solutions. In its private-equity division, GLP has a dedicated team that sources and acquires technologies that support and advance the logistics of e-commerce. GLP customers in the US, Japan, China and India now have access to solutions that improve efficiency and reduce costs.
Asked if GLP is expanding too fast, Yang says not at all. "Our US business is now approaching US$20bn," he says. "The European expansion happened at the end of 2017 and then, in 2018, we entered the Indian market. The expansion has been fast, but it has also been methodical and grounded in global themes that are still driving the market.
"Our scale has enabled us to capitalise on larger opportunities in the market. GLP has built a discrete team with domain expertise distinct from traditional real estate, collectively having the capability to handle the most complex global and cross-border transactions."
Future trends: Follow the consumer
1

2

3

4

Currently reading

GLP: The new global pretender

5

6

7