There are opportunities in European logistics, despite slowing investment. But, writes Maha Khan Phillips, investors are divided on the impact of Brexit
Institutional investors are flocking to the logistics market. The share of real estate investors targeting European logistics has grown exponentially. It more than doubled from 27% in 2012 to 59% in 2016, according to M&G Real Estate. That figure is increasing and it is no surprise to see why. Structural drivers, such as urbanisation and the speed of e-commerce development, combined with digital innovation and changing consumer patterns, make logistics an important investment opportunity.
Phillip Dunne, EMEA head of logistics at CBRE Global Investors, says: "2018 saw the strongest level of overall demand and take-up across Europe, including the UK, and it was a very healthy market, healthier than we have seen, maybe ever. The ongoing structural change and supply chain, and the e-commerce phenomena, which continues to be a significant driver of growth and demand, are all very important."
But the popularity of the asset class means there is competition for accessing the right assets at the right price. Paul Graham, non-executive chairman of Gramercy Europe, says: "From an investment perspective, there is more capital than product in the market, particularly with traditional warehouses." The logistics specialist acquired three warehouses in Spain in two separate transactions together worth €32.25m in January, and two Dutch assets worth €40m for its third logistics fund.
And it is not just competition from within the sector. Jon Sleeman, head of research for EMEA logistics and industrials at JLL, says: "In some markets like London or Paris, there is competition from other types of uses of property, like residential. As a result, we are seeing a move towards different types of logistics, such as the development of multi-storey or multi-level logistics. You've got to try and do something to maximise the land."
Finding the right opportunities and shaking off the competition is just part of the challenge. There has also been significant yield compression. The overall European logistics yield dropped 14bps to 5.95% in the second half of 2018, according to Cushman & Wakefield's DNA of Real Estate report. It is the first time it has fallen below 6% since it started tracking the sector in 1992, which makes it harder to find value. Rental growth, meanwhile, is expected to be strong in 2019.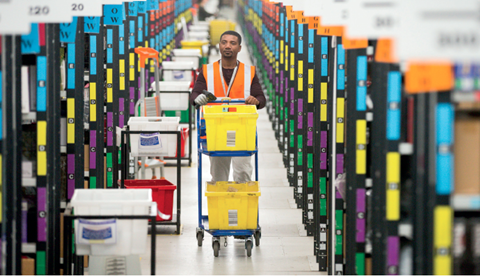 "From a leasing perspective, the market looks great and, for capital values, I don't think there is a lot further room for value creation through yield improvement," says Remy Vertupier, fund manager of AEW's Logistis fund. "We are probably reaching a limit. Prime yield is about 4.5% in Germany and France, but I do not expect further room from yield compression. If you want to continue to make performance, you have to leverage income. You can also participate through the creation of assets, entering early stage into some development projects to generate profit by taking development risks."
Amal del Monaco, head of sector specialist at AXA-IM Real Assets, agrees. "At this point in the cycle, we shouldn't be afraid of taking a little risk, and being less focused on long-lease and secured leases," she says. "We should get in on shorter leases with one or two years. It is a way to capture the rental upside."
Some investors are ready to increase their risk exposure. Chris Jeffs, fund manager at M&G Real Estate, says: "We have clients who are willing to go up the risk curve and seek mispricing opportunities, which we think this year will provide more of."
Investors can also find opportunities in new markets. "At the end of the day, it is about return," says Graham. "Where are you going to achieve that? I think there are certain markets which may not be as well established or as well regarded, which over a certain period could grow and provide above-market returns."
Del Monaco says smaller markets like Spain, Portugal and Italy, and some eastern European markets like Poland, have the most potential for growth. "Investors are probably less comfortable with [these markets], but I do think they will probably perform slightly better than core European markets," she says. "It doesn't mean that I would put the whole allocation of logistics to southern Europe, but I would bring them into the portfolio."
But regardless of the challenges, there is still plenty to play for, because growth drivers will continue across Europe. As M&G points out in its September 2017 report, Magnify: The Opportunity in European Logistics, around three quarters of Europeans regularly use the internet, but only 15% shop online from another country. The UK and US were the earliest adopters of e-commerce globally, underpinning their strengths in logistics rents, which grew 3.7% and 5.8% respectively over the three years to September 2017. This compared with only 0.8% per annum in continental Europe, where online sales are now gaining momentum.
"As we move to same-day services, companies will need local facilities so stock can be locally held," Sleeman says. "There are opportunities around gateways and strategic corridors and factory locations, where there is a reasonable supply of land, whereas when you start to get close to cities and urban areas, that's when the supply of land is pretty tight." Sleeman believes this type of last-mile logistics is a huge opportunity for investors.
According to Graham, it will come back down to sourcing the right assets. "The big dilemma at the moment is what sorts of properties can [serve] that last mile, and there we have to be more flexible," he says. "Some of the last-mile facilities are by their very nature going to be smaller in lot size, which may not be attractive to investors because the costs associated with managing and acquiring them is disproportionate."
Vertupier also points out the need for reverse logistics as a source of future growth. "E-commerce is creating tons of need for reverse logistics. Tons of goods are returned to warehouses, and currently operators are not good at reverse logistics. Sometimes they destroy the goods because they don't know what to do with them. We will probably see some warehouses dedicated to that in the future."
Brexit: a logistical nightmare?
Opinions are divided as to what impact Brexit will have on the logistics sector. Some are more optimistic than others. Jeffs says: "It's at the top of everyone's minds. But looking across the other real estate sectors in the UK, the industrial market continues to show positive prospects, and the potential for reasonable returns this year is very strong, driven by a robust occupational market."
Vertupier believes the impact of Brexit depends on what form it takes. "There may be a split between continental European logistics and UK logistics," he says. "UK logistics is mainly consumption-led rather than industry or factory-led, so is already really sustainable."
Managers are divided in approach. Del Monaco says the UK will remain part of its strategy. "Nobody knows what will happen with Brexit, but the UK will always be part of our allocation, Brexit or not," she says. "We haven't had any discussions with our investors about excluding the UK. It will always remain within the EU or outside the EU as a main counterpart with the other European countries."
In contrast, Graham sees the UK as a separate allocation. "Gramercy has a mainland European portfolio. We are looking at the UK, but if we look at it we will probably have a separate fund rather than a pan-European fund," he says.
He says that, whatever the outcome of the UK leaving the EU, the traditional established patterns between the UK and mainland Europe will inevitably change. "If traditional disruption patterns change and become more complex, then they may provide opportunities for larger players who have already established platforms, both from an IT perspective, and from a real estate perspective, as opposed to other players who may struggle because they don't have cross-border distribution patterns that work," he says.
Despite the headwinds, industry experts say the outlook for logistics looks strong. "With yields having compressed, we are in a new normal, and returns on a property level on an unlevered basis would be in the 5-6% range," says Hemant Kotak, managing director at Green Street Advisors. "But when you think about the fact that investors can actually put a bit of debt on the assets and that the cost of financing the assets is still relatively cheap, then it still remains relatively attractive."
Graham also points out that, while yield compression is unlikely to continue much further, logistics provides a critical service, and that will never change. "If you think about logistics as an industry, it affects whatever walk of life you want to talk about, whether it is a hospital or raw materials or last-mile delivery," he says. "We need the logistics sector. It's a very strong and stable sector and it's here to stay."
Future trends: Follow the consumer
1

2

3

Currently reading

Europe: Last mile of the investment boom

4

5

6

7