The greatest pace of change and growth in logistics markets is happening in Asia-Pacific. Florence Chong explores a region being transformed
With Asia-Pacific at the epicentre of today's global supply chain transformation, a river of capital is continuing to pour into development of new-generation logistics facilities. A new era for industrial and logistics real estate is being propelled by exponential growth in e-commerce in large population countries such as China, India and Indonesia.
CBRE Research predicts that Asia-Pacific e-commerce sales will increase at a compound rate of 23.4% between 2018 and 2022, rising from US$1.8trn (€1.6trn) to US$4.17trn. With that exponential growth comes logistics footprint expansion.
CBRE has found that every US$1bn in e-commerce sales translates into 1.25m sqft of additional distribution-space demand in the US. Some argue that the level of demand for logistics demand could be even higher in Asia-Pacific.
Asia entered the e-commerce era with fewer warehousing facilities because retailing was barely organised in what was an informal market. Existing facilities were old and unsuitable for the sophisticated demands of e-commerce. It was an equation that did not compute as the countries of North Asia, Southeast Asia and the Indian subcontinent, driven by globalisation, became the backbone of global manufacturing.
Investment dollars from around the world have been flooding into the region. China is the undisputed leader of Asia-Pacific's logistics growth. Japan is a solid market, modernising quickly along with Korea. But the greatest promise has yet to be tapped in emerging markets like India, Indonesia, Vietnam and Southeast Asia generally, where e-commerce growth is tipped to replicate that of China's.
Large groups such as Canada Pension Plan Investment Board (CPPIB), Ivanhoé Cambridge, Allianz, GIC and others are chasing the golden goose in logistics real estate. With billions of dollars raised and deployed, is there a risk of oversupply?
Not at all, says John Marsh, joint managing director of the pan-Asian group, Logos Property. "There is a good match of capital and demand," he says. "We require all the capital available to service tenant demand across different countries in the region. Ours is a demand-led business. We respond to user demand."
Gary Anderson, CEO for Asia and Europe at Prologis, says: "That is true. We are certainly the sector of choice today. I don't have a lot of concern with respect to new capital coming into the market."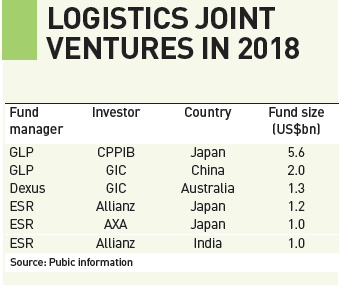 Anderson is not seeing any significant impact from new logistics competition in China. This is because Prologis has chosen to focus on "tier 1and 1.5" cities – Shanghai, Beijing, Guangzhou, Shenzhen, Chongqing and Chengdu. Anderson says newcomers have gravitated to Chinese cities where land is more readily available.
"I have been with Prologis for 25 years and I haven't seen a stronger market than this," he says. "If you look simply at the real estate fundamentals, we are in great shape. All the volatility you see right now has to do with concerns over the geopolitical environment, trade relations and the trend to nationalistic rhetoric."
Given the number of deals regularly being signed off, over-investment is furthest from investors' minds. An example of a major logistics play can be seen in the decision by Singapore's sovereign wealth fund, GIC, in September 2018 to set up a US$2bn value-add venture with GLP to focus on income-generating logistics facilities in China.
Explaining GIC's investment rationale, Lee Kok Sun, GIC Real Estate's CIO, said at the time that high consumption growth, especially through e-commerce, would continue to drive demand for high-quality logistics properties in China.
In January, ESR, backed by Warburg Pincus, formed a US$1bn platform with AXA Investment Managers–Real Assets to buy six logistics assets. The deal came within days of GLP launching a JPY625bn (€5.04bn) GLP Japan Development Fund III, with CPPIB as cornerstone investor.
At the time, Jimmy Phua, CPPIB's head of real estate investment Asia, said: "The new fund builds on the success of our earlier programmes, underscoring our long-term commitment to investing in Japan."
With tax and business reform in place, India is also on the cusp of institutionalising its under-developed but potentially vast logistics sector. CPPIB is one of the first of global giants to enter India's logistics sector. It has forged a relationship with the Indian group, Everstone, to launch its IndoSpace platform. CCPIB's initial investment is US$500m. The partnership has grown, with GLP stepping into the ring to link with both IndoSpace and Everton, planning major expansion into India's logistics market.
Meanwhile, Logos has brought Ivanhoe Cambridge and QuadReal Property Group to India, forming a joint venture with total investment capacity of US$800m. "India is an emerging market which offers enormous opportunities," says Marsh. His decision to enter India had been influenced by demand from regional clients who also see a huge opportunity there.
Unusually, the bigger players have overlooked Southeast Asia, a market with a bigger population than the EU. It is here that Indonesia is leading the region's fast-growing online consumer population. Logos is the only regional player to meaningfully penetrate into the region, although ESR has built up a significant presence in Singapore, running the city-state's third-largest industrial real estate investment trust, ESR REIT. Since establishing an office in Singapore, and with capital-backing from CPPIB and Ivanhoe Cambridge, Logos has expanded both there and in Indonesia.
In December, it made its single largest investment yet when it acquired a 25-hectare site in Singapore for a sum thought to be S$585m (€378m). "It is a particularly strategic acquisition in terms of size, location and future development opportunity," Marsh says. The asset has a 30-year lease with multinational solar-panel maker REC, and sufficient land for Logos to build an additional 100,000sqm of space. It is adjacent to Singapore's planned Tuas megaport.
"The new mega port is generating a lot of inquiries," Marsh says. "When you combine Singapore and Indonesia that gives us a great amount of expansion possibility. We are seeing great success in Indonesia, and we now have four large development projects in strategic locations in Jakarta, servicing e-commerce and third-party logistics."
Marsh says China remains an enormous market for Logos. "We are expanding into a number of cities, but keeping our focus on Greater Shanghai, Beijing and Guangzhou."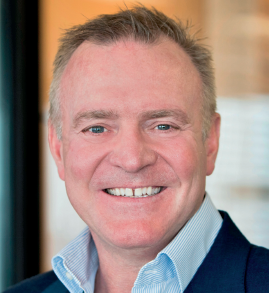 This year, Logos is scheduled to begin work on A$1.54bn (€974m) worth of facilities across all of its markets. Its growth is supported by the flow of capital continuing to come from its investors, raising A$2.7bn in the past two years.
Last year was Prologis's best year in China since its merger with rival AMB in 2011, and it will be investing a further US$1bn in new developments between its China and Japan businesses. Anderson says Prologis has chosen to organically grow its China and Japan portfolios by 10% (about US$9bn) of assets under management. "I would like it to grow beyond that level, but it is difficult to acquire high-quality logistics assets in Asia because the third-party acquisition market isn't yet as mature as it is in the US or Europe," he says.
"Prologis is focused on the consumption side of the supply chain, favouring big population centres. Over the past six to seven years, we have been reshaping our portfolio to concentrate capital investment in these locations. It is important to remember that product needs to be delivered to consumers faster and in a narrower window. This means the product must be stored closer to the end-consumer. For us, this falls into the middle of our strategy."
Anderson says the strategy has paid off and will continue to do well. "In other words, Prologis is positioned to outperform in both good and bad markets," he says.
ADIA 'pivots' to emerging markets
Rapidly growing e-commerce has caught the eye of the Abu Dhabi Investment Authority, Tom Arnold tells Richard Lowe
The Abu Dhabi Investment Authority has been active in global logistics markets in recent years. According to global head of real estate Tom Arnold, it continues to see "a lot of opportunity" in what is "still a very attractive investment sector".
But the sovereign wealth fund is "making a very deliberate pivot into emerging markets" as part of its wider real estate strategy.
"A lot of our own internal talent and personnel are focused on the fast-growing consumer classes and this is going to create an increase in e-commerce adoption rates," he says. "The opportunity in Asia and Latin America, for example, is just tremendous."
Arnold says China has now surpassed the US in terms of the proportion of total sales being made through e-commerce. "It is more likely that a Chinese man or woman would buy online than somebody from the US. Those kinds of trends are not lost on us," he says. "As a percentage of new dollars we deploy, the emerging markets are going to receive a disproportionate amount of that capital."
Asked about the unprecedented amount of capital that has moved into the sector, Arnold is not currently concerned about the risk of overbuilding. "A lot of capital has flown into the sector," he says "Sometimes a real uptick in supply can be troubling for a market, but the demand is also growing in leaps and bounds. The expectation for global e-commerce sales is a 50% increase from our current level over the next three years. So even with as much capital and as much supply that may be on the drawing board, we are not going to increase the stock of supply globally by 50% in the next 36 months. It's a very dynamic market with a huge uptick in demand and a huge uptick in supply, and as long as those stay in some relative balance there is going to continue to be great opportunity."
Logistics players are operating in a constantly evolving industry, which is revealing new opportunities along the way. Anderson points to what he calls "last touch" logistics. "This is where the experimentation is happening today," he says. "Whether it is around customers picking up packages from lockers, or final delivery coming from panel vans, mopeds or bicycles, all are in play. And they will be in play until a profitable and scalable model emerges."
Troy Shortell, CBRE's head of supply chain advisory services, says: "Supply chains are largely defined by their ability to respond to sudden changes in consumer demand and market behav-iour. In Asia-Pacific, supply chains are now more willing to embrace innovative technology and adopt new business models to tackle the challenges of disruption."
When might the sector complete its transition from an old-style supply chain to one that meets the demands of online retailing and technological advances?
Marsh says the industry will continue to evolve as technology and automation improve. "We haven't seen driverless vehicles yet," he says. "So it is a continual evolution of industrial facilities to ensure that we keep up with the efficient delivery of products.
Future trends: Follow the consumer
1

2

Currently reading

Asia-Pacific: At the epicentre of logistics transformation

3

4

5

6

7