The real estate arm of Generali has recently entered third-party fund management. But it is a seasoned player
"It seems that if you do this job well, you have to accept being berated for years on end," says Aldo Mazzocco, CEO of Generali Real Estate. He refers to the many times during his career when he held contrarian views, only to be vindicated later on.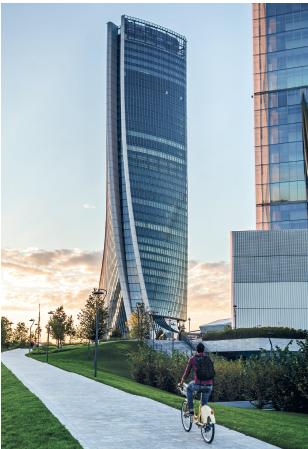 In the early 2000s, he recounts, as CEO of Beni Stabili he invested in peripheral areas of Milan, against the popular views that the city was an investment backwater. Fast-forward two decades and Milan has undergone a complete transformation, becoming one of the most sought-after cities by international investors. One of the symbols of the city's rebirth is Citylife, the iconic mixed-use development owned by Generali.
Mazzocco, who took the helm at Generali Real Estate in 2017, continues to develop contrarian views as he attempts to identify the cities and sectors that offer attractive long-term returns.
For example, under his tenure, the company has grown its portfolio of assets in Rome, a notoriously challenging investment environment, but one where Mazzocco sees significant potential.
He said: "We are convinced that a city of such beauty, which attracts 50m tourists per year, and a world-class cultural offering, should provide long-term growth, particularly if the city manages to attract young, talented people."
The CEO argues that if Milan managed a significant turnaround from the early 2000s, Rome could achieve something similar.
Mazzocco has reorganised the company's strategy and operations. The goal was to strengthen Generali Real Estate's position as a global asset manager, by streamlining the activities of the nine branches and significantly raising the share of assets managed on behalf of external clients. This is one of the crucial elements of an ambitious 2019-21 strategy announced last November by the Generali Group.
As of June, about 10% of General Real Estate's €30.7bn of AUM, consisted of third-party assets, with the rest belonging to the Generali Group companies. Mazzocco and his team have been given the task of investing up to €12bn by the end of 2021, and the plan is for one third of that investment to come from external clients.
"This is not a Copernican revolution, since we are already an established asset manager," says Alberto Agazzi, head of fund management and CEO of the Generali Real Estate's SGR business. "However, we are making some adjustments, starting from developing and harmonising the global investment management platform."
Generali has been split into two arms to help facilitate the expansion: one is dedicated to strategy, transactions, asset management and other functions; and the other is a fund management company (known as società di gestione del risparmio or SGR in Italian) to run pooled funds. From a geographical viewpoint , the organisation is divided into four regions: southern Europe, western Europe, central-northern Europe, and central-eastern Europe.
The expansion plan involves launching 10 pan-European, cross-border funds by the end of the year, each focusing on one asset class and one strategy. Most funds are already active in the market.
As third-party assets grow, the company expects to diversify the portfolio. Nearly two thirds of the portfolio is invested in offices, while retail and residential represent 19% and 9%, respectively. Logistics and other assets account for about 5% each. The management's goal is to expand the portfolio into shopping centres and logistics. To support its investments in shopping centres, the company has launched Axis Retail Partners, a specialist boutique. Among the newly launched funds, one focused on real estate debt.
At the same time, the share of Italian assets on the company's books is expected to shrink as the company diversifies globally and invests more abroad. The diversification drive will focus primarily on European cities, but the Asia-Pacific region will also grow in importance, initially with indirect investments.
Attention turns to Asia
The company began investing in Asia in 2016. It has built a fund-of-funds strategy, investing in several cities across the region. This was done to diversify the company's exposure, which is mainly to Europe, and to take advantage of Asia's natural growth trend.
The company also has some co-investments in the region and in time it will start investing directly, says Mazzocco. "Our goal is to start developing a local team within a reasonable timeframe. We do not rule out opening an office in the region over the next five years," he adds.
The company also has a North American portfolio, but its activity in that region has been paused, owing mainly to the strength of the US dollar and the direction of the economy.
Generali Real Estate's expansion goals are ambitious, but its foundations are solid. The company's main strengths, Mazzocco says, include its near-200-year history, its physical presence in the markets, and that its largest clients are Generali Group companies. "It means we always co-invest with our external clients," he says.
"Thanks to the new structure, our internal clients invest in exactly the same vehicles as our external ones," he adds. "We do not have such urgency to deploy capital that we will compromise on asset quality. If we cannot find assets with the characteristics we see at the price we want, we simply will not invest. Our funds will remain very focused and disciplined from a strategy standpoint."
Another strength is General Real Estate's charismatic leadership team. Mazzocco, in particular, is a veteran of the European real estate industry. He joined from Cassa Depositi e Prestiti, the Italian state-owned investment bank, where he served as head of real estate. Prior to that, he was the CEO of the Beni Stabili SIIQ from 2001 to 2015 and he has held various positions at Beni Stabili SGR; between 2010 and 2015, Mazzocco was director at Foncière des Régions. He has extensive experience investing across Europe, North America and Asia, but his expertise on Italian real estate is unrivalled.
"I've always been passionate about the way Generali invests in real estate," says Mazzocco. "My approach to real estate investment is one that consists of having boots on the ground, and that is how Generali has been investing since the beginning."
Mazzocco emphasises the importance of the company's presence in Europe, where it employs 430 staff in nine offices in major cities. "We may have several Generali Real Estate staff deployed in a given location, but that is on top of hundreds of employees of the insurance company in that country."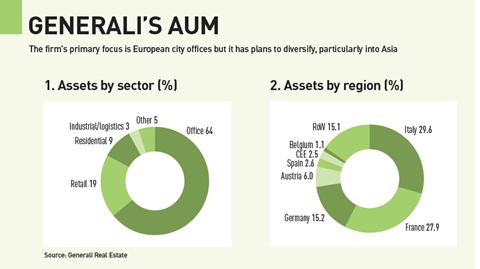 He continues: "This helps us gain a better understanding of local market dynamics. Being physically present in the market we invest in means we can evaluate risk better and add value by sensing where cities are going. This is also my approach to investment. We read the research and look at the market fundamentals, but we especially try to focus on the wider dynamics that make cities competitive, sustainable and smart, such as the economy, human capital, technology to name a few."
The company's approach is strictly focused on cities. Mazzocco's quest to identify long-term opportunities typically involves several relatively safe asset allocation choices, plus a few audacious bets. One such bet is the firm's investment in Warsaw, where it has been building a portfolio of offices. "The trends for the city, and Poland in general, are positive, starting from the link with Germany. The country has grown tremendously in terms of infrastructure in a relatively short time," says Mazzocco.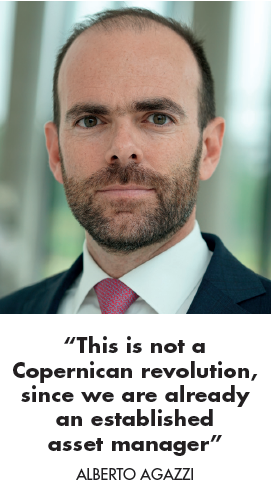 Mazzocco has seen a few real estate cycles in his career, which has made him sceptical of new trends. He says the push towards alternative asset classes is welcome but he errs on the side of caution. "The challenge is separating the wheat from the chaff," he says. "Alternative real estate has always existed, but it is difficult to establish whether investor participation in sectors like logistics or student housing is a structural or cyclical trend."
This is why it pays to focus on the basics of real estate, according to Mazzocco. "Having worked in this sector for over three decades, one of the key lessons is that it is all about good-quality tenants. In a low-yield environment there is a temptation to invest in trendy alternative assets that promise to deliver a spread, but the risk is being too tied to a single tenant or a single trend," he says.
"At the moment, we are extremely selective, particularly in non-core sectors, and we pay particular attention to the details. We do not try to ride the trend waves."
At the same time, Mazzocco shows great enthusiasm about the long-term opportunities he sees in the market today. His team has identified areas that are capable of delivering stable growth even in the challenging environment the market is facing. This, and the strength of the Generali brand, makes Mazzocco optimistic about the future.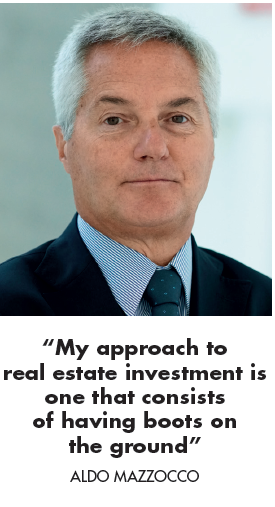 The plan to raise third-party assets may be ambitious, but there is no great urge to chase immediate returns, according to Mazzocco, which means finding the right opportunities should be relatively straightforward.
"Generali is one of the largest owners of real estate in the world, which means we are responsible towards a variety of stakeholders," he says. "We have significant skin in the game and deliver what we promise, which should make our investors feel comfortable. Needless to say, if there was a correction, we would become more opportunistic buyers."