A long-awaited mandate from Japan's GPIF and a major corporate deal between LaSalle and Aviva show a maturing industry. But does LGPS pooling in the UK pose a threat to multi-managers? Christopher O'Dea and Richard Lowe report
One of the most hotly anticipated real estate investment mandates was announced in September. Japan's Government Pension Investment Fund (GPIF), the world's largest pension fund, which is mobilising to put 5% of its ¥156trn in assets into alternatives, awarded its first global real estate mandate.
CBRE Global Investors – or, more specifically, its CBRE Global Investment Partners (GIP) subsidiary – has been hired to manage a global funds-of-funds account.
The real estate fund management industry is still awaiting a second global real estate mandate to be issued by GPIF. IPE Real Assets understands that this second mandate will be for direct investments. But the decision to go down the fund-of-funds route for real estate is the latest vote of confidence in the multi-manager, which some predicted would not survive.
In fact, building a multi-manager business is proving to be a potential boon for property investment managers. CBRE Global Investors moved into the business in 2006 when it acquired part of Oxford Property Consultants, co-founded by Jeremy Plummer, who is now global CIO of CBRE Global Investors. This was before the 2011 merger between CBRE Investors and ING Real Estate and it created CBRE Investors Global Multi Manager.
In 2014, Plummer led the rebranding of the unit as Global Investment Partners (GIP), a name that reflected the evolution of the multi-manager model, away from a standard fund-selection business to one that can encompass co-investments, clubs, joint ventures and local operating partnerships. Today, it provides solutions rather than selecting funds.
In some ways the success of the multi-manager model during recent years has been a surprise, especially as the 2008 financial crisis looked like it might deal it an existential blow.
"Some thought that there was a risk of retrenchment to a more domestic orientation," recalls Ian Gleeson, CEO and CIO of CBRE GIP. "The other thing that some predicted during the financial crisis and shortly after was the demise of the multi-manager model."
But both predictions proved to be off the mark, in large measure because investors recognised the need for global diversification and the need for scale to achieve it. With very few investors possessing sufficient scale on their own, they relied on indirect solutions.
"A major trend, which started to happen post-crisis, has been an increasing embrace of capital looking for global exposure," Gleeson says. With investors "looking for access to the asset class globally, the GIP business has been well placed to meet that demand given our ability to access markets across the globe as part of the world's largest real estate company. This meant expanding our execution beyond traditional off-the-shelf funds," he says.
While fund selection remains an important part of the CBRE GIP business, "we've embraced a wider execution model that looks for what we believe to be the best entry point or best execution approach for strategies," Gleeson says. "Sometimes that's through funds, and sometimes that would be through other access points. Though our business continues to have a significant allocation to funds, about half of the total capital we manage involves accessing the market through clubs, co-investments and joint ventures that we've established."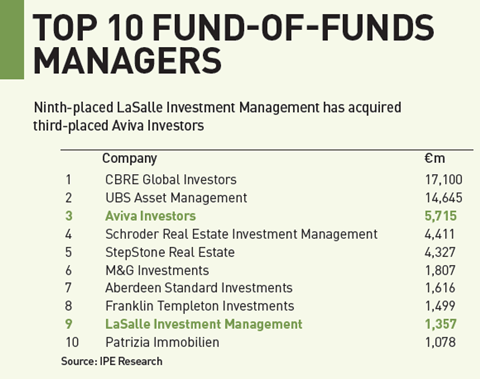 How a strategy is executed depends on the investor's risk tolerance and objectives. "Certain clients may want to rely more wholly on funds, and others are more agnostic," Gleeson says. "It may be that we're targeting a particular niche of the market and there is no fund solution available, so it really depends on whether there is a fund available – and, if there is, how that fund fits with our requirements as an investor. We can invest in either closed or open-ended vehicles, but the model requires greater transparency to ensure strategies meet the more stringent specifications that typically govern tailored mandates. We have shied away from blind pool closed-ended funds. That model is more challenging for us."
Jeff Jacobson, global CEO of LaSalle Investment Management, says: "The business has moved from what was traditionally a pure, multi-manager, fund-of-funds business into something where investors are looking for a manager than can invest globally across a whole suite of indirect investments, almost in an allocator style, to be able to drive value."
The indirect options include funds, as well as co-investments, secondaries, platforms targeting sectors or styles, and niche-focused joint ventures. "That's where it starts to become very interesting," Jacobson adds. "You have a business in and of itself that's scalable, where you can do some innovative investing to add alpha, and be remunerated if you do add alpha."
Like CBRE GIP, LaSalle's multimanager capability consists of internal and externally-acquired expertise that now forms LaSalle Global Partner Solutions (GPS). The core was a traditional multi-manager business serving UK pension funds that wanted to outsource their property allocation to a single manager.
The co-investment business developed about eight years ago, when a large US pension fund asked LaSalle to develop a programme to evaluate discretionary co-investment opportunities presented by the managers of several dozen funds in which the pension plan was invested.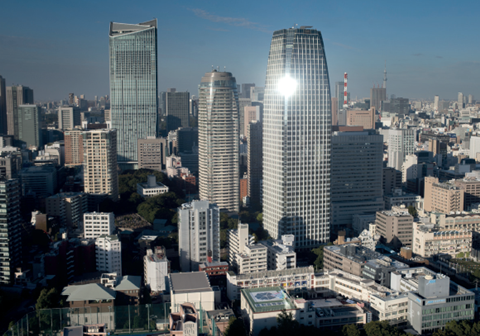 "They didn't have the staffing at the depth required to effectively screen the co-investment opportunities and also do their other jobs of selecting funds and managing their overall portfolio," Jacobson says. "We had a team they wanted to work with that had done various indirect investing." The programme worked well, and during this period LaSalle added two other large investors as clients pursuing similar co-investment strategies.
LaSalle made a major expansion of the business this year by acquiring the real estate multi-manager team from Aviva Investors. The transaction brought assets under management at LaSalle GPS to more than $10bn (€16.5bn), deployed across geographic regions and risk profiles.
The LaSalle team now employs a 'four quadrant' model, encompassing public and private property investment vehicles in both debt and equity, says Ed Casal, Aviva's former global real estate CEO, who is now global CEO of LaSalle GPS. The ultimate objective is to identify and capture value for clients, and this approach enables the team to "better calibrate where there might be relative value", Casal says.
Having achieved diversification by allocating to core funds, institutions are now looking to managers to generate excess return. Today, investors say "show me that you can do something more than I could expect if I hired a consultant on a project basis to picked out five of the best funds", Jacobson says. They like the diversification of core funds, he adds, but the message is clear: "Can you add alpha around the edges?"
Adding alpha requires vigilance. "Markets de-couple at times," says Casal, "presenting opportunities on a tactical basis to step into a market that has a particular value or is trading at a discount relative to the alternatives." Likewise, "when you're building out a portfolio, sometimes you want access and you can get it in the listed side where you might not be able to get it on the unlisted side or vice versa".
Townsend gives Aon a way in
In early 2018, investment consultancy Aon acquired The Townsend Group. As well as bringing together two consultancy business – Townsend advises on $186bn (€164bn) of real assets allocations – it also gave Aon access to its multi-manager and fund-evaluation capabilities.
This gives Aon a strategic edge in the rapidly evolving investment management industry, says Byron Beebe, global market leader for retirement and investment, who leads the team handling the integration of Townsend.
Townsend "was equipped to not only do the research, but to build the portfolios and execute the strategies that our clients want, frankly, to get better returns", says Beebe. "With more complex strategies, we now have clients saying, it's great that you're providing the advice, but can you just execute the strategy on my behalf?"
As pension funds continue to raise their allocations to private equity, private debt and illiquid alternatives that offer better potential returns than public markets, the need to design and implement strategies in those asset classes is likely to increase.
"Townsend brings the demonstrated ability to develop solutions and do the portfolio construction" in real assets, says Beebe. "We anticipate that we will be using some of those skillsets as we look for areas where we can replicate Townsend's track record."
Business to dry up as LGPS pools assets?
The indirect model can help investors deal with the increasing complexity. "The [fund-of-funds] asset class itself is becoming more specialised," says Ian Gleeson, CEO and CIO of CBRE GIP. "Not necessarily in terms of financial complexity, but the nature of the underlying assets that we're investing in is becoming more specialised."
The indirect model can also be a force multiplier for institutional investors, augmenting internal capabilities as they increase property allocations. "I think the ability of some to manage a more specialised global universe by themselves has diminished," Gleeson says. "Capital sources tend to have limited teams internally to be able to access the market on a global basis. They have teams that are very strong at strategy and understand real estate, but they may not physically have the internal resources to actually go out and execute."
But while some investors are bringing in third-party expertise to navigate an increasingly complex and global real estate market, others are building up their in-house resources. The consolidation of local UK authority pension funds into eight pools is a case in point.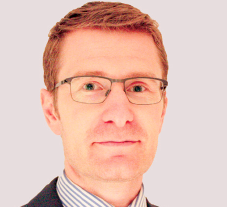 In fact, the organisations being set up to manage the investments of the pools are comparable to multi-managers. Brunel Pension Partnership, for instance, announced it was investing £340m (€390m) in two real estate funds managed by M&G and Aberdeen Standard Investments, respectively. The investment is being made on behalf of three of its Local Government Pension Scheme (LGPS) funds – Brunel has been set up to manage £30bn or so in assets owned by 10 LGPS funds.
Most of the pooling of LGPS assets has been focused on more liquid asset classes like equities and fixed income. Real estate has been further down the agenda – partly because consolidating disparate and illiquid portfolios efficiently is difficult.
Nevertheless, the real estate multi-manager industry in the UK has been watching the pooling process with much interest. They are probably casualties of LGPS consolidation, especially as one of the reasons for the pooling is to cut costs through increased scale.
DTZ Investors hs estimates that LGPS funds own over £10bn in unlisted UK real estate funds, or one fifth of the AREF/IPD UK Quarterly Property Fund index. While IPE Real Assets understands it is unlikely that LGPS funds will pull capital out of this market en masse, a portion of these assets will be owned via multi-manager mandates and funds of funds which could be vulnerable.
Melville Rodrigues partner at Charles Russell Speechlys says: "Pooling presents significant challenges for multi-managers and other advisers servicing LGPS indirect real estate mandates. The pooling strategic goals will lead to a reassessment of current mandates."
Asked whether LGPS pooling will be bring an end to the use of real estate multi-managers, Richard Fanshawe, head of private markets at Brunel, was fairly clear. "As with all pools, Brunel is looking to reduce the use of traditional fund-of-funds products with dual layers of fees and carry," he said.
But, he said: "Fund-of-funds and multi-manager terms have improved dramatically in recent years, and where it makes sense to use these vehicles – for hard-to-access managers/markets – or where pool resource constraints are prohibitive, we will keep all options on the table."