Big data is coming to real estate and the most forward-thinking investors are already embracing it. Maha Khan Phillips reports
In April, AEW, the real estate investment manager, joined hands with a big data science platform, GeoPhy, in a logistics mapping project. The firm used satellite images to identify the existing stock of logistics facilities in the Munich region, employing an algorithmic geometric edge detection model, and satellite colour band selection, and by filtering out non-logistics buildings.
The end result? AEW has a single, granular source of data and is able to identify the exact size and location of individual logistics facilities in the region. This information was not available before.
AEW is not the only real estate firm leveraging the power of big data to provide accurate information for the sector. Last year, GeoPhy, which has a database of 3m buildings in 51 countries, announced a strategic partnership with APG Asset Management, which manages about €45bn in real estate for Dutch pension funds. INKEF Capital, a venture fund backed by APG, has invested in GeoPhy as part of the partnership, and GeoPhy will provide information on APG's worldwide real estate holdings.
"Real estate as an asset class has not yet seen the significant innovation and disruption that we've seen take place in other markets," says Teun van den Dries, founder and chief executive of GeoPhy. "We are convinced that the information asymmetry and lack of data are a foundational component to making that happen."
Clients purchase datasets about the market, as well as analysis and information products and valuations. The firm is currently running valuations on a daily basis on about $2.3trn (€2trn) of commercial real estate.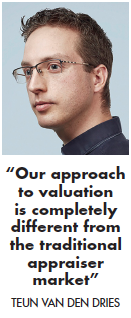 "Our approach to valuation is completely different from the traditional appraiser market," Van den Dries says. "Our solution is instant, versus the current weeks of waiting for an appraiser, as well as more accurate when compared to market transactions taking place."
Data platforms like GeoPhy also provide much-needed diversity, says Hans Vrensen, head of research and strategy at AEW. "As an industry, we've become reliant on a small number of data sources that are perhaps not as reflective of reality as they could be," he says.
"For instance, most of the data we get from brokers is based on the concept of prime property. It answers questions such as: what is the current theoretical rent or yield… for the best property in the best location? Over the past 25 to 30 years, some leading brokers have been recording this artificial data quite consistently. Due to its long time series and consistency, it seems accurate, but in the end it's based on brokers' views on what should be achieved, not what was actually paid. This prime data is widely used and most investors have become reliant on it."
Vrensen also believes that a dependency on a single, dominant data provider is problematic. "Users cannot compare and contrast data with each other. Also, if a provider has a near monopolistic position, the cost could be high, taking away budget from other more innovative sources."
As data increases, fund managers are not only using external providers. They themselves are embracing the digital world. APG has set up a platform that automates the commoditised parts of its investment process, so it can focus on value-add activities, and Huib Vaessen, digital officer, highlights the fact that it provides a transparent and consistent investment process.
"We are always looking for partners like GeoPhy for data, and to co-develop the platform," he says. "However, as it is core to our investment process, we will not outsource it. It is important that the business takes ownership of it. The data and decision platform is like a tailor-made glove for your investment process."
Other firms are also building internal technology capabilities, as well as outsourcing. Germany's Union Investment took a 13% stake in Architrave, the Berlin-based property technology company, and the two firms will jointly develop one of Architrave's main products, artificial intelligence.

Thomas Müller, head of division management at Union Investment Real Estate, says the firm is focused on advancing the digitalisation of real estate in a dynamic way, and has announced its goal to become a digital asset manager by 2020. "We have had data rooms since 2007, and we have sold a lot of buildings, and have concluded that the selling process is much easier if you have a virtual data room," he explains. More widely, the firm is working across its value chain to take advantage of digital opportunities, partnering with innovative start-ups and examining data like footfall at shopping centres and hotels.
One of those start-ups, Architrave is using algorithms to extract data from documents. "The general challenge for institutional clients is a lack of access to information and data," says chief executive Maurice Grassau. "That has to do with the fact that loads of services are outsourced, from property managers to facilities managers. There's a lot of information that the asset manager doesn't have access to, so when they need to do a valuation or a refurbishment, it's very cumbersome for them."
He says much of the impetus towards developing data capabilities is the result of institutional demand. "Right now, everyone wants to know that the data they have is correct. Asset managers want to start being in control of that information. What we are seeing is that pension funds are demanding more professional dealings with asset managers. We hear of tenders where pension funds want to invest, but they link the investment to how professionally the asset manager is dealing with information. So this becomes something that helps asset managers retain or attract business."
Grassau wants the industry to stop thinking of documents and data as belonging to the owner of any particular real estate, but to the real estate building itself, to be accessed by current owners. "It doesn't matter who owns it, it should be centralised and stored," he says.
JLL is another real estate firm that has embraced technology and data. It has, alongside investor Starwood Capital Group, and seed fund Seedcamp, launched Concrete, an initiative to help property tech companies achieve scale. It has also launched JLL Spark, a business set up to make strategic investments and incubate proptech start-ups.
"Eight years ago we recognised that technology and data will inevitably challenge and disrupt our industry, like it had the media and taxi and hotel industries," says Charles Boudet, managing director of JLL France. "That's when we understood that we needed to get on this path of data and technology infrastructures, and prepare ourselves for new opportunities as they become available. By 2025, our ambition is to become a tech company working in real estate."
In France, the firm pioneered its NXT Office business for clients looking for office space, claiming that through its technology it has reduced the time it takes to shortlist potential options for clients to one hour, down from up to three months.
"NXT is really about getting everyone in the company to challenge the way they do things, and to see how data and technology can create better value propositions," says Boudet. "We are going to re-invent every single one of our businesses in the same way, understanding how key data and technology will impact clients." But, he says, the firm will be wary of moving too quickly, before the industry is ready to evolve.
Vrensen believes the industry needs a shakeup. "It is time we try some new tools, rather than using the ones we have," he says. "Managing risk is something our clients require from us collectively as an industry, and something we haven't always done a great job of in the past. In this respect, we need data scientists like GeoPhy to help us understand the avalanche of new information that is available."
The growth of proptech
Big data is just one part of the boom in property technology, or proptech, investments.
In 2015, $1.9bn (€1.6bn) was invested in real estate technology companies worldwide. In 2016, that figure rose 36% to $2.6bn, according to JLL. Market participants expect exponential growth in future.
That means there are other opportunities to invest in the data boom, and in other technology through underlying proptech companies. "If you were investing in UK real estate and London over the last 20 years, it was a very easy task," says Dominic Wilson, co-founder of Pi Labs, Europe's first venture capital platform investing exclusively in early-stage proptech.
"You invested money and you watched it grow. But political and financial events over the last 10 years have meant that real estate investors and asset managers and owners have had to think more creatively about how they find value. Technology is at the forefront of the tools they will use."
The firm closed its second fund at $10m in September, and has invested in companies like Brolly, the UK's first artificially intelligent insurance advisory application, and Airsorted, a global Airbnb management service, as well as Plentific, a platform connecting homeowners to tradespeople.
Big data: Critical update
1

Currently reading

Big data: Critical update

2

3