Woodland values in the UK have been rising sharply. Elisabeth Jeffries reports on a burgeoning institutional market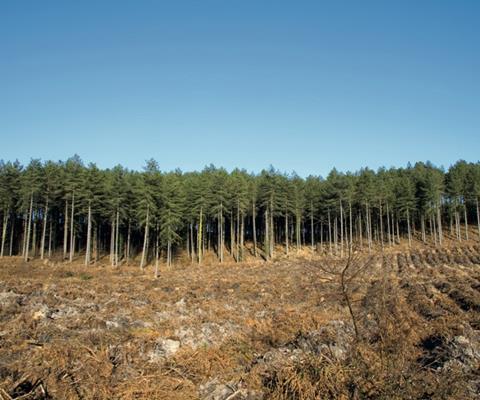 Woodland values in the UK might be rising partly in response to environmentally motivated pressures, a report suggests. Values rose by 39% to an average of £15,962 (€18,027m) per hectare in 2020 in a year of "astonishing" pricing, says the study by surveyor John Clegg & Co and forestry management/harvesting company UPM Tilhill.
The market, which is small by international standards, experienced a 58% increase in total value from £126.5m in 2019 to £200.18m in 2020, the highest value traded on record. Forty of the 61 properties transacted were sold above guide price. Of these, the average price paid was 48% above guide.
This shift is accompanied by a cluster of newcomers from institutional investment firms in a market historically populated by smaller entities and individual landowners. Economic conditions have prompted the search for safer, uncorrelated assets, of which forests are one example with an attractive profile. "Forestry investment can reach a 7-9% nominal internal rate of return," says Ed Daniels, head of forestry at John Clegg. This provides one explanation for the attention from this group. Demand in the sector has thus increased, pushing values up.
"Institutional investors have been slowly building up a position in the market," says Daniels. "There's lots of financial capital looking for assets with real returns. Alternatively, money in the bank is zero and discount rates are low. This is also an excellent opportunity for sellers."
Daniels envisages a slow transfer of such forestry assets to institutional investors. The lower discount rate suggests investors are attaching a lower risk to the investment, and thus willing to pay a higher price for the asset, he notes.
Scarcity of land relative to buyer numbers has also played a part in rising values in the commercial market. Emily Norton, head of rural research at Savills, says: "Competition for land is affecting prices. In addition, more wood is needed for pallets in the freight industry because more products are distributed due to rising delivery services. This is increasing the value of timber crop." Similarly, greater wood use in housebuilding has increased demand.
Trickling into the conventional economic landscape affecting the market, however, is a rivulet of enquiries from organisations integrating ESG considerations into their investments. These have increased numbers of potential buyers. Daniels sees three groups of investors affected by the carbon-sequestration function of the asset, some overlapping with the institutional investment category.
"Firstly, there are investment firms specialising in sustainability," he says. "Secondly, there are very-long-term investors who keep their holdings for 25 years or more. Thirdly, corporate responsibility programmes are looking for carbon offsets."
The pension fund of a major utility, for example, has been looking at investing in forestry – an example of a newcomer in the second category in the UK. Of course, most drivers in the forestry market run counter to these ESG concerns.
Olly Hughes, managing director for Forestry at specialist investment firm Gresham House, says:"ESG is not a core driver but is influential because it makes people consider allocating towards these markets because this has particular benefits."
Commercial woodland is grown to be cut down rather than storing carbon – although UK industry codes recommend growing two trees for each tree felled to maintain stocks. To incentivise carbon storage, the UK Woodland Carbon Code (WCC) awards carbon credits for plantation requiring change of land use – that is, not existing forestry. To stimulate interest, such land purchases are accompanied by a tax incentive.
The government itself has pledged to support 30,000 hectares of tree planting annually by 2025 to contribute to net-zero emissions by 2050. Meanwhile, its new Environmental Land Management scheme piloted following the UK departure from the EU might also encourage new woodland in the agricultural sector. Such instruments could motivate longer-term investors to claim green credentials but, as Daniels points out, "existing funds invest in commercial forestry as an alternative real asset". He says: "Government pledges don't affect the commercial planting market."
New policies on asset manager disclosure, such as the Taskforce for Climate-related Financial Disclosures (TCFD), might also attract potential buyers interested in new plantation. These would look at the physical and transition risk that an existing carbon-intensive asset could lose value because of climate change, and consider ways to neutralise this through carbon storage. Such investors might wish to influence the development of forestry that further incorporates the carbon factor, and therefore push for new woodlands visualised by policy makers.
Carbon pricing would help, as Olly Hughes points out. "What is exciting about the next round of planting is the value of the additional carbon storage, since credits are attached to new planting," he says. However, he indicates significant barriers to delivering the scale of planting the government visualises.
"An investor has to look at comparable land use value and consider the approval and planning process of changing land use. All new planting is a combination of commercial forestry and broadleaf and natural forest biodiversity habitat – a combination, not one or the other. The question is what is more appropriate where?"
Moreover, calculating carbon values throughout the supply chain would be an intricate task. As a result of the new environmentally-friendly policies, there is, however, a sense that the sector has the opportunity to change paths. "We have seen a significant change in 2020 in how people look at this market," says Daniels. Considerable efforts are needed before carbon values are systematically attached to transactions, as environmental campaigners would like. "You can add extra value through the WCC system but there's an element of hope value at the moment. It's early days."
Introducing the concept of natural capital, which accounts for carbon sequestration and biodiversity, into trading activities would certainly change valuations. But currently price shifts affected by ESG concerns are limited to conventional patterns of supply and demand, rather than environmental accounting. "Arguably it's just talk, investment activity that may or may not prove long-term," says Norton. "The role of ESG in the market is still up for grabs."
Forestry: Seeing the wood in the trees
1

2

Currently reading

Forestry: UK woodland values on the rise