The timber asset class has been beset by a series of challenges. But new technology could help manage them, writes Christopher O'Dea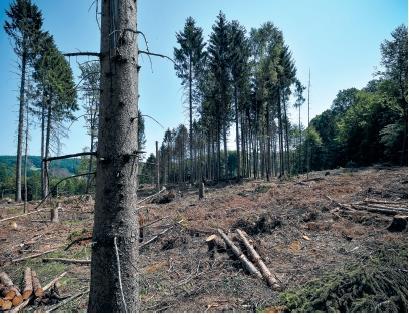 Timberland is a literally slow-growing asset class. But in 2019 it had a somewhat frenetic year. And with factors such as wildfires, beetle infestation and trade wars continually affecting both supply and demand for wood products, 2020 is shaping up to be another exhilarating 12 months for investors.
Timberland's slow-and-steady image fell like a spruce at harvest time in 2019. According to the fourth-quarter 2019 market update from Forest Investment Associates, "global forest products markets are in the midst of a major change".
The market, political and natural events that took place in 2019 – several of which are still unfolding – "are set to affect historical trade flows", Forest Investment notes. The US-China trade war caused a shift in demand, while supply was disrupted by natural disasters including the Australian fires and central Europe's spruce bark beetle outbreak.
Those two "emerging catastrophes" have compounded the lingering negative effects of the 2017 Chilean fires and the 2018 US hurricane season. But despite the series of disruptive events in major timber-producing regions, Forest Investment says, institutional investors continue to regard timberland as an asset class that can give their portfolios a more positive carbon footprint. "As we move into the 2020s," the firm predicts, "forest investments are set to provide answers to many questions in the global environmental and sustainability arenas."
All this volatility has subdued investment activity. In 2019, timberland transactions were worth less than $2bn (€1.8bn), compared with typical transaction volumes of $2.5bn to $3bn in other years, according to Forest Investment. One major reason for the slowdown was the lack of large deals, with only three sales topping the $100m mark in 2019. Forest Investment also notes that transactions in listed timber real estate investment trusts were "mostly quiet" in 2019.
Forest Investment says the biggest news of the fourth quarter was that Hancock agreed to sell 86,600 acres in east Texas to Molpus Woodlands Group. According to Forest Investments, timber analysts expected the property would trade at $140-150m, making it only the third transaction of 2019 to top $100m.
Molpus, a timberland investment and management group based in Jackson, Mississippi, said it acquired the Texas properties for two clients. The acquired timberlands will provide exposure to several market segments, including pulp, paper, lumber and panel producers with operations in the region.
The properties have been under management for 75 years, and Molpus plans to include these timberlands in its certification with the Sustainable Forestry Initiative standard, which includes measures to protect biodiversity, sustainable harvest levels, water quality, protection of at-risk species living in the forests, and preservation and regeneration of the forests and wildlife habitat.
"Private working forests such as these are an important part of the economic infrastructure of east Texas and they provide vital environmental benefits like clean air and water," says Molpus president Bob Lyle. Molpus believes healthy forests play a critical role in carbon sequestration and climate-change mitigation.
In addition to the loss of supply from fires and hurricanes, the timber sector is battling a new biological threat. European spruce pine beetles have wreaked massive damage on European spruce forests in 2019, and investors are trying to determine if the outbreak will worsen this year.
To monitor the health of vast forests, timber owners and investors are turning to technology. Skylab, German a company, provides aerial vegetation mapping and precision forestry services. Named after the 1970s space station, Skylab's digital forester and seedling counter products use algorithms to analyse drone, plane and satellite images and data to provide timberland owners with complete forest inventories. The firm also offers services such as seedling survival monitoring, stock modelling, harvest optimisation planning, and perhaps most important during a beetle outbreak, disease mapping.
Although timberland owners need to provide data to Skylab, they can specify goals to have the analysis tailored to their needs. The algorithms use correlations between tree diameter and height to derive the volume of timber standing on a plantation. Skylab says digital data analysis substantially reduces the uncertainty of determining forest volume compared with spot sampling methods, because the aerial images cover 100% of the timberland being evaluated. Skylab says tree height is calculated to 97% accuracy, and forest volume calculations are accurate to between 90% and 95%, while allowing timberland owners to reduce terrestrial sampling by 90%.
The original Skylab mapped woodlands from space. But today's timberland investors will not have to launch their own satellites. Owing to technological advances, obtaining image data is now a straightforward matter of deploying drones, such as the DJI Mavic, a proven commercial drone platform.
Skylab has made steady progress in the institutional investment sector. Aquila Capital is one forestry fund manager that has employed its services. At ForestTech2019, a conference in Australia and New Zealand last year, Skylab ran a workshop about its seedling counter, which has been tested and applied to inventory seedlings of pine, spruce and eucalyptus on plantations in Chile, Spain , the UK and Australia, each application helping to improve the algorithm.
After a long period of time marked by market shocks and natural disasters, using drones to create datasets that algorithms can interpret – and learn from – might be one kind of disruption that timberland investors will welcome.