Weak pricing and lower returns have deterred some investors from the asset class. But there might still be life left in the asset class, writes Steffan Navedo-Perez
Investors in the timberland market are all too familiar with the recent depression in prices. Since the financial crisis, the compounding effects of a recession and the resulting housing crisis have led to a long-term slump in demand for timber from its high of a decade ago, from which the market has yet to recover. Naturally, this has led to some institutional investors being wary of the asset class. Some have divested timber, while fundraising for timber funds has slowed.
In recent months the California Public Employees' Retirement System (CalPERS) and Harvard University. CalPERS, and other members of an investment consortium, have taken a huge hit on their Crown Pine portfolio. Having bought it in 2007 for more than $2bn (€1.74bn), they exited from the 1.5m-acre woodlands for $1.5bn. Harvard Management Company has also put up for sale its holdings in the asset class.
But the magnitude of CalPERS' loss is not a true reflection of the market. Eric Schwefler, Principal at Forest Resource Advisors, says: "There was an onerous debt arrangement where timber that was typically used to grow and appreciate was used to manage the debt service agreement."
Schwefler and long-time timberland executive John Enlow recently launched Forest Resource Advisors to advise investors about investing in the asset class. "The issue [with the CalPERS acquisition] was with the way the log supply pricing mechanism was structured in this particular deal," Enlow notes. "It was really disconnected from the market, and gave abnormal pricing power over to the buyer of the wood."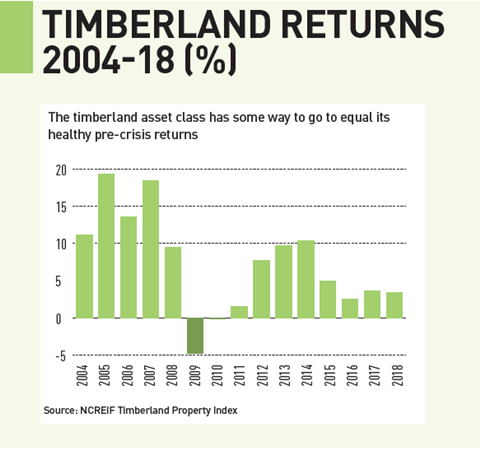 Institutional investors' cautious approach has been signalled through a slowdown in timberland fundraising. After peaking in 2006 with about eight timberland investment management organisations (TIMOs) closing their funds, few funds closed in 2012, 2016, and 2017, according to Preqin and Cambridge Associates.
A meeting at the San Mateo County Employees' Retirement Association (SamCERA) with its adviser Verus Consulting to discuss opportunities in the asset class resulted in uncertainty over whether they should invest or not.
"There appears some tailwinds to the timberland story but we are hesitant to invest in this illiquid asset class," a report from Verus reads. "Timberland as an investment is not for everyone and given the modest returns and illiquid nature, we believe it is most appropriate for investors with a low cost of capital and an interest in renewable resources. Rising discount rates will be a key headwind for the asset class but could be offset by diligent underwriting and rising prices for timber. We are guiding investors towards an expected return within timberland of 7-9% (gross)."
Schwefler says "a combination of things" in timberland are affecting returns. "One can point to the softness in housing starts, coupled with an oversupply of mature saw timber logs that is keeping prices low. There's the potential that we'll continue to see mid-single-digit returns for the next three to five years."
This is piling pressure on fund managers. "Institutional investors are concerned with their management fees and are looking for ways to streamline them," Schwefler says. "It's one thing to pay 1% or more for management fees, but when you're in the mid-single digits range of returns, that creates a lot of pressure on fees."
That pressure on the fund structure has caused some institutional investors to try entering the market through alternative means. For example, the Oregon Public Employees' Retirement Fund and Alaska Permanent Fund Corporation's has invested $300m into a joint venture account managed by Silver Creek Capital Management. The 15-year vehicle is said to have a lower fee structure than the typical private-equity-style fund, and also attracted a $300m commitment from the Washington State Investment Board.
Reasons for optimism
Several factors have stymied the performance of timberland, but experts believe there is cause for optimism. Things were going well for timberland investments in the 1990s, the report from Verus reads. "We believe the asset class was undergoing a unique shift in the 90s and early 2000s that drove high-double-digit returns that aren't repeatable".
Problems began for timberland investors when the US housing bubble burst in 2007. Housing starts fell dramatically from a high of about 1.8m in 2006 to 0.55m in 2009. This hit the timber markets serving residential developments and, subsequently, investor portfolios.
Tom Johnson, managing director at Timberland Investment Resources (TIR) says: "All of a sudden, unlike during the housing boom, you are now growing more timber than you are cutting, adding to the existing timber inventory. At some point, growth exceeds harvests making it hard for prices to go up. With recent additions in manufacturing capacity, this year we will finally be back in equilibrium where removals will equal growth, which will again put pressure on prices."
Another reason for the slowdown in demand for timber is digitisation, especially in the media. A report from TIR details the intricacies of demand. "As sawmills cut production in response to this slackening demand, sawtimber harvests across the south went from 21bn board feet (bf) in 2006 to 13.7bf by 2009, a 35% drop. However, biological growth in the commercial forests of the south continued to add about 18bn bf of sawtimber each year. In other words, 4.2bn bf more pine sawtimber was grown than removed in 2009. Even as recently as 2017, growth outpaced harvest by 1.5bn bf."So what are the causes of optimism for the asset class? A pine beetle outbreak in the early 2000s that decimated the softwood resource in Western Canada, for one thing, is helping the US market, Johnson says.
"British Columbia has historically been one of Canada's highest-producing regions for lumber and, as such, one of the US' largest competitors in the market," he says. "But the mountain pine beetle infestation of recent years has significantly damaged the province's forestlands and driven Canadian lumber producers out of the region and into the US south. The loss of wood supply from Canada has put pressure on lumber prices and added mill capacity of the US south."
"British Columbia has historically been one of Canada's highest-producing regions for lumber and, as such, one of the US' largest competitors in the market" - TOM JOHNSON
European investors have been taking an approach to US timberland as well. "Even in the lower return environment that we're in now, those returns are attractive to European investors compared to other alternatives in Europe," says Enlow. "We're seeing a significant amount of capital inflows, particularly out of northern European countries, providing a floor for timberland valuations."
New technology has enabled southern US sawmills to become some of the most cost-competitive in the world, and they expect an influx of lumber investors across the region as a result. The south is "well positioned to capture market share in North America, including the Pacific-Northwest and British Columbia," a TIR report reads. "By 2020, when the US is projected to deliver 58bn bf of lumber, the south is expected to supply 36% of this demand, compared to 25% from the Pacific Northwest, 14% from British Columbia, and 15% from Eastern Canada."
The resulting increase in lumber production is expected to increase harvest levels past the point of growth rates – in other words, cutting down trees faster than they can be replaced. This will tighten supply and increase prices. And macroeconomic factors such as millennials entering the housing market is another positive influence on the timberland markets.
Another reason for optimism is the natural versatility of the land that timberland investors purchase. Johnson says: "When you're buying timberland you're buying a bundle of rights – you're buying land where the historic use for the land is growing timber. [But] if agriculture prices spike up, then maybe I can convert the timberland to agriculture. Or you can use it for a conservation play – there's a variety of uses that could make the land more valuable."
Institutional investors looking at the timberland market ready to invest or to put assets on the auction block should approach the market with an optimistic view. The CalPERS sale was no bad omen – just a poorly timed deal right before the crisis.