From its early days as a niche investment, agriculture has grown to provide secure returns in an uncertain environment, says Ben Funk
For nearly a decade, monetary policy around the world has been distorting asset prices: stocks have rocketed, bond yields have plummeted, and companies of even doubtful credit quality have been refinanced. Investors have been rewarded for keeping their heads buried in the sand and stay long risky assets.
In October, however, the market finally bared its jittery nerves and geopolitical risks – tariff wars, Russian meddling with US elections, and Brexit – have fuelled market volatility. Suddenly, valuations seem stretched and earnings forecasts appear dubious. Indicators of market health are faltering.
Investors are taking some risk off the table. Searching high and low to find yield, capital appreciation and inflation protection, investors are keen to acquire hard assets. Real asset investment opportunities, according to Banque Heritage, a Swiss financial group focused on asset management and private banking activities, are in demand, in part owing to the perception that stocks and bonds have overheated.
This move might be wise. According to Jose Minaya, CIO and president of global investments at Nuveen, "in general, real assets are not correlated to the other assets in an investor's portfolio", and their inclusion results in better diversification. Jean-Christophe Rochat, managing director, head of investment services at Banque Heritage, goes further, saying the "asset class is now recognised by the financial community as an essential element in a portfolio, irrespective of the market environment".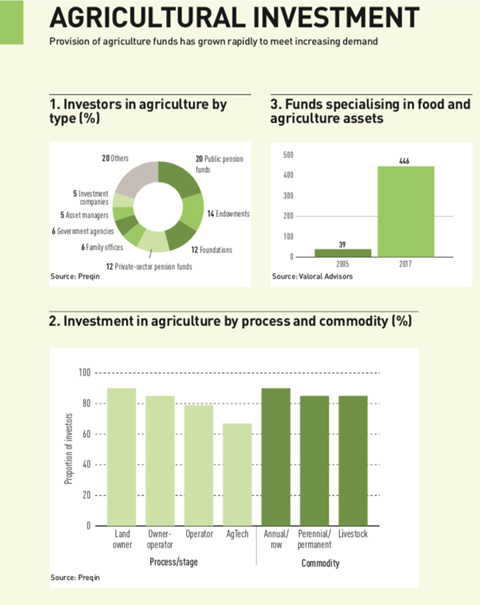 Real assets can take on a number of forms, but typically include real estate, infrastructure, shipping, and natural resources. Agriculture, which represents a large part of the economy, can have a positive effect on investment portfolios. Minaya says "adding agriculture or timber, for instance, improves a portfolio's [efficient] frontier and Sharpe ratio", therefore improving its risk-adjusted returns. Enforcing this point, 2017 research from Amundi shows that agriculture investments have virtually no correlation (0.09) to stocks and a helpful negative correlation (-0.15) to bonds.
Capital flows into agri
Pension funds have traditionally been the largest investors in agriculture. Initially, their strategies focused on large funds that seek to build diversified farmland portfolios with a mix of 'row' crops and permanent crops.
The US, Australia, New Zealand, and Brazil have historically been the most sought-after geographies for investment. By weight of capital, this is still the case. Endowments, typically those from US universities, have followed a comparable path. So too have sovereign wealth funds, insurance companies, and family offices. However, as the market has evolved, investors have gained experience and comfort with the asset class.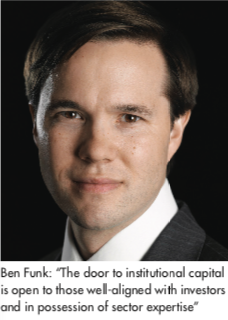 Today, investments take on many forms and span the globe. Sophisticated portfolio managers now opt to make direct investments in specific agriculture projects. This is done to deploy capital efficiently and to achieve greater control. The trend is expected to continue.
Preqin sheds light on recent trends in agriculture investing, having reviewed investor preferences towards allocating capital in the agricultural process or in the commodity itself (figures 1 & 2). Pension funds, family offices, alternative-investment funds, pure-play public companies, and sovereign wealth funds continue to acquire farmland in North America, South America, Australia, and New Zealand. However, there is market interest in projects managing long-term leaseholds in Eastern Europe and Sub-Saharan Africa.
Agriculture investments are mandated across the board from speculative, and extremely niche, ag-tech venture capital, to more conservative investments in mature, integrated agribusinesses.
Preqin shows that investors are pursuing investment opportunities both upstream from production inputs (products and services), to profit from enhanced grower efficiency, as well as downstream from production (transportation, logistics, and value-added primary processing of crops), assuming operating risk in exchange for higher returns. From the origins of investing primarily in farmland in North America and Australia, demand is growing.
And more money is being put to work. A report by Valoral Advisors shows that, between 2005 and 2017, investment funds specialising in food and agriculture assets increased from 38 to 446, with AUM of $73bn – this excludes forestry funds, which are estimated to be another $155bn. Preqin reports that AUM are at an all-time high and that fundraising in 2017 had been the third highest annual total on record.
Agriculture investment is ripe for expansion: people need to consume a couple of thousand calories a day to survive, the global population is heading towards 10 billion people and, despite the technology-driven increase in crop yields, it is hard to imagine that supply will be able to keep up with increased demand.
And there are many enticing trade opportunities stemming from China's growing population. The opportunity to invest in avocado production is seemingly supported in emerging markets by the expanding middle classes who want better-quality food and by the acute rise in demand from China.
The same is true for meat and other foodstuffs. The case for coffee and cocoa is perhaps the most interesting of all. Coffee and cocoa, after all, can be aspirational products for many people, and the emerging middle classes are going to want a lot of it.
Research by Greg Presseau, a veteran agriculture analyst, shows that, as the urban population in China has expanded, demand for coffee and cocoa has increased at an astonishing rate. Higher wages have driven population growth in some Chinese cities. As city populations swell, the demand for coffee and cocoa rises exponentially and data confirms that the demand is met as cities import more coffee and cocoa products.
But events and price change do not always pan out as and when expected, particularly in the short term. In recent years there has, in fact, been price depreciation rather than appreciation for some agriculture assets – navigating issues like the weather, contango, cost-of-carry, and negative roll yield is best done by seasoned experts.
Barriers to entry
Obtaining direct exposure to real assets such as land, livestock, and crops, or in their operating companies, is appealing but hard to implement. Such direct investing is also outside the comfort zone of many allocators. If investors are generally reluctant to lock-up capital for the long term, their reluctance is greater when they consider strategies that are less familiar.
To successfully invest in this asset class requires an investment opportunity stewarded by a skilled and credible manager. Rochat points out that "high barriers to entry continue to make it difficult to undertake investments in real assets". He emphasises that to navigate in this environment, investors must be "advised by professional experts… with proven capabilities"
Allocators want their managers to have 'skin in the game', and more than just a financial investment. American investor and philanthropist Charlie Munger put it aptly: "Never, ever, think about something else when you should be thinking about the power of incentives". From this perspective, the owner-operator model – investing in both the assets and operations alongside an incentivised operator – can be an attractive way of gaining exposure to agriculture. It can provide investors with exposure to movements in commodity prices and asset values, as well as to operating efficiencies and improvements in productivity.
Aside from the lure of greater insight for generating profits in a complex environment, the owner-operator model offers investors better alignment of incentives than typically achieved with a financial manager. Owner-operators of companies tend to care more about the long-term value of the business than they do about short-term gains or the generation of management and performance fees. And the incentives often extend beyond financial as many owner-operators have committed their entire working life to their company.
Trends and developments
In response to the opportunity set, pension funds and sovereign wealth funds, including well-known names like Temasek, China Investment Corporation, and Mubadala Investment Company, have launched strategies pursuing long-term investments across the global food and agricultural chain.
Similarly, some state-owned food companies from the Middle East, for example, are investing abroad to secure the origination of a range of food and agricultural assets with the objective of de-risking potential food scarcity in the future.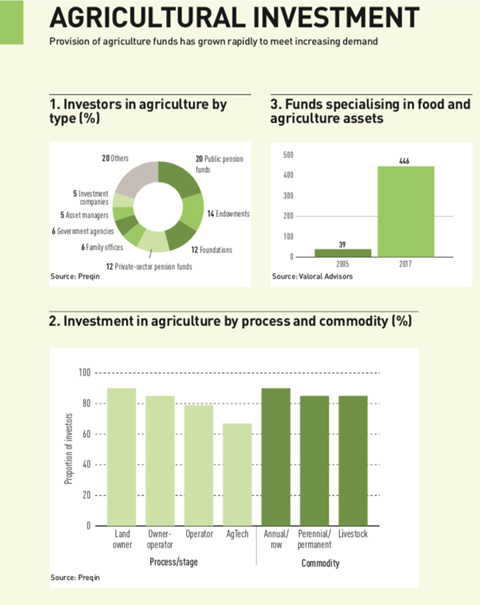 For example, Indigo, the micro-biology and digital agtech provider, is rapidly becoming a consolidated farm-services platform. Bidding to increase the planet's capacity to produce food in a sustainable and responsible way, Indigo has raised $650m from the likes of Investment Corporation of Dubai and the Alaska Permanent Fund. In contrast to past investments pursued by institutions, allocators are showing an interest in midstream and downstream agribusiness assets, irrespective of the market environment.
The door to institutional capital is open to those well-aligned with investors and in possession of sector expertise. High-calibre opportunities, however, are often out of reach or rare. The market has been small and poorly served, but as investment demand grows, competition from strategic players is increasing.
But newcomers are targeting promising opportunities across the value chain. Agriculture Capital, the agriculture-focused investment arm of Equilibrium Capital, for example, recently closed its second permanent-crops fund – focused on citrus, nuts, and berries alongside tangential midstream assets – which was significantly oversubscribed at $548m, far in excess of the target $400m.
And S2G Ventures, the Chicago-based agrifood-tech venture-capital firm is assembling a high-profile team to professionalise investment-management practices in food and agriculture. Its strategy is paying off; investing in start-ups from farm-to-fork, they have racked up $180m of investment for their second fund.
Both these examples demonstrate that the market is open for bringing together professional investment-management skills and sector expertise to achieve enhanced risk management and performance advantage.
Ben Funk is managing partner at RockBolt