Europe's REIT market has grown and matured over the past 10 years but it has a long way to go to match the scale of the US market. Razak Musah Baba reports
Europe only began experiencing a notable growth in real estate investment trusts (REITs) less than two decades ago, despite the concept first being introduced in the US in the late 1960s. Its growth period, however, coincided with the sub-prime mortgage crash and the ensuing financial crisis of 2008.
Before the credit crunch, institutional investors wanting to invest in a diversified portfolio of income-producing real estate securities in Europe would have been limited to a few countries, such as the Netherlands and France, which introduced their REIT regimes in 1969 and 2003, respectively.
The UK joined in 2007, prompting property companies such as British Land, Hammerson, Land Securities and Segro – formerly known as Slough Estates – to become REITs. Today, there are more European regimes and the region's REITs are bigger, although they are still dwarfed by their US counterparts.
The US REIT regime was introduced in 1960 and brought into effect in 1961. According to the association NAREIT, US-listed REITs now have an equity market capitalisation of more than $1trn. The European Public Real Estate Association (EPRA), puts the market capitalisation of European REITs (developed markets) at just over €210bn.
European REITs, some managing multi-billion-euro portfolios, currently cut across all the major property types of residential, office, retail and industrial, through to the niche sectors like hotels, data centres and student accommodation.
Listed firms, such as Vonovia, Unibail-Rodamco-Westfield, British Land, Klépierre, Segro and Gecina have not only provided investors with diverse exposure to property types across the continent but also given investors access to a liquid market, unlike the private real estate market.
Dominique Moerenhout, CEO, EPRA says there is often criticism that real estate assets do not provide the same levels of liquidity as other investments, but this is a misconception. "Listed real estate has been providing investors with security long before open-ended structures were invented," he says.
Brexit has dominated the conversation, but the story of Europe's REITs is actually one of growth in the face of uncertainty, Moerenhout says. "The UK has lost a bit of ground, due to specific political conditions, but the wider market has actually been boosted by innovation in the healthcare and industrial sectors, due to rising population ages and the importance of e-commerce."
He adds: "If you take out the UK and Germany and their relatively short-term political uncertainty, European REITs expanded by more than $6bn in the last quarter alone."
Moerenhout says there is a growing number of REIT regimes in the region, with governments keen to benefit from the advantages provided by the REIT structure. "Interest in these regimes has been very encouraging," he says. "We have just welcomed one in Portugal, and are supporting the creation of a REIT regime for the Polish market, as we speak."
Robert Murphy, managing director at Edison Investment Research, says the first key attraction of REITs for institutions is their ability to generate inflation-linked income, which helps them match their liabilities.
Murphy explains that the dividend yield of the FTSE EPRA/NAREIT Europe REITs index is currently just over 5%, which is attractive relative to very low government and corporate bond yields, for instance.
"REITs are listed, closed-ended vehicles with real-time market pricing, making them liquid, easy to value in portfolios and immune from the risks of investor redemptions that have plagued some open-ended property funds," he says. "On the other hand, REIT shares tend to be more volatile than the underlying property assets as they employ some debt finance and market sentiment can vary."
The volatility and issue of market sentiment is one that private property investors hold against REITs globally. For instance, on 24 June 2016, the day after the Brexit referendum, London-listed property companies experienced a large fall in share prices.
Three years later, Murphy believes current geopolitical events do not appear to have had a major impact on European REITs. He says the Stoxx European property sector total return has performed in a fairly tight range relative to the overall market over the past one to five years in aggregate. He adds that property is mostly driven by demand-and-supply dynamics.
"Post-crisis regulatory reforms and capital constraints in the banking sector have resulted in a lack of speculative development unlike that experienced in the late-1980s," he says. "This lack of excess supply in Europe has helped support rental and capital values."
Murphy says Brexit in the UK is likely to have affected confidence, but it is largely the London market and retail where structural issues such as high business rates and the shift to online retailing are having a markedly negative effect.
"For instance, regional UK offices have continued to perform due to lack of supply, and logistics is winning at the expense of traditional retail. In continental Europe, office rents in the major cities continue to grow.
Murphy says should US-China trade tensions and an imposition of tariffs lead to a general global slowdown, or Brexit lead to a dramatic fall in UK GDP, the impact would be felt in real estate generally. However, the European market is becoming increasingly diversified, with emerging specialist subsectors much less exposed to the business cycle than traditional offices, industrial and retail.
"Examples would include student accommodation, residential, social housing, medical properties and logistics. These sectors are supported by structural demand (like student, logistics, residential) as well as government policy (social housing) and government funds (medical properties)," he says. "We would expect these sectors to continue to grow over time, given their attractive risk-reward profile."
Rogier Quirijns, portfolio manager and head of European research at Cohen & Steers, says: "We are seeing growing interest in real estate allocations that include securities of public real estate companies, including REITs. Listed real estate can be an effective complement to private real estate, providing access to a wide range of opportunities throughout Europe and around the world – including emerging property types such as logistics, storage, student housing and healthcare.
"Because of the geographic diversity available in listed real estate, investors have access, at any point in time, to different property cycles, local economic trends, political environments and interest-rate policies."
Time to grab a bargain
It's a good time to look at European REITs, which are trading at a discount to NAV
Why are European REITs trading at discounts to their net asset value (NAV)? According to Laura Elkin, assistant portfolio manager of AEW UK REIT, the answer depends largely on the individual company in question.
"For example, where the market expects that a REIT's assets are overvalued, as is currently the case with the majority of retail property, a REIT's continuous pricing mechanism is able to reflect this sentiment more quickly rather than monthly, quarterly, or even six-monthly pricing as is prevalent in direct property," she says.
"That said, daily pricing leads to greater volatility and exaggeration in stock movements, which we believe has led to some REIT underperformance.
"Within the vehicles that we manage at AEW we have seen funds in non-REIT structures issuing new units at offer price at the same time as our REIT running much the same strategy has traded at a discount."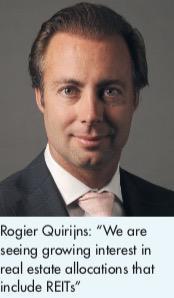 Elkin says this highlights that there can sometimes be quite a significant difference in sentiment from different groups of investors. She argues that European REITs are attractive to investors owing to their almost immediate liquidity.
"This avoids any gating of redemptions in a period of uncertainty, as has been seen in some open-ended funds in the UK following the 2016 referendum.
"Stock liquidity is also of benefit to REIT managers that do not have to hold large cash reserves for the purposes of funding outflows in times of uncertainty and can instead focus on maintaining a fully invested portfolio for the long term. In turn, this should also provide more efficient performance to investors."
For Rogier Quirijns, portfolio manager and head of European research at Cohen & Steers, many public real estate companies in Europe are currently trading significantly below what Cohen & Steers estimates their properties would fetch in the private market. That means investors can potentially allocate to real estate through the listed market at a discount, he says.
"We believe this offers an attractive opportunity, especially considering the listed market's strong historical return advantage over private real estate," he says. "We recently published an analysis showing that over the past decade, European listed real estate outperformed most countries' private property markets."
Quirijns says investors may take advantage of these differences at the local, regional and sector level, while not being overly exposed to any one market. Investors may also be attracted to the listed property market's strong track record.
"Over the past decade, European and global real estate securities have outperformed private European real estate funds," he says. "Listed real estate can also offer the benefits of high current income, daily liquidity and low correlations to equities and fixed-income investments. We believe greater awareness of these characteristics should drive increasing adoption of real estate securities in European investor portfolios."
On how European REITs have performed as a result of current geopolitical events, Quirijns believes European property values have been affected by slowing economic growth in Europe and increasing uncertainty globally, which has also recently affected share prices of listed real estate companies.
"However, the more dovish tone from the ECB and other central banks should be supportive of both private and listed real estate markets," he says. "In the second quarter, political concerns weighed on the larger European markets in EPRA's listed property benchmark, particularly Germany and the UK, which together account for more than half the European index."
Quirjins says Germany's residential landlords are facing questions around rent growth in the wake of a proposal making the rounds in Berlin's Senate that would freeze apartment rents for five years starting in 2020.
"We think German apartments overall remain attractive, but Berlin-focused landlords will likely have to contend with the rent freeze in some form," he says. "In the UK, retail has been among the hardest hit by concerns about a hard Brexit, as bricks-and-mortar retail was already struggling amidst the growth of online shopping. Shopping-centre landlords are dealing with a growing list of troubled retailers seeking discounts on rents, in some cases 25-75% below previous asking rents."
Despite the cloud of slowing economic growth, some property companies are shining through, Quirijns says. "In particular, we have been very positive on European logistics companies, which have been among the better performers this year. We have also seen strong returns year to date from UK self-storage, student housing and healthcare companies, which have become an increasing portion of the market over the past decade. Some of Europe's peripheral markets have also done well, such as the Nordics, which are generally seeing stronger economic fundamentals."
Quirijns believes property markets in many European countries are likely to benefit from the continued balance between supply and demand and low borrowing costs. "However, slower economic growth may impact some of the more cyclical assets," he says. "Regionally, we expect demand to remain relatively strong in Spain, Norway and Sweden. From a sector perspective, we favour industrial/logistics companies across the continent and the UK. We expect the UK to face challenging economic conditions in the coming years, but at the same time we think certain property sectors could do quite well."
For example, logistics warehouses and light manufacturing spaces across Europe are benefiting from the growth of e-commerce and urbanisation, which are driving demand for space to store inventories and fulfil rapid delivery, Quirijns says.
In student housing, Quirijns says the weak financial condition of many UK universities is opening the door for well-capitalised real estate companies to assume a bigger role in managing campus housing.
"Healthcare properties also look attractive, with demand supported by an ageing population and the government's focus on expanding primary care centres," he says. "These assets tend to be less tied to economic cycles and, in our view, should be more insulated from slowing economic growth."