The pooling of UK local authority pension schemes is taking shape and it has implications for real estate fund management. Richard Lowe reports
Real estate investment managers in the UK could be forgiven for approaching the end of March with trepidation. But while the prospect of a no-deal Brexit on 29 March threatens to destabilise domestic property markets and obstruct access to EU investors, UK fund managers should also have one eye on a matter closer to home – the Local Government Pension Scheme (LGPS).
In the two years and nine months since the UK government has been tasked with extricating the country from the EU, the 89 LGPS funds in England and Wales (Scottish funds are exempt) have been consolidating themselves into eight 'pools'. The initiative, which was instigated prior to the EU referendum in late-2015, principally to increase investment in UK infrastructure, has without surprise slipped down the agenda.
But in January, it was quietly given renewed impetus. The Ministry of Housing, Communities & Local Government (MHCLG) issued draft statutory guidance, a consultation on which closes on 28 March, the day before (at the time of writing) the UK is due to exit the EU. It is understood that the consultation has not been made open to the third-party fund management industry.
The new guidance recognises "considerable achievement" by the eight pools but also states that "there is still a long way to go to complete the transition of assets". The pools have taken different approaches and are at a variety stages of progress. According to some close to the matter, the draft guidance could be construed as an attempt to increase the speed and extent of the pooling.
"Pool members should transition existing assets into the pool as quickly and cost effectively as possible," the guidance says, and from next year pool members "should make new investments outside the pool only in very limited circumstances".
It could have ramifications for real estate, which has been one of the more difficult asset classes to pool, due to its illiquidity and homogeneity, with various LGPS funds owning a wide range of directly-held and indirect investments. Transferring property assets also invariably incurs costs, such as stamp duty land tax.
Directly-held real estate assets have been recognised by MHCLG as being problematic when it comes to pooling and they can be retained outside the pools "where these may be more effectively managed by pool members". But indirect investments – through pooled funds, and funds and funds – are not.
Melville Rodrigues, partner at law firm Charles Russell Speechlys, says: "Fund managers and other LGPS service providers can expect the current pace of transition to pooling to be accelerated."
Considering the "continuing challenges with transitioning real estate mandates", he says, "government, LGPS [schemes] and our real estate industry should collaborate, and resolve these challenges – so real estate will also enjoy the benefits presented by pooling".
John Raisin, independent adviser to three LGPS funds and independent chair of the Merseyside LGPS pension board, believes the objective of the guidance is to clarify the expectations of the government, rather than to speed things up. "I would certainly not interpret the draft guidance as pushing real estate pooling but rather as setting out a framework for the asset pools to offer real estate options to their constituent LGPS funds in due course and after proper and joint consideration," he says.
But the pools and LGPS funds do have a timeline to keep. The guidance says that, after "the 2019 valuation, pool members will review their investment strategies and put revised strategies in place from 2020".
Rachel Elwell, CEO to one of the pools, the Border to Coast Pensions Partnership, says the guidance "doesn't really change out timeline" regarding real estate aggregation, "partly for practical reasons" and "partly because the consultation does suggest some allowances for legacy property".
Rachel Elwell: "Property pooling is a very difficult area but ultimately one where there is the potential for a lot of value to be unlocked across the LGPS"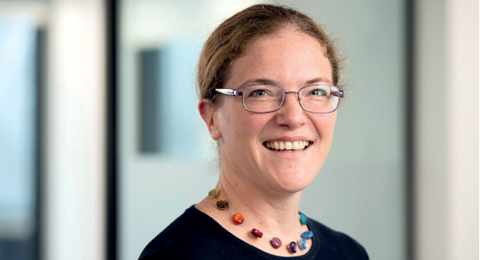 Elwell says: "Property pooling is a very difficult area but ultimately one where there is the potential for a lot of value to be unlocked across the LGPS. It's not so much 'at the bottom of the agenda', but it is likely to take a couple of years for planning to start to come to fruition. We have started to discuss with our partner funds how this might work – bearing in mind that we have around £4bn (€4.5bn) to £5bn of assets invested in property across our 12 LGPS funds in a mix of direct and indirect portfolios in both the UK and global.
"The opportunities for efficient portfolio management, better diversification, increased asset management – to name but a few potential benefits of pooling – are significant. But the costs of accessing these may also be significant and therefore it's really important that we spend time now to identify these and be clear about our plans."
Another pool, the Local Pensions Partnership (LPP), is close to pooling its member funds' property assets. "We are just finalising some of our activities around the service providers for that," says CIO Chris Rule. "We'd expect to come to a conclusion in the next couple of months on being able to launch an actual real estate fund where we'll be able to transfer the assets in and we'll be able to make all new acquisitions from that fund vehicle."
LPP will establish an authorised contractual scheme (ACS), a regulated vehicle that has become the default structure for pooling. LPP has already pooled equities and fixed income into ACS vehicles, but for property it is more of a challenge, principally because transferring real estate assets into an ACS can be costly.
"The big challenge with property has been not wishing to be hit by unnecessary additional costs and charges – namely, stamp duty," Rule says. "If you own a property already [and] you are not selling it to anyone, it doesn't seem appropriate that you should pay another load of costs for stamp duty."
The UK's Financial Conduct Authority (FCA) also views the ACS as a "highly liquid" vehicle, which suits equities and fixed income but is more problematic for property. "Liquidity and real estate don't necessarily go hand in hand, so we've been toiling with this problem and trying to look at different fund vehicles," Rule says. "We've actually made very good progress over the latter half of last year, working with our advisers, but also directly engaging with the regulator and HMRC. We now in a position where we are comfortable moving forward with an ACS fund structure."
The costs for transferring property, which could outweigh the benefits of pooling them, are one of the reasons that LGPS fund may decide to retain some of them outside of the pools. Rule admits that not all of the real estate assets will make into to the LPP property vehicle.
"There may be some isolated assets where for one reason or another the cost benefit doesn't stack up to move," he says. "Anything that remains will be relatively short-life." But, he adds, the guidance is "reasonably clear" that there is a "presumption to pool", so that "if you don't pool the asset, you should have a good reason".
The aggregation of real estate assets by LPP will create a £1.4bn property pool, roughly two-thirds of which will consist of directly-held assets and the rest fund investments.
One of the anticipated outcomes of the UK's pooling project is that LGPS funds move away from indirect real estate investments. The original rationale for the initiative was to encourage investment in infrastructure, an asset class that often requires scale. A by-product of this would be to also change how LGPS invest in real estate.
A research paper by DTZ Investors last year estimated that LGPS funds owned roughly £10bn, or 20%, of the UK unlisted property fund market. It posed the question of whether the pooling process would eventually lead to a withdrawal of capital from these funds to be diverted into more direct investments.
But Rule does not anticipate a wholesale move from indirect to direct. LPP is using a combination of in-house direct management and externally managed fund investments in a number of asset classes, and real estate is likely to continue to be a mix of the two. "You only want to insource where you've got genuine capacity and capability," he says. "There will be increased direct investment, but I don't think people are going to become 100% direct."
However, real estate multi-managers and fund-of-funds managers could be the area most affected by LGPS pooling. "That is more likely," Rule says. "Broadly speaking, most of the pools in most of the asset classes will run a fund of funds themselves."
The way in which LPP is investing in infrastructure shows how this could become the case in real estate. The pool is already running a global infrastructure fund and has been hiring internal staff for the asset class. "We've built out our infrastructure capacity and are directly underwriting major infrastructure assets alongside other asset owners – alongside the Canadians, the Dutch, and the Europeans."