Nordic investors have been targeting property investments overseas as well as looking at new sectors. Rachel Fixsen reports
Denmark: casting the net wider
Danish pension funds have been building up their real assets portfolios, with Copenhagen still their main target. But some have lately found themselves priced out by foreign investors. This has led them to invest in new cities and sectors.
Copenhagen's landmark historical site, the former Carlsberg brewery, moved closer to its planned redevelopment when, in April, the country's biggest commercial pension provider PFA Pension, lawyers' and economists' pension fund JØP and engineers' pension fund DIP revealed a plan to invest €148m in Carlsberg real estate assets. The three pension funds took stakes of 49%, 34% and 17% respectively, in the partnership to buy six residential assets from the Carlsberg Foundation.
Last year, PKA, which runs three labour-market pension schemes in the social and healthcare sector, had invested up to DKK2.4bn (€322m) in debt for the Carlsberg City project, making a loan facility available for the redevelopment of the famous brewery.
Outside Copenhagen, PensionDanmark has been busy in Aarhus, Denmark's second biggest city. The labour-market pension scheme bought two office properties for DKK555m, as it diversifys its commercial property portfolio.
Aarhus was also targeted by a group of Danish pension funds – Lægernes Pension, DIP, JØP and commercial provider Nordea Liv & Pension. The four investors committed DKK1bn to a new fund investing in residential and commercial property in Aarhus, set up by Nordea Ejendomme (Nordea Real Estate).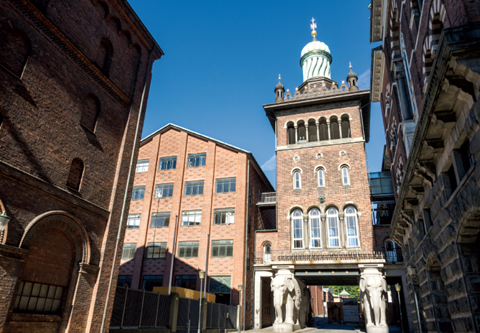 PensionDanmark has also added a second hotel to its real estate portfolio in July, saying it expects to continue putting money into the sector. It cites benefits for investors including long, irrevocable leases – the fact that fixed leasing is regulated by indexation and strong tenant creditworthiness. The fund recently added to its portfolio the 88-room Comwell Hotel in Holte in Zealand for DKK110m.
The tough, competitive state of the Danish real estate market was one factor steering the country's statutory pension fund ATP towards the UK for the two-hotel deal it struck with AXA in January. At the time of the deal, Michael Nielsen, CEO of its subsidiary ATP Real Estate, said ATP knew the hotel business but the UK deal was the first time it had made a direct investment in the sector. In the deal, ATP and AXA bought two freehold hotels in the City of London for £180m (€202m).
Biomass power plants are another alternative real asset that have attracted Danish pension funds. They offer diversification, high – and often inflation-linked – yields, and can contribute to climate-change mitigation strategies.
In August, PKA unveiled plans for its first investment in a biomass power plant, buying a 50% stake in a facility to be constructed in the north-east of England from developer MGT Power. PKA will pay DKK1.3bn for the stake and investment bank Macquarie Capital will buy the other half of the asset.
Earlier that month, a group of Danish pension funds – PensionDanmark, Lægernes Pension, education practitioners' pension fund PBU, JØP, DIP, PFA, commercial fund AP Pension, SEB Pension Denmark and teachers' pension fund Lærernes Pension – finalised a deal to invest in a new biomass-fired combined heat and power plant project in Kent in England, alongside Norway's municipal pension fund KLP and the Swedish division of SEB Pension. They are making the investment, worth £160m, via the Copenhagen Infrastructure II fund.
PFA has also been increasing its real estate investment by adding diversified property funds during the year. In early November, it was named as a backer of the first pan-European core real estate fund to be launched by Cromwell Property Group. As well as investing in the Cromwell European Cities Income Fund, PFA has also become the Cornerstone investor in Morgan Stanley Real Estate Investing's pan-Asian core fund.
PFA is also actively trying to boost its exposure to alternatives, and plans to invest about €5bn in these assets over the next five years to reach its 10% target allocation to alternatives.
Historically under-allocated to alternatives, with a current allocation of about 2%, PFA says it is keen on renewable energy and infrastructure, with its preferred method of accessing the sector being through joint ventures.
Finland: domesticated capital
Global investors have been buying real estate at a pace in Finland, but the country's large pension insurance companies are also still active in adding major domestic properties to their investment portfolios.
According to figures from pensions alliance TELA, 9.5% of Finland's €181bn of pension assets were invested in real estate at the end of last year, with property producing above-average returns among all asset classes of 6.3%.
This summer Varma, which manages about €41bn of assets, struck a deal to buy one of Finland's largest office developments, investing in the construction of a new headquarter for the K-Group – the group name for retailer Kesko – in the developing fishing district quarter of the country's capital.
At 34,000sqm, the total office space to be created within Kesko's new head office amounts to over one-third of all new office space under development in Helsinki as of the spring of 2016. The fishing harbour is being developed into a strong business, trade and housing area.
Pension insurer Ilmarinen said in March that it would finance the construction of 500 housing units in greater Helsinki in a €100m deal with local developer SRV.
The investor said that the investment was only possible because of a law that temporarily permitted the sector to leverage rental housing investments. All in all, the firm aims to build about 1,000 non-subsidised rental housing units, but that target depends on the temporary leverage exemption being extended to 2019.
Etera Mutual invested €23.2m this year in land in Espoo which has permission for residential development, buying the asset from Sponda, which was selling to concentrate on office and retail properties.
With assets of about €5.8bn, Etera is smaller than Ilmarinen and Varma, and its real estate strategy is to invest directly within Finland. It has around two thirds of its real estate assets in the form of direct investments.
Among Etera's property investments is a stake of about 40% in the Mall of Tripla shopping centre, which is to be built in the Keski-Pasila area of Helsinki. It is also an investor in the REDI residential tower plots in Helsinki's Kalasatama district.
The pensions insurer also has real estate assets in other parts of Finland, and is involved in the construction of a senior care home in Seinäjoki, and apartments in Oulu and Tampere.
The State Pension Fund, Valtion Eläkerahasto (VER), however, has diversified its property assets internationally and has about two thirds of investments outside Finland. Most of these foreign investments are located in Europe – although VER has also invested in Asia.
It invests indirectly, via unlisted real estate funds and real estate companies. Real estate funds made up 2.8% of its €18.5bn in total assets at September, while infrastructure funds were 1.4%. The two asset classes returned 4.3% and 8.9%, respectively, in the first nine months of 2016. VER said it had made "highly successful" exits from some infrastructure funds.
Although it appears receptive to new investments in Finland, Varma is planning to increase its allocation to international real estate funds, gradually changing the current domestic profile of its real estate investments. The pensions provider will grow international exposure by new investments abroad rather than cutting its Finnish property investment.
In September, Varma turned to its neighbour Sweden, buying the Heron City shopping centre in the Kungens Kurva district in the south of Stockholm, alongside CapMan Nordic Real Estate Fund and Cavendo. The joint deal was worth SEK930m (€93.6m).
In October 2015, Varma reduced its exposure to real estate in its home country by selling half of its stake in Certeum, the logistics and industrial property investment company.
Ilmarinen has also been diversifying its real estate investments away from Finland, having decided to make direct investments overseas. While 85% of the real estate in Ilmarinen's portfolio is located in Finland, the company sees this proportion shrinking to about 70% over time. It has been buying in Germany, agreeing deals including the purchase of a German hotel and stakes in offices in Berlin and Frankfurt.
Norway: mountain climber
It is six years since the Norwegian government gave Norges Bank Investment Management (NBIM) a mandate to invest 5% of the sovereign wealth fund in real estate. The Government Pension Fund Global, most of whose NOK7.1bn in assets are invested in equities and fixed income, is still far below this target.
At the end of September 2016, NBIM announced that the fund had 3.1% of its total assets in property holdings. But it is less than halfway to its objective, since in April the original 5% target was increased to 7%.
Karsten Kallevig, chief executive of Norges Bank Real Estate Management (NBREM) – set up within NBIM in 2014 – is calm about the pace. "We're patient," he said in April. "There's never been a goal of reaching either the 5% or a certain percentage in any given market within a certain time, which is a good thing."
NBIM's investment decision-makers are more interested in achieving the right property deals than making investments quickly. "We assess the real estate market continuously, and do investments when we find good opportunities," says NBIM's Thomas Sevang.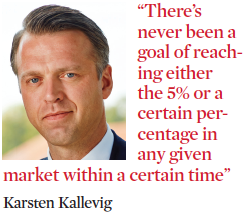 Returns from real estate have been uneven this year, with holdings suffering losses in the first two quarters and only partially making up lost ground in the third. A Q3 return of 2.29% in foreign currency terms meant a 0.46% loss for the asset class from January to September 2016.
The bulk of the Norwegian fund's property investments are in the form of unlisted real estate, composed of NOK167bn of holding versus the NOK49.8bn in listed property. The net return on unlisted real estate was 1.9% in the third quarter. Listed real estate, meanwhile, generated 3.5%.
The third quarter report revealed how NBIM chose to write down its UK property holdings for the second quarter by 5%. It said its external valuers had not taken into account the possible effects of the Brexit vote, which happened just days before the second quarter ended. The valuers said this was because of a lack of data. Then, in the third quarter, NBIM resumed its normal valuation process for investments in the UK.
Since the fund had real estate investments of NOK41.5bn in the UK at the end of 2015, a 5% downwards adjustment would have meant taking NOK2bn or 1% off the value of the fund's total real estate investments.
UK real estate, which makes up almost half of the fund's European exposure, was the most profitable for the pension fund in 2015, making a NOK7.8bn capital return over the year.
In July, the fund bought a large office and a 59,000sqft retail property in London's Oxford Street for £124m. A month later it spent $453m on a 44% stake in two office buildings in San Francisco from Kilroy Realty. In September, it invested in the Washington DC office property Constitution Square, taking a 47.5% interest as part of a joint venture with MetLife. The investment cost NBIM an initial $71.3m, as part of a total investment commitment of $200m.
Logistics assets made up 24.4% of total real estate assets at the end of 2015, and in the third quarter of 2016, the fund disposed of two logistics properties in the US. It sold one in New Jersey and a second near Boston through its partnership with Prologis, and said the fund received $43.8m and $47.5m, respectively, for its 45% interest in the assets.
Under scrutiny from the Norwegian public and government, it is not surprising that NBIM's real estate investments are conducted along environmentally sustainable lines.
However, the fund states explicitly that not only does it attach importance to managing its properties in a responsible and environmentally sustainable manner, but it also believes "this supports our goal to achieve the highest possible long-term return".
NBREM says it bases its responsible investment practices in unlisted real estate on internationally recognised standards, as a starting point and also where that is appropriate.
Sweden: time to take profits
At a time when many institutional investors are broadening their property investments geographically, Sweden's biggest occupational pensions firm Alecta closed its US and UK offices and sold its directly-owned foreign real estate assets.
In October, Alecta, which had SEK732.5bn in total assets at the end of 2015, sold its portfolio of 26 UK properties, including retail, office and industrial assets, to Goldman Sachs. The portfolio was thought to be worth £350m, although the price paid was not revealed.
In April, Alecta's CIO Per Frennberg explained that the pensions provider was taking advantage of the high demand for property investments to restructure the way it invested. The company's foreign operations had, he said, always been an "organisational anomaly" in the firm's streamlined business. Alecta's investment strategy made economies of scale a priority, he said.
Alecta's real estate returns have been high in the past two years, generating 18.4% in 2015 and 12.3% in 2014. The pension provider added to its Swedish assets in August by buying Värmdö shopping centre — the main retail centre in the municipality of Värmdö in Stockholm country, which has about 50 shops. It bought the asset from Rockspring and Vencom Property Partners for SEK421m.
Earlier in the summer, Sweden's third national buffer fund AP3 linked up with Fastighets Balder to invest in a portfolio of Swedish residential properties from Aberdeen for SEK2bn. The portfolio included 1,200 apartments and 71,000sqm of space in Stockholm and Öresund.
Swedish buffer funds AP2 and AP6 joined forces last spring to realise a "significant capital increase" by selling local property company Norrporten for SEK14bn in cash-and-shares to listed property company Castellum.
The sale of Norrporten not only increased AP2's existing stake in Castellum, but also allowed AP6 to rebalance its portfolio. The sixth AP fund – which unlike the other five AP funds invests only in private equity – said Norrporten had accounted for about a quarter of its entire portfolio. But it had made an annualised 14% return on the investment in Norrporten over its 15 years of ownership, said AP6 chief executive Karl Swartling.
Another of Sweden's state pensions buffer funds, AP4, and workplace pension provider AMF encountered management problems at their jointly-owned property company Rikshem last March, and ended up replacing its chief executive. There had been "anomalies" over various matters including travel and accommodation, as well as conflicts of interest, the pensions institutions said.
Rikshem owns SEK32bn of properties across Sweden. Peder Hasslev, AMF's deputy chief executive, said at the time that it was very good for AMF and for AP4 that the two organisations would continue as joint owners of Rikshem, and particularly good for the property company itself, which would be out of the media spotlight and have time to focus on its own business.
At the end of 2015, AMF bought a building including office and restaurant space in the Södermalm district of Stockholm for SEK3bn from Aareal Bank. The 46,000sqm building had been redeveloped by the bank's real estate subsidiary. The purchase nearly doubled AMF's holdings in Södermalm to 131,000sqm.
Investor Forum: What are realistic returns today?
1

2

3

4

5

Currently reading

Nordics: Exposure to the elements