Barbara Ottawa speaks to Michael Bujatti of Austrian pension fund APK about the challenges of building an active real estate strategy piece by piece
In a sense, Austria's third-largest Austrian Pensionskasse APK has only just begun to invest in real estate – 2013 was the first year investments were made as part of a concerted property strategy.
"Before that, we had the odd real estate investment in some member portfolios," says Michael Bujatti, head of real estate and hedge fund investments at APK. "But only in 2012 we started to set up a real estate fund-of-fund vehicle in which we are now pooling various strategies."
The new vehicle was set up as a Luxembourg SICAV/SIF, in line with its other alternative investments. Some of the existing investments and funds were transferred to the new vehicle, but not before APK carried out a review of strategies and managers, leading to some being discontinued.
"We had one provider which we found was actually only passively buying and selling properties without actively managing them. But he was charging active fees, so we ended the mandate," Bujatti says.
He is adamant about only accepting active fees with managers that are truly active as "we think the management style is the real driver behind performance". He adds: "We need someone who can, for example, renew a tenancy before the rental period ends via a slight refurbishment or other adaptations." He would rather take a slight development risk than just sell off an object, especially if the timing is bad.
At the moment, the real estate exposure stands at around 3% – similar to the average among Austrian multi-employer funds. APK has €70m invested in properties via funds, and Bujatti has already committed another €35m to a number of vehicles, and is even considering increasing its commitments.
APK wants to invest €130m over the medium term, which would make a real estate quota of just under 5%, depending on the growth in assets. And this is just how the Pensionskasse wants to have it: slowly but surely building a portfolio, learning as it goes along.
"We do not want to invest in things we do not understand," says Bujatti. He stresses that slowly increasing exposure to the sector also allowed members to see the profits this diversification can bring.
Since 2013, Bujatti has been searching for interesting investments in real estate, but not everything he finds will actually be counted towards APK's real estate quota – for regulatory reasons. A case in point is opportunistic real estate funds where no data are provided by the manager. These have to be reported under the alternative exposure.
"Especially in the opportunistic real estate segment, many funds do not fulfil the look-through requirements," says Bujatti. But he understands the Austrian supervisory body's concerns and adds it "would be hard to know where to draw the line".
APK is therefore mixing look-through funds with others and is also seeking indirect real estate exposure, especially when – as is the case in the US – equity investments are "currently uninteresting".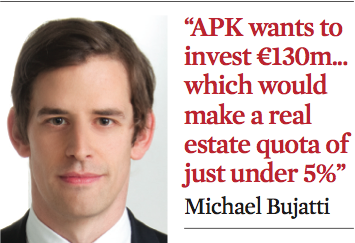 Bujatti would like to see the real estate exposure equally divided between Europe, Asia and the US but at the moment the US tax policy is "making equity investments in US properties highly unattractive for us". However, Bujatti found an alternative – senior loan funds mostly for transitional financing offering target returns of around 5%.
For its Asian exposure, APK has found active managers with long track records and local offices for pan-Asian funds. At the moment, the Pensionskasse has one Asian opportunistic fund targeting returns of between 15% and 20%. But Bujatti is currently committing money to the newest vehicle, a pan-Asian core/core-plus fund, completely look-through investing in already leased properties, and maybe needing only minor refurbishment.
Investment in Asian properties makes up around 12% of the total property exposure, not counting commitments and cash. The rest is covered by funds in Europe with first investments in the US loan strategy only having been made recently.
However, within the European exposure there is one region that particularly interests APK – that is Scandinavia, making up 18% of the overall property investments. It was also one of the first regions the Pensionskasse turned to for its new strategy. In 2012, when the Luxembourg vehicle was set up, APK invested in a fund investing in retail centres in Scandinavia because the investment team convinced Bujatti of its "very active" approach.
"They are buying failed retail centres in good locations where the former owners did not take enough active interest and never spoke to the tenants," explains Bujatti. The fund's investment team is then re-allocating space in co-operation with the tenants, improving the retail centre's market value.
The region could also be interesting for investments in care homes, where APK is currently invested in Germany, explains Bujatti. "It is actually a 'boring' investment, very stable and interesting because of the demographic development," he says.
Another safe bet made by the Pensionskasse is a German fund investing in local administrative infrastructure. "These effectively have a state guarantee," says Bujatti.
Other infrastructure investments like roads, water or energy are not on the agenda at the moment. Bujatti is not convinced that investors are really rewarded for the risk they take. Furthermore, he says, with an average ticket size of €10m-12m, APK is too small for such investments, even in a club deal. And Bujatti prefers more liquid investments.
"We are actually implementing a barbell strategy with core products on the one side and opportunistic ones on the other," says Bujatti. What all investments have in common is the search for truly active managers with good exit strategies, willing to explain their investment concepts and with long track records.
Bujatti is not afraid of a possible interest rate rise negatively affecting the real estate portfolio. Spreads are still quite wide and most refinancing rates in Europe are fixed, while the senior loans in the US are running on floating rates.
Since March 2013, APK's real estate exposure has returned 8.9% annually and Bujatti is convinced the portfolio will "continue to make an important contribution to the overall return".
This is especially the case as committed money becomes invested and the rather high cash share is re-directed as well – possibly into mortgage loans. But this is something the APK has only just begun to consider.
Investor Universe: Germany - Brave new investment world
1

2

Currently reading

Investor Universe: Austria - Brick by brick