Swiss investors are increasing and diversifying their exposure to real estate investments. Barbara Ottawa profiles four funds
Publica Pensionskasse
Total assets: CHF 39.4bn
Real estate: CHF 2.6bn
Infrastructure: CHF 360m
Head of private markets: Dominique Gilgen
Last year, the largest Swiss pension fund, Publica, made its first foray into foreign real estate by allocating $130m (€106m) to two US open-ended core funds.
This was the first move to build its 4% target allocation to foreign real estate, which it set in 2016.
The plan is to build a global real estate portfolio over the next four to six years," says Dominique Gilgen, head of private markets at the CHF39.4bn (€33bn) pension fund for the Swiss public sector.
Publica is not only seeking regional diversification but also different investment strategies. The domestic real estate portfolio the pension fund has built since it was founded in 2003 still only comprises direct investments. Foreign real estate exposure is currently sought via indirect vehicles.
"For the regions North America and Asia-Pacific we invest via core open-ended funds,"Gilgren says. "For European exposure we might complement this strategy by also looking into joint ventures or club deals at a later point in time."
Publica could consider adding foreign real estate debt to the portfolio, Gilgen says. As part of its private debt portfolio, the pension fund already selectively offers debt financing for domestic commercial properties.
The pension fund's infrastructure portfolio, which was started in 2015, is solely made up of debt investments. This strategy will not be changed when the portfolio is grown further, Gilgen says.
For its domestic exposure, Publica is looking for residential and office buildings. "We are also considering selective special real estate niches," Gilgen says. Abroad, it is not concentrating on certain sectors but on core properties.
These investment strategies are applied to the portfolios of the 13 member organisations of Publica, which are still open to new members. The fund also comprises seven other member organisations with closed pension schemes.
Compenswiss
Total assets: CHF35bn
Real estate: CHF2.8bn
Infrastructure: 0
Head of asset management: Frank Juliano
Comprising the AHV/AVS buffer fund for the first pillar of the Swiss pension system, Compenswiss has had to build a sufficient asset base to cope provide for the retirement of baby-boomer generation – a process that has begun and will last for decades. Apart from external sources of financing, which are still being debated by the government, Compenswiss is using diversification to boost the fund's return.
Real estate is also to be used as "a certain level of protection against possible inflation", according to its 2016 annual report. "Especially real estate investments will in future be given a greater exposure in the asset allocation." However, the fund said this was dependent on the liquidity situation of the buffer funds once the retirement wave starts to roll.
"Should the assets in the AHV/AVS fund start to diminish as we expect, it will gradually have to adjust its investment strategy. This means short-term liquid investments will have to be favoured which would have a negative effect on expected returns," Compenswiss noted in a press release at the beginning of the year.
But for now the share of unlisted investments in foreign real estate is to be extended, says Frank Juliano, head of asset management. In January, the fund tendered a European real estate mandate for up to €100m. Last year it committed an undisclosed sum to the Aviva/LaSalle Encore+, a European core-plus real estate fund.
Compenswiss made the move to unlisted foreign real estate funds in 2015, the latest progression of its property investment strategy. In 2000, its real estate portfolio consisted entirely of indirectly held Swiss properties, the part of the portfolio that remains the largest today. Four years later it introduced international listed real estate investment trusts. And in 2013 it made its first direct investment in its home market.
Since 2013, its exposure to real estate has grown significantly from 4.8% to 8.1%. And so has the performance of the asset class: in 2015 and 2016 it returned close to 6%, but in 2017 a more diversified real estate portfolio returned 9.15%.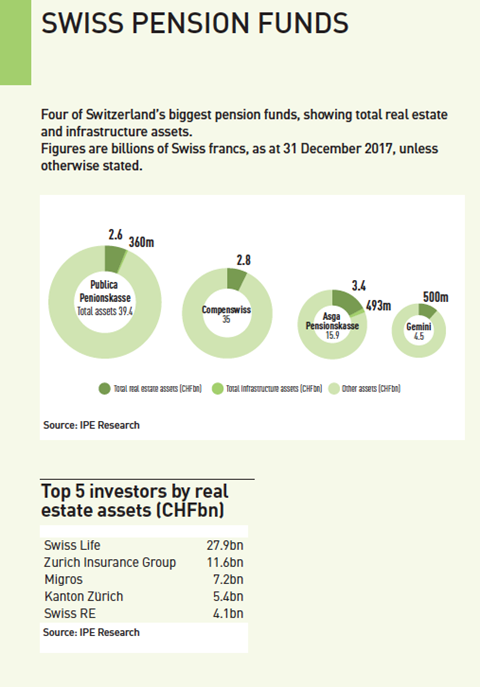 Asga Pensionskasse
Total assets: CHF 15.9bn
Real estate: CHF3.44bn
Infrastructure: CHF493m
Senior portfolio manager private markets: Lars Bollhalder
Last year, the foreign real estate investments in the CHF16bn (€13.4bn) portfolio of the Asga pension fund returned close to 8%, while indirect domestic properties delivered 7.1%. Asga's infrastructure investments fared even better at 13.2%. Directly held domestic real estate also contributed positively to the 7.18% overall performance for 2017.
And the multi-employer pension fund wants to keep growing its real assets portfolio as the overall portfolio grows, says portfolio manager Lars Bollhalder.
"The last years, the focus for new investments was mainly on foreign real estate investments, which have grown from 3.8% to 7.3% of the total portfolio since the financial crisis," he says. During the same period, the domestic real estate exposure was increased from 9.6% to 14.3%.
For its domestic exposure, Asga is mainly using direct investments, which it has done since the 1960s. For its foreign exposure, it is using specialised, non-listed collective funds with limited leverage of about 30% on average.
The focus is on residential properties for domestic exposure and has been since the beginning. In its foreign real estate investments, Asga widens the focus to "diversify across all established main sectors", says Bollhalder.
"At the moment, we prefer industrial properties and are more cautious regarding retail," he says. To add some niche exposure, the multi-employer pension fund included some investments in medical offices and student housing.
In 2015, the pension fund first defined a quota for infrastructure. First investments in this asset class had already been made in 2009. For its infrastructure exposure, Asga uses indirect collective funds managed by specialists. "We can either be the primary or the secondary investor or be a co-investor via these funds," explains Bollhalder.
Over the long term, Asga is content with the performance of the real asset segment. Bollhalder highlights the resilience of the directly held domestic real estate to the financial crisis. One problem he mentions regarding the foreign real assets exposure is negative currency effects for Swiss investors.
Gemini
Total assets: CHF4.5bn
Real estate: CHF550m
Infrastructure: 0
Managing director: Stefan Sadler
Gemini Sammelstiftung, the CHF4.5bn (€3.8bn) multi-employer pension fund wants to keep its current real estate exposure level but shift to different investment vehicles. Currently, about 14% of its real estate is invested through non-listed vehicles, so-called Anlagestiftungen. These collective investment foundations, set up especially for Swiss institutional investors, are struggling to meet the demand from investors for real estate investments.
Some of Gemini's real estate assets are managed by the Avadis Anlagestiftung. Gemini is managed by Avadis, but it also uses other investment-foundation providers such as Pensimo, Swiss Life, Swiss Prime and Ecoreal. AFIAA, one of the largest real estate Anlagestiftungen for Swiss pension funds and also managed by Avadis, is currently not on the list of asset managers for Gemini published in the pension funds' 2016 annual report.
Until it can get further investments through an Anlagestiftung, Gemini is still holding some shares in real estate funds.
No properties are held directly, says managing director Stefan Sadler. The pension fund did have some direct holdings when it started to invest in real estate in the 1980s but has since moved out of these. Infrastructure is "not under consideration", Sadler says.
The majority of the real estate portfolio consists of residential investments (71%). And the exposure to commercial objects is capped at 30%. Investments are still mainly held in Switzerland, both via listed as well as unlisted vehicles.
The share of real estate investments has remained quite constant in recent decades, having started off with 13% in the 1980s.
Gemini Sammelstiftung is a multi-employer fund for small and medium-enterprises in Switzerland, currently managing assets for 320 entities.