---
Swedish pension funds are at various stages of investing in real assets. Rachel Fixsen profiles five of the biggest
Alecta
Total assets: SEK730bn
Real estate : SEK51bn
Head of Alecta Real Estate: Fredrik Palm
Real estate makes up 7% of overall assets at Sweden's largest pension provider Alecta, with property investments totalling SEK730bn (€75.3bn) at the end of September 2017. However, it holds no infrastructure investments.
The institutional investor has been continuing over the past year with its plan to dispose of all directly-held foreign properties.
In January, Alecta sold three office buildings in the San Francisco Bay area to Blackstone Real Estate Partners for $291m (€251m), including two in Mountain View, California, and a third in Palo Alto.
A month later it confirmed it had completed the sale of its remaining directly-held US real estate assets.
In total, foreign property sales generated about SEK6bn for Alecta in 2017.
Also in January, the pension fund bought 10 properties – primarily for office use – in Sweden on the waterfront area of Nacka Strand, Stockholm, for more than SEK2bn from the Carlyle Group.
Frans Heijbel started work at Alecta in January, taking charge of the indirect real estate portfolio, and has been overseeing the reinvestment of some of the pension fund's proceeds from its foreign real estate sales.
The company already has real estate exposure via indirect vehicles in Sweden and the Nordics, UK, US and via some pan-European vehicles.
Real estate generated a 9.2% return for Alecta in 2016, and 5.5% in the first six months of 2017.
The asset type acts as a diversifier in Alecta's portfolio.
According to the latest figures, 67% of the company's real estate exposure is in Sweden, 15% is in the UK, 8% in the US and 10% in Europe.
Almost half, 48%, of its property investments are held directly, with 27% via joint ventures, 8% via funds and 7% through listed vehicles or REITs.
AMF
Total assets: SEK462bn
Real estate: SEK82bn
Infrastructure: SEK5.4bn
CIO of AMF Fastigheter: Mats Hederos
In its traditional insurance business, Swedish pensions provider AMF increased its real asset allocation to 20.9% from 19%, according to its interim report for the first half of 2017.
The return on the asset class in the six-month period was 5.7%.
At the end of June, AMF had SEK82bn (€8.5bn) in real estate investments, and total assets overall of SEK462bn.
The firm – Sweden's second-biggest pension fund – has large holdings in the domestic real estate market.
At the end of 2015 it signed a deal to buy a building, which included office and restaurant space, in the Södermalm district of Stockholm.
The pension fund paid SEK3bn for the asset, purchased from Aareal Bank, whose real estate subsidiary had redeveloped the 46,000sqm building.
Most of AMF's property investments are located in Stockholm, and managed by AMF's real estate subsidiary AMF Fastigheter.
About a quarter of AMF's real estate exposure is held via the property company Rikshem, which it owns with AP4.
At the end of June, Rikshem owned about 28,000 apartments and its property portfolio was worth SEK39.7bn.
AMF also has a 50% interest in the real asset companies Oslo Areal, Antiloopi Ky and Mercada Oy.
It also had SEK5.4bn invested in infrastructure funds.
In 2015, AMF paid SEK3bn for a 49% share in the Ormonde Offshore Wind Farm off the UK coast.
It also owns units in the Green Investment Group (formerly the Green Investment Bank) Offshore Wind Fund.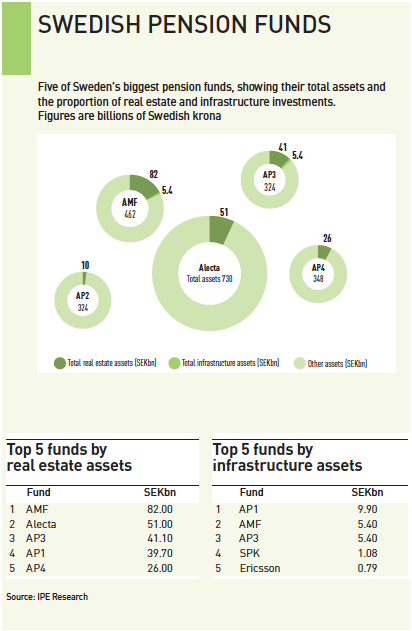 AP4
Total assets: SEK348bn
Real estate: SEK26bn
Head of alternative investments: Tobias Fransson
Swedish state pensions buffer fund AP4 has 7.5% of assets in unlisted real estate, or SEK26bn (€2.7bn). It also has a small allocation to infrastructure, which sits within its private equity portfolio segment.
In the first half of 2017, unlisted real estate returned 10.4% for the SEK348bn pension fund.
Real assets are used for portfolio purposes as a stable return driver.
Investments are held mainly in Sweden, although the pension fund also has some real assets in other Nordic countries, as well as in the UK. AP4 employs a direct approach to investing in unlisted real estate companies.
AP4 co-owns the property management company Vasakronan with AP1, AP2, and AP3, and owns half of Rikshem with AMF.
In December 2016, AP4 made a SEK1.5bn commitment to the property company Svenska Handelsfastigheter.
It has made real assets investments in the second half of 2017, which will be disclosed semi-annually, says Tobias Fransson, AP4's head of alternative investments.
Looking ahead, AP4 has no specific plan for real assets investment, but Fransson says its strategy for this asset class has not changed.
"We invest directly and we do this selectively on a bottom-up basis," he says. The focus is still on the Nordic countries, he says.
"We complement the unlisted portfolio with an internally-managed listed portfolio, which also has a focus on the Nordics," he says.
The pension fund has separate companies for investing in office, retail, residential and more opportunistic investments.
The AP Funds Act allows AP4 to invest directly in unlisted real estate companies, which it does to get a long-term, cost-efficient allocation to markets.
However, AP4 has also started building a strategic portfolio with investments in listed real estate companies, primarily in Sweden.
The pension fund sees this asset type as a complement to its unlisted exposure, with the advantages that it is an easy way to get real estate exposure, is cost-efficient and offers good investment opportunities.
AP2
Total assets: SEK324.5bn
Real estate (including timberland and farmland): SEK10bn
Head of alternative investments: Anders Strömblad
Buffer fund AP2 has real estate investments including traditional property, farmland and timberland. These investments are categories within AP2's alternative investments.
Real estate makes up 13% of AP2's alternative investments, which in turn are 24% of its overall portfolio of SEK324.5bn (€33.5bn), as of December 2016. The return in 2016 on AP2's investments in conventional properties was 20%.
In the first six months of 2016, AP2, in conjunction with AP6, sold all equity in Norrporten to Castellum for SEK14bn. Norrporten having produced 12.2% a year in returns since 2001, AP2 considered it the right time to sell its holding to capture the increase in value.
AP2 says the deal was another step in its strategy to boost the international proportion of its real estate investments.
The fund's non-listed property holdings now consist primarily of a 25% stake in Vasakronan Holding, a 41% stake in US Office Holdings and a 25% stake in Cityhold Office Partnership.
Vasakronan, the largest property company in Sweden, is jointly owned by the first four AP funds and has a portfolio of real estate holdings in the Stockholm, Gothenburg, Öresund and Upsala areas.
AP2's property investments focus on high-quality, traditional real estate, centrally located in real estate markets that have good liquidity.
On top of this, AP2 has added investments in real estate funds to its portfolio, including two in Asia and one in Poland. In 2016, it decided to invest in Brazil, too. This fits in with its long-term plan to gradually increase exposure to emerging markets.
The pension fund views real estate as an asset class that generates a solid, long-term, direct return and which contributes to risk diversification in the total portfolio.
AP2's portfolio of timberland and farmland consists of 11 different funds or companies, with joint investment commitments of SEK17.1bn.
AP3
Total assets: SEK324.4bn
Real estate: SEK41.1bn
Infrastructure: SEK5.4bn
Head of alternative investments: Bengt Hellström
AP3 has gradually been increasing its allocation to alternative assets.
These include real estate, infrastructure, timberland, private equity and insurance-linked securities. Alternatives as a whole now comprise around a fifth of the Stockholm-based pension fund's overall portfolio.
AP3's real estate and infrastructure assets had a market value of SEK52bn (€5.3bn) at the end of 2016, compared with the pension fund's total assets of SEK324.4bn.
AP3 has exposure to real estate through Vasakronan, which is jointly owned by the first four AP funds, and its majority stake in Hemsö, which owns properties used for education, healthcare and elderly care.
It also has majority holdings in two smaller companies – Trophi and Regio – which focus on grocery stores and regional property markets, respectively.
Two years ago, it signed a joint-venture deal with Balder to form Trenum, to invest in Swedish residential property.
Investments in real estate companies and funds, including Vasakronan, Hemsö, Trophi and Regio, generated a return of 26.7% in 2016.
In 2016, AP3 made investment commitments to three infrastructure funds, including an industrial water treatment fund and an Australian and New Zealand timberland fund.
The pension fund's largest infrastructure holding is in the electricity distribution company Ellevio, which it acquired from Finnish Fortum in 2015 alongside other investors including OMERS Infrastructure, AP1 and Folksam.
Timberland accounts for 1.75% of its overall portfolio, with the fund indirectly owning 220,000 hectares of forest land at the end of 2016.
AP3 made returns on infrastructure and timberland of 7.8% and 9.8% respectively in 2016.
Investor Profiles: Denmark
1

2

3

4

Currently reading

Investor Profiles: Sweden