The Danes have been allocating heavily to real assets. Rachel Fixsen profiles six of the biggest pension funds
ATP
Total assets: DKK758.1bn
Real estate assets: DKK34.5bn
Infrastructure assets: DKK17.3bn
Chief executive of ATP Real Estate: Michael Nielsen
Of the DKK34.5bn (€4.63bn) that ATP has invested in real estate to June, 58% was in offices, 21% in retail, 5% in hotels and 16% in other property types. For 2016, it made a 6.3% return on the asset class.
Most of the statutory pension fund's real estate investments are in Denmark and "stable European countries", it says. The past year has been busy for ATP. It acquired hotel investments in Munich, Amsterdam and Copenhagen and made two hotel deals in London.
In Copenhagen, it bought a housing project in the high-rise district of Ørestad, and completed the city-centre Axel Towers construction. It has also bought two office buildings in the city, one on Bryggervangen and the other in Adelgade. The fund also invested in a senior housing project in Gribskov in Denmark.
ATP also has significant investments in infrastructure although, like real estate, it does not work with a specific target allocation to this or any other traditionally-defined asset class. It constructs its investment portfolio along the lines of risk factors, such as equity risk factor and interest-rate risk factor.
ATP's investment portfolio consists of the pension fund's bonus potential or free reserves, which make up around a seventh of its entire assets – the rest being a hedging portfolio to back its pension promises.
In terms of geographic exposure, ATP's infrastructure investments are located in many parts of the world – from Australia to Spain and from the US to the UK, concentrating primarily on core OECD countries.
The pension fund is opportunity-driven when it comes to infrastructure and real estate investments. It is this approach and its readiness to engage in partnerships over real estate, as well as infrastructure, that sets its operating method apart from other investors.
"Additionally, we are able to manage big ticket-sized deals in an agile organisation where decisions can be made quickly and easily," says ATP. It adds: "We continue to look for desirable assets in Denmark and other European countries – for example, Germany, Belgium, Netherlands."
PFA
Total customer funds: DKK463bn
Real estate: DKK43bn
Infrastructure assets: DKK3.5bn
CIO equities & alternatives: Henrik Nøhr Poulsen
PFA categorises real estate and alternative investments as two separate asset classes. Infrastructure is part of alternative investments, which includes private equity and private credit.
The pension fund has DKK43bn (€5.8bn) invested in real estate, equating to a 9.4% allocation within the fund's overall portfolio.
It has DKK20bn invested in alternatives, DKK3.5bn of which is in infrastructure.
This year, real estate investments have produced a return of about 5%, with core generating somewhat more and returns on the opportunistic portion being slightly lower, because the latter is still in a build-up phase, explains Henrik Nøhr Poulsen, CIO for equities and alternatives at PFA Asset Management.
Infrastructure is also in a build-up phase, with costs coming before returns. So far this year, Poulsen says returns have been around zero.
Real assets serve several roles within the portfolio.
The core part of real estate and infrastructure investment is designed to generate stable, long-term returns similar to bonds, but at a higher level than the returns currently achievable on the pension fund's bond portfolio.
"The value-add and opportunistic part of our real estate and infrastructure generates equity-like returns – but with zero or low correlation to the equity markets," says Poulsen, adding that PFA's real assets are seen as adding diversification to the portfolio.
PFA's property division PFA Ejendomme invests in real estate funds, mainly European, UK, US and Asia. It also invests directly and indirectly in Danish real estate.
Over the next three years PFA plans to expand its infrastructure programme by three to four times.
It does not have specific geographical areas or sectors in mind, although it will focus on direct investments and club deals, and intends to make very few fund investments.
"We also have a very long-term focus," Poulsen says. "We like to aim to hold the investment for 20 years or more – or even forever," he says
Sampension
Total assets: DKK283.7bn
Real estate and infrastructure assets: DKK20bn
CIO: Henrik Olejasz Larsen
For Danish labour-market pension fund Sampension, real assets play a diversification role in the portfolio.
In terms of geographic exposure, the fund invests in real assets globally, but the main focus is on assets in North America and Europe.
About half of Sampension's real assets are invested directly, and half are held indirectly, in commingled funds and separate accounts.
"Sampension's strategy for real assets is distinct from that of many other investors, in that it adopts a low-risk core strategy with direct investments in the asset class, and a high-risk, opportunistic strategy on all indirect mandates"
Over the past 12 months, Sampension has made DKK900m (€121m) in direct real assets investments, and committed DKK3bn of capital to funds. It has awarded five mandates within the asset class.
The pension fund plans to allocate more capital to direct investments over the next 12 months, investing in both real estate and infrastructure, aiming to deploy between DKK2bn and DKK2.5bn.
In this planned investment, it will focus on Denmark and western Europe, homing in on both GDP and demographic-driven sectors, with a preference for demographic-driven sectors.
It is looking to award new mandates, with a preference for adding to mandates with existing partners.
It is aiming to add to its real estate and infrastructure investments using the approaches it already employs, making direct investments and investments through commingled fund and separate accounts.
Sampension's strategy for real assets is distinct from that of many other investors, in that it adopts a low-risk core strategy with direct investments in the asset class, and a high-risk, opportunistic strategy on all indirect mandates.
PensionDanmark
Total assets: DKK207bn
Real estate: DKK14.7bn
Infrastructure allocation: DKK22.3bn
Director of Pension Denmark Real Estate: Marius Møller
PensionDanmark has more than 10% of its total assets invested in real assets, holding DKK22.3bn (€3bn) of its overall DKK207bn portfolio in real estate and infrastructure.
Direct infrastructure investments have yielded 8.5% for the pension fund in 2017 to mid-October.
The function of PensionDanmark's real assets – which are spread across Europe and North America – within the overall portfolio, is as a diversifier.
Most of the investments are held directly as co-investments and through funds, it says.
The real estate portfolio consists of business and residential properties as well as public-private partnership construction projects.
In the past few years, the pension fund has invested in various corporate headquarter buildings in Denmark, including Semco Maritime's new headquarters in Esbjerg and Alpha Laval's head office in Aalborg.
It also has residential properties, and has recently begun a large development project at Islands Brygge, Copenhagen, involving 500-600 new residential units.
PensionDanmark has committed total investment capital of DKK14bn to infrastructure via Copenhagen Infrastructure Partners' (CIP) funds – having initiated the firm's first fund.
The pension fund is planning to continue with its current strategy and allocation for real assets over the next year.
"Given that the right and sufficiently opportunities are offered to us, our intention is to keep an approximately 10% share of total assets under management," a spokesman for the pension fund says.
With new investments, the geographic focus will continue to be Europe and North America, and the pension fund will also be sticking to its current sectoral scope.
It is looking to award more mandates.
PensionDanmark describes its strategy and approach to real assets as one backed by a strong in-house team, with a strong record and years of experience. Its co-operation with CIP also characterises the pension fund's real-assets work.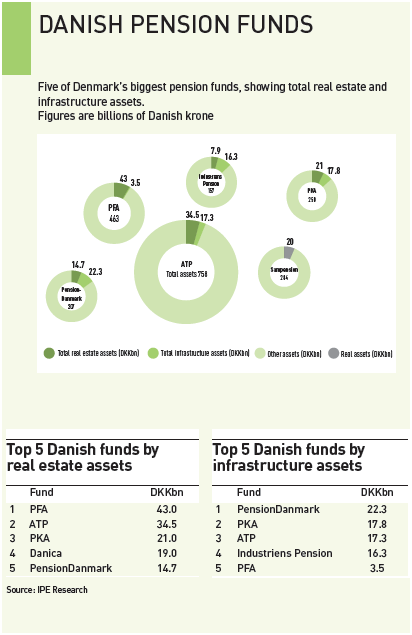 PKA
Total assets: DKK250bn
Real estate: DKK21bn
Infrastructure allocation: DKK17.8bn
Head of real estate: Nikolaj Stampe
Real assets account for 9% of PKA's assets under management, with holdings in real estate and infrastructure totalling DKK20.6bn (€2.8bn) as of December 2016.
In 2016, real estate alone generated a return of 6.2% for the pensions company, which runs three labour-market pension funds for the social and healthcare sectors.
For PKA, investing in real estate is to provide diversification within the overall portfolio, as well as to secure long-term returns.
The bulk of PKA's property investments are domestic. It holds DKK18bn of Danish real estate compared with DKK2.6bn of foreign property investments.
Within the Danish market, it invests directly in real estate, but abroad it uses funds or co-investments to gain exposure. Some 50% of foreign investments are allocated via Sparinvest Property Funds.
Over the past year, PKA has focused on investing in real estate developments; it does not usually invest in existing real estate.
This year it has bolstered its strategic partnership with the development companies A. Enggaard and FB Gruppen, investing in new projects through these firms.
Notable investments include DKK110m in a housing project targeting the over-60s in the Copenhagen residential district of Grønttorvet that PKA is developing with FB Gruppen; DKK250m in a housing project in Odense; and DKK400m in a housing project located in Aalborg alongside A. Enggaard.
The fund's strategy is to grow its real estate portfolio to DKK30bn by 2020 – equating to 10-12% of total assets. "We will continue to focus on direct investments in the Danish market in new housing projects at an early stage," the pension fund says.
"We will mainly invest in bigger Danish cities or cities where new hospitals are to be built. We're not expecting to commit additional funds to foreign managers."
PKA intends to continue its climate strategy. This involves halving the average carbon emission per square foot from 2008 to 2020, improving existing buildings and ensuring all new properties are built to the highest climate standards.
Industriens Pension
Total assets: DKK157bn
Real estate allocation: DKK7.9bn
Infrastructure allocation: DKK16.3bn
Head of private investments: Jan Østergaard
Industriens Pension has more than 15% of its assets invested in real assets, with DKK16.3bn (€2.2bn) or 10.1% in infrastructure and DKK7.9bn or 5% in real estate as of December 2016.
Infrastructure has produced a 10% return for the labour-market pension fund on a five-year time-weighted basis, while real estate has generated slightly more at 10.4%.
Real assets serve as diversifying and stabilising elements in the overall portfolio as well as return generators.
The assets are held globally, including in emerging markets, through funds, co-investments, as well as direct investments.
Over the past 12 months, Industriens Pension has made infrastructure investments via several funds and co-investments targeting commitments of DKK7bn over a three-year period, and two direct investments totalling DKK1.6bn.
The fund has invested in a few real estate funds and made two direct property investments, with the latter totalling almost DKK1bn.
Over the next year, Industriens Pension might make a couple of direct investments in each of the asset classes and continue with its fund and co-investment programmes, says Jan Østergaard, head of private investments at the pension fund.
The aim is to deploy between DKK2bn and DKK4bn, he says, focusing on core asset classes in Denmark and Europe for real estate and infrastructure respectively, and globally for non-core asset classes.
"We have a broad sector focus for infrastructure, and we are focusing on office and residential for real estate," Østergaard says.
Rather than awarding new mandates, the pension fund is expecting to add to investments mainly by using existing general partners, he says.
Industriens Pension's real-assets investment approach is characterised by a relatively large allocation to infrastructure assets and a sharp distinction between core and non-core assets.
Investor Profiles: Denmark
1

Currently reading

Investor Profiles: Denmark

2

3

4