PensionDanmark is ploughing capital into sustainable property and energy infrastructure. Richard Lowe talks to Torben Möger Pedersen about the attraction of 'stable alternatives'
In 2009, PensionDanmark made a decision to steer its DKK171bn (€23bn) portfolio in favour of energy-efficient real estate and renewable energy infrastructure – what CEO Torben Möger Pedersen describes as "stable alternatives". Assets under management at the not-for-profit labour market pension fund are forecast to reach €30bn in 2018. It is currently below its 10% allocation targets for both real estate and infrastructure, meaning it has a voracious appetite for real assets.
Yields on Danish government bonds are now negative. "We are really happy with our decision to make this reallocation," Möger Pedersen says.
"Real estate and energy infrastructure is, from an investment point of view, an answer to the challenge [arising] from the very low bond yields. As a long-term investor, we have a responsibility to identify alternative assets to government bonds to provide the members of our pension plan with attractive returns."
He adds: "These stable alternatives have some very interesting characteristics, as we are able to identify stable returns with a very low correlation to the overall business cycle – the equity markets. Having a large allocation to stable alternatives actually improves your risk-return profile as you are freeing up risk budgets for the rest of the portfolio."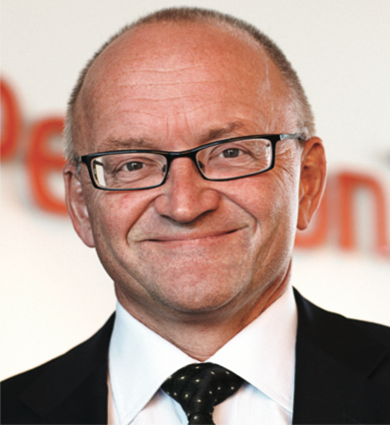 PensionDanmark has approximately DKK8bn (€1bn) in real estate investments and so it expects to invest DKK2bn per year to reach and maintain its target allocation. In the first quarter of this year, the pension fund had already deployed more than half of this annual target, buying three offices in the Danish towns of Ballerup, Odense and Aalborg from local government-owned IT organisation Kombit.
"When we are investing in real estate we are doing it on a long-term basis," Möger Pedersen says. "We are investing in high-quality office buildings that we hope will be attractive for high-quality tenants with an appetite for long leases."
PensionDanmark is also developing six large energy-efficient commercial real estate projects, in some cases acting alone and in others working with other investors. The developments include new premises for Alfa Laval in Aalborg, Semco Maritime in Esbjerg, Nordea Bank Danmark in Ørestaden, NCC in Gladsaxe and MTH in Søborg, as well as a new psychiatric hospital in Vejle.
PensionDanmark
Labour market pension fund.
Established in 1993.
• Total assets: DKK171bn (€23bn)
• Real estate target allocation: 10%
• Real estate assets: DKK8bn
• Infrastructure target allocation: 10%
• Infrastructure assets: DKK15bn.
The pension fund is also retrofitting existing assets, installing solar panels on rooftops of older office buildings.
"It's our experience that by investing in energy-efficient or sustainable buildings you are doing good for the climate agenda, but also are creating an asset with a more attractive business case than traditional buildings. High-quality tenants have a preference for energy efficient buildings from a corporate social responsibility perspective but also their total costs are lower in energy-efficient buildings than in traditional ones."
The pension fund has a more opportunistic strategy when it comes to its residential investments. In June last year, PensionDanmark sold its entire residential real estate portfolio, comprising some 700 apartments, to Nordic Real Estate Partners.
It is now focusing on buying land for residential development below acquisition cost. Apartments are either sold immediately for profit or rented. The pension fund is involved in a large project at Islands Brygge in Copenhagen, where more than 500 apartments are being built over the next couple of years.
PensionDanmark has invested approximately DKK15bn in infrastructure, mainly in renewable energy. It has done this through its in-house investment team and fund management company Copenhagen Infrastructure Partners.
The pension fund won the award for infrastructure investment at the 2014 IPE Awards in Vienna.
"We have concentrated our investments on Western Europe and North America, where we have confidence in the stability of the political regimes"
Mostly recently it invested in a biomass power plant to be built in the UK, again through Copenhagen Infrastructure Partners. The deal is part of a joint venture with Danish company Burmeister & Wain Scandinavian Contractor (BWSC).
Last October, PensionDanmark was involved in a consortium to finance what is the biggest Dutch onshore wind project, NOP Agrowind. NOP Agrowind will construct 26 Enercon E-126 wind turbines with a capacity to power 180,000 households.
Again, the focus on renewable energy provides portfolio diversification and contributes to PensionDanmark's socially responsible investing agenda. "It is driven by the investment case," Möger Pedersen says. "But, of course, we find it attractive [in] supporting the climate agenda."
The pension fund has focused on infrastructure in Denmark, the UK, Netherlands, Germany and the US. "We have a very firm focus on political risk," Möger Pedersen says. "That is why we have concentrated our investments on Western Europe and North America, where we have confidence in the stability of the political regimes and find the political environment investor friendly, which is not the case in southern Europe or eastern Europe."
Torben Möger Pedersen will be speaking at the IP Real Estate Global Awards & Conference in Copenhagen on 19 May