Investors such as BVK and WPV continue to search for opportunities, but they are also becoming more cautious, finds Barbara Ottawa
For Hans Wilhelm Korfmacher, managing director of the €3bn German pension fund WPV, the overriding question is whether this year and last year will turn out to be the vintages "of an already overheated market", just like 2006-07. "Nobody can predict that now," he says, but "those that have been invested in the markets before and during the financial crisis are now much more cautious".
Norman Fackelmann, head of real estate investment management at Germany's largest pension fund, the €70bn BVK, is equally thoughtful. "There is no market anywhere in the world that has gotten cheaper," he says. But, he stresses, "labelling something 'overheated' is difficult".
He continues: "Prices are high and we need to check where the risk is still worth the price. The spread is not the only figure we are looking at – you also have to take into account the risk of the property and the price."
And so both institutions continue to invest in real estate. At WPV, Korfmacher is "trying to get closer to the assets and carefully check the investments". This means searching for good opportunities to make direct investments, he says. It is an approach that requires a lot of resources, Korfmacher admits, but he is convinced this effort pays off.
And as core real estate is generally expensive, WPV is also looking into developments, conversions and refurbishments, both in Germany and abroad. This is "adding value-add investments on an opportunistic basis", he says.
BVK is sticking to core and core-plus real estate "because it fits our need to sustainably cover our liabilities," says Norman Fackelmann, head of real estate investment management. "We are adding value-add from time to time where it fits." He adds: "But we have further demand for new investments and we want to increase our real estate quota – for that we need to identify new opportunities." Yearly, BVK has to find investments for about €7bn of inflows.
Since 2000, BVK has been expanding into international real estate markets – before then it only ever invested directly in Germany. In 2012, it awarded global mandates to LaSalle Investment Management and CBRE Global Investors. But more recently it has been looking to complement this with more targeted strategies, or as Fackelmann describes, "managers that can cover a certain degree of specialisation, either regionally or in certain sectors".
Last year, Alpha Investment Partners, CBRE Global Investors and Arch Capital were hired for specialised Asia mandates, while Hines has been hired to invest in European retail. Patrizia Immobilien, together with CapMan, is seeking residential properties in the Nordics. This year, there will be three new mandates for the Americas.
Korfmacher says internationalisation is very important and that WPV already has "several investments in the Americas and is starting to look for investments in Asia". The main question is whom to partner with for new investments. For Korfmacher, the best way to invest abroad is through discretionary mandates.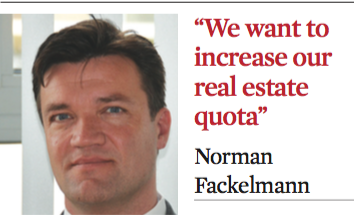 In Germany, Korfmacher prefers club deals, joint ventures and individual investments. "For me, the problem with pooled funds is that I do not think there is a lot of advantage in many investors having their say in the strategy," he says. "In 2006 and 2007, many Spezialfonds came under pressure from two sides – the investors who wanted to see their money put to use and from the company setting up the Spezialfonds, which also wanted to see a fast return on the invested money." Korfmacher says this pressure led to some funds buying into overheated markets.
Hermann Aukamp, independent adviser and former head of real estate investment at the German pension fund NAEV, says German investors will diversify by region and sector as yields in the domestic market continue to compress. "Investors need a certain level of return and this can no longer be achieved in the German market only," he says.
US and Asian investors are increasing competition in the German real estate market. Fackelmann says the European Central Bank's decision to introduce zero interest rates has only exacerbated the situation. "[Foreign investors] are seeing an opportunity in the weakness of the euro – and this is fuelled by the ECB's decision."
Aukamp says: "This means it will become even tighter in the office segment where we do not see any rental growth in Germany despite good economic development." He adds the "good results in the German office market are all based on valuation adjustments but not really on rental growth", which Aukamp sees as "a bit of a risk, with the exception of Berlin".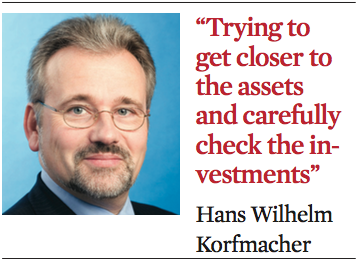 Timothy Horrocks, head of Germany at TH Real Estate, says: "Before the crisis, German institutions had historically little competition in their domestic market in these segments because most foreign investors thought there was relatively insufficient return to justify investment – but that has changed. Given the flow of liquidity to Germany this has led to further upward pressure on prices."
Aukamp urges investors to keep the bigger picture in mind. "These trends are always part of a maturity cycle. As traditional asset classes including office and retail get pushed into the background, investors are looking for alternatives which so far may have seemed too risky or unattractive. So we are in one of these cycles again and this is also a preliminary warning that this cycle will come to an end eventually," says Aukamp. He adds the market is "far from overheating, except for maybe a few specific areas in the residential segment".
He says: "Quality has become expensive but it is also rare and some valuations might seem exaggerated but, compared to other markets, Germany still has a lot of catching up to do in this regard. Investors are very alert and are not buying everything on offer."
Korfmacher sees German residential as a sector where he would like to build exposure for WPV, but he does not see an opening. "Prices are not reasonable, it is too expensive," he says.
German investors are looking for new sources of returns in niche real estate sectors. "Almost anything that is labelled a property is researched as an investment opportunity," says Michael Schneider, CEO at IntReal. "[One] large area is residential property. Some analysts think that we have reached the end of investment opportunities in this segment, but there are a lot of flats in Germany."
Hartmut Leser, country head for Germany and Austria at Aberdeen Asset Management, says: "With the changing interest-rate environment, even the lower-yielding residential segment is attractive for institutional investors." But, he adds, the real attraction of the sector lies in its future potential. "For a long time, people talked about an increase in demand for flats in German cities, but it never really happened. Now the flight from the rural areas has really started and it is bound to continue."
This means that cities need more living space, especially modern, affordable apartments. In Germany, such assets are hard to come by, given the historic building structure and lack of space. "But this change in demand will be one of the most important topics in the German real estate sectors since the reconstruction after [World War II]."
Spezialfonds are dead, long live Spezialfonds
Only 18% of new real estate investments by German institutional investors will be made via German Spezialfonds, according to Universal-Investment. Last year, the figure was 30%. The annual survey by Universal-Investment, which canvasses investors with combined real estate assets of €8bn (or about one-fifth of the real estate Spezialfonds market), also found that the share of investors opting for Luxembourg vehicles had more than doubled from 10% to over 27%.
Does this mean the real estate Spezialfond – or Spezial-AIF – is no longer the vehicle of choice of institutions? "The open-ended German Spezialfonds no longer appears to enjoy a unique position," says Alexander Tannenbaum, managing director for real estate at Universal-Investment. "Investors are not only increasingly diversifying in terms of the real estate segments and geographical direction but also in terms of their choice of the real estate investment vehicle."
German investors can also consider limited partnerships, which were introduced to rival investment vehicles in Luxembourg. Hartmut Leser, country head for Germany and Austria at Aberdeen Asset Management, predicts that the Investment KG, as it is known, will become more appealing for investors. "The advantage is that changing the manager is easier as portfolios can be transferred without triggering a commercial tax claim," he says.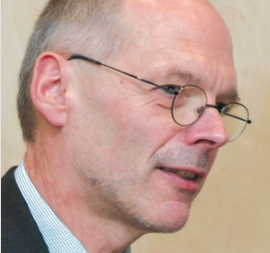 However, the MSCI SFIX index has shown a growth in the real estate Spezialfonds market of around €6bn annually since 2012, reaching almost €64bn. Speaking in February, Ingo Bofinger, head of real estate at Gothaer Asset Management, was clear: "The Spezialfonds is not dead."
Timothy Horrocks, head of Germany at TH Real Estate, says Spezialfonds are still the preferred vehicle for most German investors, mainly smaller and medium-sized ones, "not least because it is a familiar, regulated vehicle with like-minded investors managed by a German manager".
Spezialfonds provided stability during the last market downturn. Because they apply a 'sustainable' market valuation methodology, they only lost about a quarter of their value in the aftermath of the global financial crisis – some other funds' value fell by up to 60%.
But Horrocks points out that many of the funds launched before the crisis are being wound down. "Regardless which valuation method was employed, their performance has been modest," he says. "German Spezialfonds saw a certain stability in their unit pricing via their valuation method while Luxembourg funds recovered slowly over time after major devaluations."
However, the survey's results need to be seen in the context of projected growth of German real estate allocations. Depending on the sample, the real estate quota is somewhere between 6% and 12%, or in some cases over 20%. Most surveys show that the share of property investments will increase.
Hermann Aukamp, independent adviser and former head of real estate investment at the German pension fund for doctors in Northrhine-Westphalia, says: "Smaller German investors will certainly stick to Spezialfonds, but larger ones will have a mix of Luxembourg and domestic vehicles."
In contrast to Luxembourg vehicles, Spezialfonds are restricted in terms of leverage that can be used. But Aukamp says Spezialfonds provide "sufficient investment freedom" for most investors.
Bofinger says Gothaer made its first investments with zero leverage this year. This decision was based on experiences in 2006-07 when some investors bought into leveraged funds at the top of the market.
Investors like Gothaer are also moving away from global mandates. "We want specialised mandates and strategies – for example, for niche segments like healthcare," Bofinger says. He says these sectors require managers close to the market. "This is important to us in tenders."
Eitel Coridaß, managing director at Warburg-HIH Invest Real Estate, says there is still demand for pan-European mandates, especially to diversify. "But those investors which have a basic diversification in place are looking for specialised managers," he says.