Pension funds BVK and ÄVWL are pushing their property allocations beyond 20%. Barbara Ottawa reports on the challenges they face
The low-interest-rate environment is quite literally making the world a more beautiful place, says Andreas Kretschmer, the former CEO of Ärzteversorgung Westfalen-Lippe (ÄVWL).
"When you look at what is currently happening in many cities with fantastic new developments, trees being planted, cycle routes being built, etcetera, I think a lot of it would not happen if the rates were higher," says Kretschmer, who continues to advise the €12bn pension fund. "This means city locations are changing and new opportunities for investors are opening up."
And further opportunities will be needed as more investors seek to increase their property exposure.
Normann Fackelmann, head of real estate investment management at the €80bn Bayerische Versorgungskammer (BVK), has seen a shift in the perception of real estate among institutional investors in Germany over the past five years.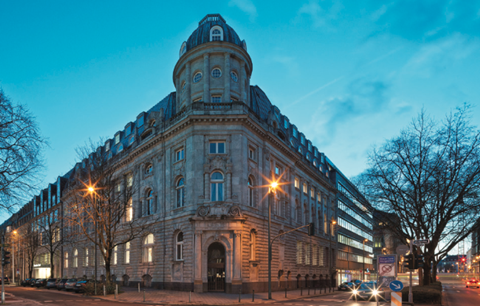 "Real estate no longer has the role of an add-on to a portfolio," he says. "It is now viewed as a stabilising factor and an important part of a portfolios aiming at a sustainable, long-term return. We already exceeded our target real estate quota of 15% last year and are now seeking to continue to increase it moderately to 18% by 2018."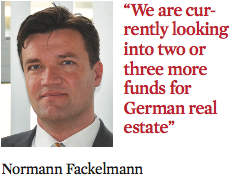 The real estate exposure of ÄVWL has dropped to 21% over the past year, albeit only on paper, says Kretschmer. "For one, we streamlined our portfolio and used the current market environment to sell off about €200m in properties. Secondly, we have several larger product developments in the pipeline which will add about €280 to our portfolio."
This should help push the real estate exposure back up to 23% – or possibly even 24% – close to its 25% cap.
"Even in the value-added segment, we see returns no longer being worth the risk you have to take," explains Karin Groß, head of real estate portfolio management at the ÄVWL. "We are also cautious regarding future developments of rent levels. Instead, we are concentrating on refining the properties in our portfolios and with these project developments we are in a very good position. On the other hand, the 23% real estate quota still leaves room for purchases in case we spot good opportunities. But there is no pressure."
Kretschmer says: "Since the financial crisis of 2008, we have tried – and succeeded – to make a lot of anti-cyclical investments and profit from the market downturn. Therefore, we are currently running high levels of real asset investments and can concentrate on optimising our portfolios.
"We are buying when we see an opportunity but we are not forced to buy. This is a good position to have in a market in which the prices are high."
US office buildings were among the assets ÄVWL has sold. "Instead we are focusing on multifamily housing and student homes in North America to lower our exposure to offices in general," says Kretschmer. "Mixed-use properties or repurposed properties are more interesting, in our view." In a further streamlining process some logistics holdings in France might be sold.
BVK is negotiating new mandates to increase its exposure to the US – which stands at 19% of its real estate portfolio – having revealed that it, too, is looking to move into multifamily investments, having already awarded USAA Real Estate Company a €750m mandate targeting the sector.
Other strategies will include light industrial and logistics, office and retail, and niche markets such a medical offices, senior housing, self-storage and student living, according to Fackelmann.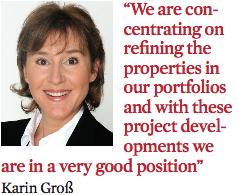 The new investments made in Asia and Australia over the past year have "lived up to our expectations", says Fackelmann. "Even there it was difficult to find properties suitable for core investors, but we did – mainly in the logistics segment."
Fackelmann says BVK's Asia commitment is not fully invested. "It will be one of our goals for this year to keep filling up this part of our portfolio," he says.
Additionally, BVK and its managers will try to find new investments for the recently issued mandates with Hines, Patrizia and CapMan. "We are aiming to reach the respective target volumes over the next one or two years," says Fackelmann.
What worries Fackelmann, though, is the cost of currency hedging. "It has become very expensive and is eating a major part of the performance – this is making our lives as asset managers harder."
Kretschmer agrees. "With FX-hedging being as expensive as it is at the moment, the major question is whether some fund investments still make sense for diversification's sake or whether the costs are eating too much of the return."
Fackelmann says BVK will "continue to try to invest in the home market" but, even here, he points out some difficulties. "With direct investments, it is difficult for us because we do not use leverage. Therefore, the returns would be too low for us."
Last year, BVK made its first foray into indirect investments in Germany with Corestate and a student housing/micro-apartment fund. "We are currently looking into two or three more funds for German real estate," Fackelmann confirms. "For us, student housing in Germany counts as core rather than niche investment because the properties are in central locations and, because of the smaller size of the units, the demand is very high."
These fund investments are then pooled for several Versorgungswerke that are part of BVK via its Master KVG (direct investments are mostly booked to the balance of a single member pension fund).
When investing at home, ÄVWL is looking for properties worth €150m or more. "The share of foreign investors has increased considerably because the market is very interesting," says Kretschmer.
"They can be found both on the buy side as well as on the sell side because many investors are streamlining their portfolios."
US pensions: The new DIY investors?
1

2

3

Currently reading

Germany: Moving the dial

4