Type the words Liverpool and Manchester into a web search and you will inevitably be hit with a plethora of football-related links. Rivalries between the two cities run deep – and go back as far as the 1880s, when Mancunian engineer Daniel Adamson laid out plans for the Manchester Ship Canal.
Adamson's vision, made true in 1894, eased the passage of goods, chiefly cotton, from Liverpool – at the time a major global hub. A game-changer, the canal allowed Manchester to bypass Liverpool and consequently avoid the latter's charges.
So it is of little surprise that talk of merging the two cities' respective resources caused such a stir in the northwest region. Last year, former Goldman Sachs economist Jim O'Neill coined ManPool, a portmanteau unlikely to be on the lips of many real estate investors.
Few realistically envisage the two cities becoming one. However, the idea of pooling resources and thinking more coherently about infrastructure is not to be dismissed.
At last year's MIPIM conference in Cannes, Liverpool mayor Joe Anderson and Manchester City Council chief executive Sir Howard Bernstein jointly promoted their respective cities. Rivalries may run deep, but Anderson has called for Liverpool and Manchester to work together to "rebalance the economy and benefit the whole of the north west region".
Jonathan Harris, senior managing director at Macquarie Capital, sits on the board of the UK government's Regeneration Investment Organisation (RIO), formed in 2013 to encourage greater overseas investment in UK regions. "There's a shared interest in leveraging the northwest's substantial road, rail and port infrastructure," he says.
Legal & General recently said it is working to pool £15bn (€20bn) of institutional capital to invest in UK housing and infrastructure, committing £1.5bn of its own money and working with the RIO, having already invested in greater Manchester's Salford district.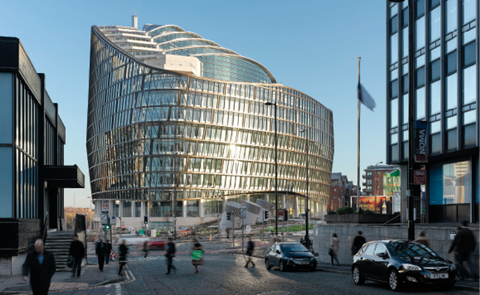 One Angel Square, Manchester, the first phase of the city's NOMA quarter
With the next general election weeks away, and with more power being devolved to Scotland, the issue of "life beyond London" has become a political hot potato.
As urbanisation becomes a key driver for investors, the mass convergence of people is a potential draw for investors in real assets – be that in infrastructure or real estate. As well as being the subject of extensive research, the urbanisation theory has been behind real assets strategists' thinking, as population growth and demographics play an increasingly significant role in investment decisions.
Manchester certainly ticks those boxes, with population growth bringing the residential and office sectors to the fore.
A recent report by the Urban Land Institute (ULI) and PwC said regional UK cities were "pulling in investors who are finding London too hot to handle". One interviewee told the study: "We will start to see an improvement in values in core regional cities – Manchester, Birmingham and Bristol – because the money is moving there."
In a report released last year, M&G Investments said Manchester – along with five other UK office markets – was "emerging from the shadows to offer a serious challenge to London".
Joe Valente, head of research and strategy for global real assets at JP Morgan Asset Management, sees little issue with entering markets such as Manchester – but potential problems for exit strategies. The construction of one big new development could, Valente says, make all the difference in a market such as Manchester, which is "only ever semi-liquid".
He adds: "The size of a market is important, as one major scheme can alter the supply-demand balance almost overnight. This is one element of risk which is less important or apparent in larger, tier-one markets."
IPD: Record returns in 2014, still attractively priced
There has been a resurgence of investment interest and performance in Manchester over recent quarters. Returns for 2014 as a whole reached 14.2%, the highest since the financial crisis and more than twice the performance of 2013. Strongest returns were in the Industrial sector, closely followed by offices with retail lagging.
Although the market has performed well over recent quarters, it remains relatively attractively priced according to the pricing indicator. Income returns ended the year at 5.9%, down slightly on the prior year and still significantly ahead of the 4.8% level reached in 2007. The exceptionally low bond yields mean the spreads with real estate income returns remains attractive, at 383bps, and this compares with the zero spread back in 2007 – at that time, bond yields were the same level as income yields.
If the market remains attractively priced compared with the peak years of the previous cycle, it is also attractive compared with the current pricing of London. All-property income returns in London reached 4.3% at the end of 2014 (3.2% in Mayfair), significantly lower than Manchester and with a spread. Despite this attractive pricing for the market as a whole, there are segments and locations where pricing is moving back to levels achieved at the previous peak.
Although the strong performance in 2014 was driven by yield compression, there are signs of a resumption in rental growth.
The declining levels of vacancy and still low levels of new supply meant that average rents rose by 1.7% last year, with the strongest performance in the industrial and office sectors (at close to 3%), while the retail sector continued to lag.
With UK domestic institutional investors back in the core sector, competition in the global market that is central London is fierce, Valente says. Domestic capital is being "pushed to regional markets" and consequently stabilising values, despite occupier markets remaining "weak and highly fragmented. Whilst regional markets are the 'bread and butter' of institutional investors, they are relatively small in terms of stock and investment activity," Valente says. "The problem comes when investors anticipate capital movements in small local markets driven entirely by rents and the prospect of local occupier markets."
Valente is correct to urge caution and point out that comparison with capital, gateway cities is largely futile. The UK's southeast region – taking in London – is still at the front of international investors' minds.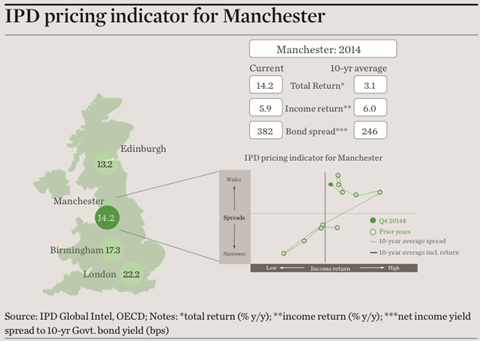 Dutch pension fund manager PGGM teamed up with Legal & General Property (LGP) to buy a UK property unit trust from Cordea Savills for £370m. The trust's portfolio, which has a bias to London and the south of the UK (nearly 60% of assets by value in the two regions), was of microcosm for current UK investment trends. The remaining 40% of the portfolio was spread across major regional UK cities, including Manchester.
Accelerating beyond Birmingham
What the wider northwest region needs is not just one Adamson, but several, motivated not by the simple desire to out-do a local rival, but as part of a renewed effort to attract investors who typically make London their first stop.
Manchester may not benefit from comparison with London. It is, however, understandably being compared directly with the UK's official second city, Birmingham.
Greater Manchester is enjoying stronger population growth than Birmingham, which, given its proximity to London, is often regarded as being 'too close' to the UK capital, thus hindering its ability to stand alone.
Manchester-based Michael Mousdale, a partner at law firm DWF and the firm's head of local government, says the Greater Manchester region is now reaping the rewards of joined-up thinking which began almost 30 years ago.
"Local tribalism has been put to one side and that has meant there's a fantastic platform for economic regeneration"

Michael Mousdale
"You can trace that back to the abolition of metropolitan county councils in the 1980s," he explains. "The subsequent reaction set the tone for what followed, with Manchester taking a very conscious decision to not entirely break with the past and instead create the Association of Greater Manchester Authorities (AGMA)."
Formed in 1986, AGMA saw all 10 authorities in Greater Manchester, including Trafford, Stockport, Oldham, Rochdale and Wigan, sign up to the idea that "together they would have more influence", says Mousdale. "Local tribalism has been put to one side and that has meant there's a fantastic platform for economic regeneration."
The size of Birmingham's population puts it in a dominant position that could explain why it has been harder to follow a similar path, he adds. Manchester, it seems, has pulled away, putting down tram links while Birmingham is still at the planning stage.
Law firms including Latham & Watkins, Freshfields Bruckhaus Deringer and Berwin Leighton Paisner have moved staff and operations to Manchester offices.
With cheaper office rents and a growing population, the financial services sector has also identified value in Manchester. As far back as 2006, Deloitte moved staff to offices in the city's Spinningfields district.
While the previously London-centric BBC has also moved London staff to Salford in Greater Manchester, no major sector shifts to the second city have been reported.
The rationale behind Birmingham being a better 'buy' than Manchester in 2015 may, therefore, have something to do with the former's ongoing book balancing and real estate investors seeing opportunity in adversity.
Reducing the opening hours of its new central library does not send out the best message.
Faced with the £638m settlement of an equal-pay dispute, Birmingham city council recently sold its National Exhibition Centre events venues for £307m to LDC, Lloyds Bank's private equity arm. With such 'crown jewels' up for grabs, the opportunity buyer understandably comes knocking.
The ULI and PwC's jointly compiled Emerging Trends in Real Estate report found Birmingham is now the most investable city in the UK – as well as being the sixth most investable in Europe.
The report said Birmingham had risen from 17th position last year. Back in Manchester, there is, of course, the risk that the city could be a victim of its own success.
Last year was a record year for investment, which rose 80% to £2.43bn, according to Real Capital Analytics/Property Data.
However, £1.51bn of last year's investment came from domestic investors. Enticing foreign capital beyond London's M25 is far from a fait accompli.
"Retail and industrial assets are easier sectors to explain," says Harris. "But it can be a challenge to get foreign capital in scale into the office markets of regional UK cities through a full cycle."
The largest deal last year, in Manchester's Spinningfields district, the UK's Pension Protection Fund invested £230m in an office let to RBS.
Last year, Hermes Investment Management, which runs the BT pension scheme, teamed up with the Co-operative Group to develop the £800m NOMA scheme in the centre of the city. Over the next 10 years, the partnership will create a 20-acre mixed-use district.
Such long-term thinking is admirable. What Manchester will look like one, or even two, real estate cycles from now is anyone's guess. Only time will tell if the respective appetites of office occupiers, young professionals and investors stand the test of time.