Can continental Europe match the UK's £25bn long-lease property fund market? A number of fund managers are betting on it
More than a decade after the launch of the UK's first dedicated long-income property funds, investment managers are looking to export the model to continental Europe.
The long-lease fund market in the UK is now worth about £25bn (€28bn), according to CBRE figures published in October, suggesting a compound annual growth rate of more than 40% among the funds CBRE has advised since 2010. Now managers say Europe represents a potentially large growth opportunity for the strategy.
"The potential to grow in the UK is significant," says Renos Booth, head of real estate long income at Aviva Investors. "Just replicating that in Europe and the scale of a potential European market could accelerate even faster than what we've seen in the UK."
Ben Jones, head of long income at investment manager M&G Investments, says: "That growth could be anything, but we do see the opportunity there for that fund to grow substantially into billions over time in a similar way that we've seen the UK market progress – particularly given there's a substantial amount for owner-occupier real estate in Europe."
Acquisitions of real estate through sale and leasebacks, which result in a former owner-occupier paying inflation-linked rent over a typically 20 to 25-year period, have won substantial demand from liability-driven investors such as pension funds. And, as CBRE said in October, that liability-matching long income is supporting most operational real estate deals in place of more expensive mezzanine finance or stretched senior debt.
The promise of a secure income stream and the long-term increase in an underlying property's value have made long income an increasingly significant strategy amid disappointing fixed-income yields. "That combination of delivering attractive yield combined with high inflation linkage in the cash flows is the main driver of demand," says Jones.
"Our clients have been investing in this in the UK for seven or eight years," says Paul Jayasingha, global head of real assets at investment consultancy Willis Towers Watson. "It's been very popular with pension plans that have been de-risking but are unwilling to buy bonds at very low yields. We've seen this big wave of interest from UK pension funds and we've been testing the interest from European pension funds."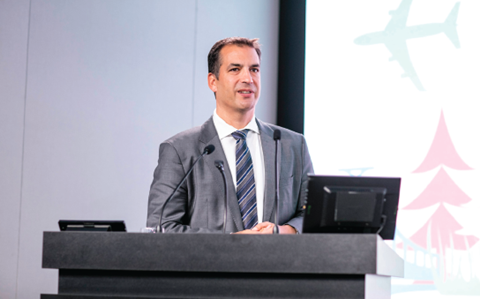 M&G is among those leading the charge into the European market. The firm, which already invests in long-lease property in the UK through its European Secured Property Income Fund, told IPE Real Assets in October that it planned to implement its strategy on the continent. That month, it appointed director Antonin Prade, a former fund manager at Aberdeen Standard Investments, to grow such investment activity in the region.
"Because of that increasing demand from our European client base for this asset profile we've taken the decision to take that strategy to continental Europe as well," says Jones. "We've got a range of European pension funds and insurance company clients coming into our European long lease strategy."
In May, Aviva Investors launched the Aviva Investors Continental European Long Lease Strategy Fund.
Booth says Aviva, which manages £4bn of assets in long-income strategies, plans to leverage existing tenant relationships in the UK – many of which are FTSE multi-national corporates – to build its European presence.
Aberdeen Standard Investments is also planning a foray into continental Europe, according to Luke Powell, an investment director at the UK asset manager. Powell said it would launch the European Secure Income Fund "in the coming months" to "tap into the long-term requirements of institutional investors". Powell's team is encouraged by the buy-and-hold approach to long-lease property among investors.
"Investors in UK long-lease or secure-income real estate strategies have been very pleased with the long-term, stable income stream they provide," he says.
The European vehicle would follow the Standard Life Long Lease Property Managed Pension Fund, which launched in 2003 to invest in the UK and at the end of September had £2bn in assets under management.
"There's a vast canvas in the form of the continental European real estate market from which we hope to draw product," he says. "Our objective would be, within three years of launch, €500m value and in five to seven years, more like €1bn."
The stability of long-income funds through the financial crisis has helped spur the growth in demand, says Powell. "When our UK long-lease fund was launched [in 2003] there was less of an emphasis on the inflation-protected income streams and more of a place for open-market rent reviews.
"Now you would say what investors are looking for is something that benefits from in-built income growth – and that can come in the form either of inflation-protected leases or pre-agreed fixed increases in rents. It was the [financial] crisis that made apparent just how resilient these funds were in capital-value terms relative to the wider real estate market."
In addition to the long leases, strong covenants give investors greater downside protection – a characteristic Powell says sets long-lease property funds apart from conventional real estate funds.
"You do a very thorough credit analysis to make sure [tenants] are sound," he says. "What makes them resilient is they're blue-chip corporates or maybe bodies that benefit from public-sector income streams or quasi-public-sector income. Only the strongest make the cut."
Howard Meaney, head of real estate UK at UBS Asset Management, says: "The important thing is understanding the counterparty and building a relationship… and being confident in the ability of that business to evolve over the duration of the lease. The world will be very different in 25 years' time, so you want a covenant that is going to be enduring and a location that will be sustainable."
The myth of shorter leases
Europe represents an almost untapped market for long-income funds, according to managers, who say the strategy is in its infancy in the region. One of the arguments against pursuing long-lease investments in Europe has been that leases tend to be shorter on the continent than in the UK where 25-year leases have long been the norm.
Simon Redman, global head of product management at Invesco Real Estate, says: "Whilst a compelling idea – and I'm sure investors were interested – it's rather more difficult to execute in continental Europe than in the UK by virtue of the different lease structures, which is why we haven't seen as many of these things in continental Europe. However, opportunities do exist in more specialist sectors such as hotels."
Some managers, however, say the assumption that continental European leases are shorter is unfounded. French leases traditionally last up to five years, but leases of at least 15 years are available elsewhere in Europe.
Jayasingha says: "The market is bigger in the UK because the long nature of the leases tend to be more popular in the UK than in continental Europe, but it's possible to find these strategies in continental Europe."
Speaking at the IPE Real Assets & Infrastructure Investment Strategies Conference in October in London, Gil Bar, managing director of Aviva Investors, said he spent two years researching the market in continental Europe. "We are believers that there are opportunities," he told delegates. "In fact, we think the opportunities are probably a little more complex but wider than in the UK."
"Investors in UK long-lease or secure-income real estate strategies have been very pleased with the long-term, stable income stream they provide"

Luke Powell
Powell says: "We're convinced there is a market out there because we've seen plenty of properties come across our desk that meet the requirements of a long-lease property fund. Long leases don't grow on trees in the UK market. It's a myth that it's easy to do in the UK. It's not. It's not easy anywhere."
Core Europe and Scandinavia are the current favourite destinations for long-income funds, according to managers, due to the greater likelihood of secure cash flows from Nordic and western European countries. "We think for a fund of this kind where the focus is on de-risking to a large extent, it's more appropriate to focus on the markets that are more resilient and display lower volatility than others," says Powell.
Managers often cite a sector-agnostic approach to long-income property, preferring a diversified tenant base focused on quality. However, hotels and serviced apartments are gaining attention, according to Redman, who says insufficient accommodation supply is failing to keep up with the volume of travellers to Europe.
Meanwhile, Powell sees strong opportunities in car parks and the senior living sector. "Alternative sectors are a very important source of product in the UK and we would expect that to be the same as in continental Europe," he says.
Other challenges include a more fragmented adviser market in Europe and multiple jurisdictions. "Having a full understanding of the legal framework of the jurisdictions you're operating in is important, says Jones. "Thinking about various holding structures you're using… the tax impact on your returns… there are more things to consider running a pan-European fund."
Long income arguably sounds more appealing as concerns of another financial crisis grow. "Uncertainty plays positively to long-lease strategies," says Booth. "We've shown through two downturns it's a lot less volatile, it provides greater capital stability because of the secure income profiles."
However, managers will need greater understanding of long-income among investors to fuel inflows. "It's our belief that investors do need this kind of product [in Europe], but they may not be aware that a long-lease or secure-income real estate offering is what they need to meet their liability requirements," says Powell. "That's an educational challenge."
Income strips could flourish
Investors are slowly increasing exposure to income strips, a market that might be about to grow
Income strips – an amortising variant of the long-income strategy in which the real estate manager sells the underlying property back to the occupier for a nominal sum at the end of the lease – continues to divide firms.
Luke Powell, investment director at Aberdeen Standard Investments, estimates that income strips account for about 10% of Standard Life Aberdeen's UK long-lease strategy due to its ability to generate steady income streams despite the lack of residual value at the end of the term. The model is ideal for pension funds matching liabilities, but Powell says he would be wary of building too much exposure to the strategy.
Some clients of Willis Towers Watson have sought income strips for lower-risk strategies, but others prefer long-lease strategies that allow them to retain ownership of the underlying assets in the long term.
Renos Booth, head of real estate long income at Aviva Investors, says Aviva manages more than £1bn (€1.1bn) in income strips, spread across funds including its commercial fund and social housing fund. "We see that market growing significantly as well," he says. "It's educating the market. Local authorities like it because they get the real estate back at the end of the term. It's secure income against the [local authority], inflation-linked, it's a very clean cash flow for our investors as well."
Matthew Stone, head of long income at M&G, which runs a dedicated UK income strip fund, predicts the market will grow significantly in the coming years as new international rules regarding leases, due to take effect in 2019, are set to broaden the strategy to corporates globally.
Today, he says, most leases are operating leases, but following the implementation of the new IFRS 16 standards all leases will become finance leases, resulting in greater upfront costs on a company's balance sheet.
"Currently income strips are accounted for by occupiers as finance leases – which they want to avoid at all costs – so the only organisations using them are the public sector and universities," he says.
However, a by-product of the switch to finance leases will be the ability for corporates to buy back their freehold for £1 – or €1 – at the end of a lease. "As all leases will shortly be effectively treated as finance leases, the corporate market is about to open up to income strips," he says.
Long-income funds: A multi-billion UK export
1

Currently reading

Long-income funds: A multi-billion UK export

2