INREV is preparing to launch its Asset Level Index. Henri Vuong explains why it is such an important development in increasing transparency for European real estate investors
A decade on from the financial crisis, real estate investment has recovered a considerable degree of confidence and stability. Lessons appear to have been learned. The industry has addressed some of its biggest challenges: there is greater visibility of potentially devastating underlying structural issues, such as debt risk; and the historic perception of real estate as an opaque asset class is changing.
However, the job is not done yet. For many market participants, achieving transparency remains one of the highest priorities. For investors and asset managers alike, it is a question of being able to confidently view real estate as a sustainable asset class alongside its peers.
During its time, INREV has focused principally on improving transparency and standards, introducing initiatives designed to address these interconnected objectives.
Supporting some of its key tools, such as the INREV Guidelines, the Data Delivery Questionnaire and the Standard Data Delivery Sheet, INREV's broad performance indices help to provide a robust and comprehensive picture of the market. The aim is to optimise access to the best available insight and knowledge and to provide a mechanism for peer-to-peer comparison that helps inform investment strategy and enhance decision making.
The number of indices has grown steadily from three to eight over the past four years, in line with the need for greater visibility of data that enables analysis and makes real estate more comparable with other asset classes. New indices are added whenever the industry recognises a new need.
For some time, the industry has been in search of a dependable, independently-managed index to track the performance of individual assets within real estate vehicles across Europe. All the existing indices lack a degree of consistency.
To this end, in 2016 INREV announced an industry-wide project to develop a workable format that plugs this gap and provides a more comprehensive picture across Europe, enabling more robust cross-country comparison. The result is the Asset Level Index – the consultation edition of which is expected in Q2 2019 – which will considerably enhance transparency.
By adding to the existing fund indices, the Asset Level Index offers an opportunity to develop a vital link between fund and asset performance, delivering an additional line of sight across data at an unprecedentedly detailed level.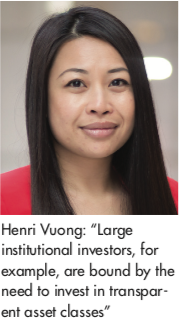 A cohort of 31 INREV members, including leading investors and asset managers, was quick to sign-up up to the project. For the best part of the last two years, this working group has pursued a journey of forensic prototyping, consultation and beta-testing and has overcome practical and conceptual challenges, culminating in the near-final version of the index. There was clear consensus among these contributors from the outset that the right outcome would be reached and that the index had the potential to radically, and very positively, change the non-listed real estate industry.
The impending launch of the index comes at a time of structural change that goes way beyond the real estate market and which is focused on a requirement to interrogate ever deeper layers of big data. Of course, it is not simply about volume. Arguably, real estate is some way behind the curve in terms of the quality and depth of data it has available at every level of the research and investment process, despite the fact that the industry is awash with more data now than ever before. In this respect, the index will meet a critical need.
Large institutional investors, for example, are bound by the need to invest in transparent asset classes, using historical data to model future decisions about asset allocations. Therefore, there is a justifiable assumption that, in providing clearer visibility of underlying assets, the index could encourage greater capital allocations to real estate from these participants.
The index will, for the first time, ensure that rich data is available quarterly throughout Europe. This will help bring greater consistency across different countries – especially in terms of performance measurement methodology and comparability of different types of real estate investments.
It also has the potential to deliver a global impact. The scope for participants to include data on their holdings in other regions, such as America and Asia, and combine this with data generated locally in these regions (through NCREIF's and ANREV's existing rich datasets), makes global performance comparisons more achievable.
The Asset Level Index has a great deal to offer in broadening participants' understanding of asset- and fund-level performance. In this respect, it will be a natural evolution from the indices that INREV already provides linking fund- and asset-level data more directly. Though the fund to asset attribution will not be available immediately, it will be the first time that this link will be available to the market in a comprehensive and open format.
Investors see the index as offering a better indication of 'winners and losers' allowing them to assess where investments work well and where they could be improved. It will help to reduce the information asymmetry between investors and managers and improve communications and alignment of interest between the two groups. For asset managers, the index will help assess investments and make necessary improvements.
With data sets of pure real estate performance – stripped of leverage and financial structuring – the industry will develop a better understanding of performance and risk through more-sophisticated analysis. The direct benefit of this enhanced knowledge will be an ability to make more informed decisions about portfolio and risk management; as well as capital allocations across sectors and geographies.
Work to date has focused on creating a comprehensive index which is straightforward to contribute to. These are important considerations because the outputs and outcomes from the index will only be as good as the inputs. The greater the level of participation from the industry, the more robust and useful the index will be.
At its launch, the index will represent assets under management of about €120bn. This will be a strong base, but critical mass is clearly important, and the ambition is that the index will ultimately include data from, if not all, at least the majority of the industry.
Keep things simple
Despite the overwhelming level of support from the industry for the principle of the index, there has been an inevitable degree of apprehension over practical implications.
So, while contributing data will not be entirely effort-neutral, the index platform and data input tools have been meticulously selected and designed to make contributing information as painless as possible. Shifting to an automated data-validation system, for example, will eliminate the possibility of human error and make the reporting process user-friendly.
The accompanying index analysis tool will make the interpretation of data straightforward, intuitive and comprehensive. At the click of a button, contributors to the index will be able to filter data according to their requirements and access insights into the drivers of vehicle performance. And users will also benefit from secure access to data, anywhere and at any time.
Making key data publicly available through the index, will contribute to the globalisation of standards and help to drive the cost of transparency down. It is an important factor that has the potential to positively influence perceptions of real estate in relation to other asset classes.
Henri Vuong is director of research and market information at INREV