Risk appetite among borrowers declined and LTVs fell in 2014, according to new research, but fundamentals are good, writes Emma Huepfl

In 2014, confidence returned to the UK real estate debt market and other European markets stabilised. Structurally, the supply of liquidity to real estate in the UK is now more like the American model with approximately 25% of the capital last year supplied by non-bank providers, although the CMBS market has not yet reactivated meaningfully in Europe.
With a large volume of global capital on the hunt for a home, lending on tangible assets backed by strong cashflows has been irresistible. But it has not just been a case of institutions challenged by low yields in other asset classes pushing into the sector. Deposit-rich German banks and Japanese banks beset by low domestic lending yields are looking overseas to find investment opportunities, and UK borrowers have been big beneficiaries.
Despite this, risk appetite among borrowers actually declined in 2014, as reported in the Laxfield UK CRE Debt Market Barometer. A look at current data confirms that this is a continuing trend: average loan-to-values (LTV's) have fallen from 59.6% at the end of 2013 to 56.8% at the end of 2014.
A cautious approach to leverage prevails, and cash, not debt, is the value driver in UK real estate. The extreme nature of the global financial crisis purged many risk-hungry investors who have not yet re-appeared in the market. On the whole, borrowers simply do not want high leverage; cash piles need to be deployed before financing comes onto the agenda, and long memories remain of past problems caused by over-leverage.
So despite a smorgasbord of debt products available from global capital sources, borrower appetite is restrained, and this is keeping a lid on hyperactivity for the time being.
However, real estate debt is an imperfectly mapped market, and while borrower restraint is keeping things in check, it is no sure-fire way to prevent a longer-term bubble developing. A bubble might not be immediately obvious when the market is flooded with lending capital.
For borrowers, life looks positive. All-in the cost of funding is at a historic low, and short and long-term debt is in good supply. Ironically, one of the biggest challenges for a finance director is rounding up all the disparate capital in the market to identify the most appropriate and competitive lender.
So where does that leave institutions still considering commercial real estate debt investment in the UK or Europe? Has the moment passed to allocate to the sector? We don't think it has. If anything, in the past quarter we have seen a surge in bank and institutional capital wanting to enter the market. Diversification is the strongest motivation, followed by yield pick-up.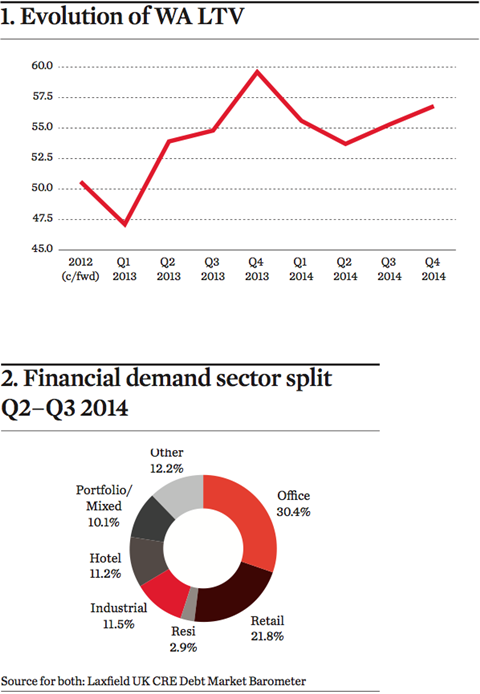 On the plus side, conservative borrowers are a great starting point for loan investment, and finance demand is spread through a broad range of asset types (see figure 2). Loan agreements are covenanted and there still is an attractive margin over equivalent fixed-income investments.
Good economic fundamentals underpin UK real estate, as well as a liquid market at asset and loan level, and familiarity with London real estate all add to the attraction. There will be more to play for this year, as continued activity in real estate looks set to drive volumes. For experienced lenders wishing to diversify globally, the UK is a benign environment, with transparency and good enforcement procedures. All of these prolong the attractiveness of the investment class.
The negative side is yield compression, competition and an expectation that lenders will be pushed by borrowers towards tighter terms. Clearly, values are high in the UK, and this means a careful approach is needed in underwriting refinancing risk.
This year's UK general election is likely to see real estate become a political issue, which might dampen the current confidence in asset values – although overseas investors seem less concerned about this than might be expected.
As syndication and distribution increases, loan buyers need to watch lending standards closely when the originator has no financial interest in the long-term outcome of the loan. But for many investors, the biggest issue is access to the market.
Origination used to be about cultivating good long-term relationships. Now, it is a game of sleuthing and reacting to investor activity, which means being prepared to scour the globe and getting credible introductions to borrowers on the other side of the world.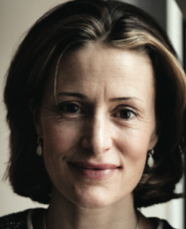 Hunting down lending opportunities will continue to be the biggest challenge for investors. Allocation and investment in the past few years have been two different things, and there is polarisation in the market between those that have managed it and the frustrated remainder.
My summary? Fundamentals good, deployment tough.
Emma Huepfl is co-principal at Laxfield Capital