There is a growing clamour to generate opportunistic returns from euro-zone markets. But Paul Vosper and James Spencer explain why they are cautious of looking beyond the UK
The distressed opportunity in the euro-zone – and, more specifically, around the Mediterranean – has received a tremendous amount of interest in the past 18 months. In response, a number of fund managers have raised substantial sums to address market demand.
Investor sentiment is increasingly positive on the distressed opportunities in Europe and investors are increasingly looking at riskier strategies. While the perception seems to be that there are increasing risks of deflation in the euro-zone, investors are looking to a market recovery and falling sovereign borrowing costs (even in the most indebted countries) to improve real estate fundamentals. For the moment it seems that investors' increased
appetite for risk is outweighing the fears of deflation (although the recent equity market turmoil may indicate that markets are waking up to this risk).
Since the global financial crisis, Morgan Stanley AIP Real Estate has been extremely cautious of euro-zone real estate markets. This is in marked contrast to our view on the UK, particularly the London market, where we have been very active. We feel it is too early to enter the euro-zone where the opportunities have provided a negative, asynchronous return profile – the downside risks remain elevated with the return profiles insipid. Market pricing in the euro-zone has not generally adjusted down and the bid-ask spread has tightened on a number of prominent non-performing loan (NPL) portfolio sales.
Looking at the macro factors in the euro-zone, economic growth remains subdued across the region. In Q2 growth in the euro-zone, according to Eurostat, reached 0.2% quarter-on-quarter. An annualised 0.8%1 growth is about half of what economists had expected. Germany currently represents the bright spot in the region, but French growth has stagnated and Italy, Spain and Greece have shrunk.
Against the backdrop of low growth, austerity programmes, spending cuts and tax increases, it is no surprise that job creation is weak (unemployment rates in Greece and Spain are over 25%2). In effect, the euro-zone has been in a continuous recession since 2008, with some false dawns. Long-term stagnation seems a real prospect and sovereign debt levels have risen. Without wholesale structural reforms and/or higher inflation in many of the euro-zone's larger economies, it will be difficult for many countries to become more competitive with Germany and the UK, or to reduce their debt.
Further conflict in Ukraine and the potential for a disruption in energy supplies might have a disproportionate impact on the euro-zone, with rising energy costs potentially strangling any embryonic recovery. Further exacerbating these deflationary pressures, bank lending to the private sector has been shrinking as banks hoarded cash ahead of the European Central Bank's Asset Quality Review and stress-test in October. Deflation risk, while not in our base case, still remains uncomfortably high.
Adding to this economic mix, a populist backlash is rising across the euro-zone, with euro-sceptic parties increasing in popularity in France, Holland, Greece and Italy. The recent European Parliamentary elections returned a substantial increase in the vote for anti-European parties, in a heady mix of anti-austerity and anti-immigration, and a backlash against a perception that European institutions are remote and detached from the issues faced at the local level.
While it has been clear that the UK Independence Party (UKIP) and the National Front would achieve gains in the UK and France, respectively, in Germany the pro-EU/anti-euro, Alternative fur Deutschland, also achieved a breakthrough. The ECB is even more unpopular than the European Parliament – according to the Pew Research Centre, only 30% of respondents hold the ECB in a positive light.
It is important not to overstate the significance of these election results, because these disparate protest parties have yet to translate their European election victories into success at a national level. What is clear is that the mainstream parties in Europe are worried enough to make further transfers of sovereignty very difficult, making further structural reforms and centralised responses, including those to the banking sector, increasingly politically difficult.
This combination of poor economic conditions and growng euro-scepticism warrants a continued cautious view of the euro-zone for real estate investors.
Spain, Ireland and Italy
The belief that Europe offers both a distressed opportunity and a recovering economy has led to a surge in international capital raised for opportunities in Europe. Private equity real estate fund managers have approximately €40bn to invest in Europe, according to Preqin, representing a sizeable increase in 'dry powder' over the amount in 2012-13. To date, Ireland, Spain and Italy have been the main focus for investors. In 2013, transaction volumes in Spain increased by 85% year-over-year, with over 60% of properties bought by international buyers3. Large US private equity real estate investors have also acquired servicing platforms worth approximately €3.4bn to help source, purchase and asset-manage large distressed portfolios4.
Over the past year, international capital flooded into Spain with the anticipation of acquiring prime real estate assets in Madrid and Barcelona at high single-digit yields; however, this opportunity never materialised. Owners of those assets, including large insurance companies, family offices and private individuals, were not motivated to sell.
The introduction of Sareb, the Spanish 'bad bank', has received a large amount of press since opening last summer. In 2013, Sareb met with over 700 fund managers and sold approximately €9bn worth of assets, which could increase significantly through 2014. A large number – approximately 600,000 units of bad loans and underlying properties, consisting largely of development, land and residential loans, with only a small proportion of assets secured against commercial properties (approximately 20% of Sareb's portfolio) – were transferred to Sareb5.
Although Sareb initially looked at selling its strongest properties, the price the market was willing to pay for these portfolios was too low from Sareb's point of view; however, we see anecdotal evidence of falling bid-ask spreads. Outside of the stronger assets, the quality and pricing of Sareb's portfolio is questionable, and given its return target, coupled with a lack of incentive to transact quickly, we do not believe there is currently a strong opportunity to make good risk-adjusted returns on large portfolio transactions in Spain.
In contrast, we believe opportunities will arise in Spain to acquire smaller assets, typically below the radar of larger organisations, in in-fill urban locations at attractive prices.
Relative to Spain and other peripheral European economies, the Irish real estate market has improved at a faster pace. In 2013, investor sentiment and transaction volumes increased significantly, driven by a continued process of deleveraging by various financial institutions and National Asset Management Agency (NAMA), as well as an improvement in the underlying rental market in Dublin. Similar to Spain, international buyers have represented a large proportion of the buyer market in Ireland. In addition, we believe the establishment of a REIT market may help in bringing additional long-term liquidity to the market.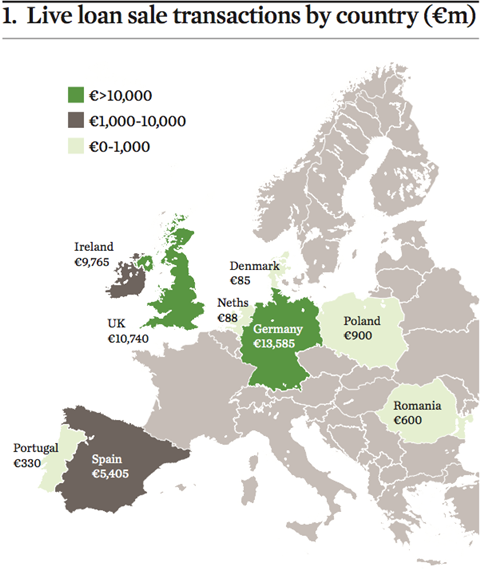 Like many other peripheral European economies, the lack of capital expenditure on properties in Ireland has created an opportunity for investors to refurbish and reposition assets in a market where available good-quality stock is diminishing. Following three years of little construction in Dublin, we expect the recent improvement, particularly in the office market, to offer selective opportunities for opportunistic investors – albeit in a relatively small city in European terms (approximately 20%, in square feet, of the London office market)6.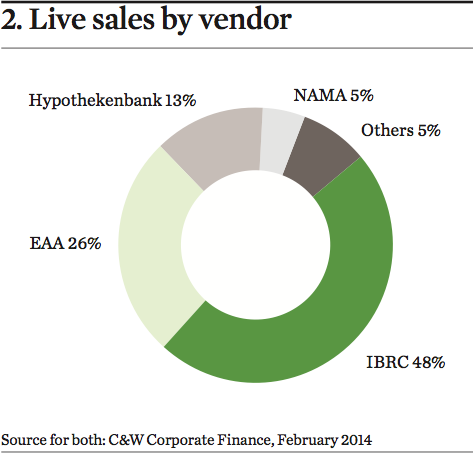 In comparison with Spain and Ireland, the recovery in Italy is expected to lag due to political risks, high public debt and a weakened banking sector. Italy's GDP has shrunk by 8% over the past six years. To return to 2008 levels by 2016, the Italian economy would have to grow six times faster than its current 0.6% annual growth7. A combination of austerity programmes and a lack of political will to tackle the country's notoriously inflexible employment laws (making it expensive to hire new employees), Byzantine corporate regulation and outmoded tax system, make growth prospects dim. Although the demand for Italian assets is growing, with triple-digit transaction volume growth in 2012-13, we expect the market is unlikely to recover significantly in 2014.
UK, France and Germany
France is one of the few countries in Europe that has seen a fall in activity, and we continue to have reservations about the French investment market. The French economy is still struggling, and will probably continue struggling for some time. The Paris real estate market has very weak take-up as there is no, or very limited, organic growth in tenant demand. As a result, effective rents are falling or projected to fall. In addition, the tax climate in France has made the country relatively less attractive, particularly to foreign capital, than other European markets.
In contrast to these markets, the UK has benefitted from early action to cleanse its banks balance sheets, an aggressive monetary policy and a sharp devaluation of sterling. The London real estate market has showed strong performance with continuing yield compression, growing take-up and rental growth. The strong performance of London real estate is spreading to the regions and 'yield hungry' investors are increasingly looking at investments outside London. While London pricing is getting expensive for marketed transactions, we continue to see attractive deal flow accessed through off-market channels, particularly in the office and residential sectors.
As the bright light in euro-zone economic terms, Germany presents a more positive investment picture. However, current high demand by investors is making pricing challenging. Opportunistic and value-add funds are always ahead of the fundamentals and investment in Germany is the perfect illustration of this – growth is only slightly positive and unemployment, inflation, and debt levels remain low. Furthermore, in the short term, there is not a particularly compelling growth story.
But German commercial real estate transaction volumes rose 21% year-over-year to a five-year high of €30bn8. Germany has been one of the most stable markets historically and the medium to long-term economic outlook is strong.
To date, Germany has experienced less distressed transaction flow than expected. German banks are still slow to take any write-downs. However, closed-ended and some open-ended funds are now approaching their legal maturity date and may be forced to sell at attractive pricing. As discussed above, the German banks balance sheets include a large portion of illiquid commercial loans, and therefore, may not fare well in the stress-test process, forcing disposals.
Catalyst event to capitulation?
With weak fundamentals and the risk of deflation, we would need to see a significant drop in prices in the main euro-zone markets to generate an attractive risk-adjusted return. The main catalyst to generate owner capitulation needs to come from the ECB. Much will depend on its ability to create uniform standards for loan impairment and require more realistic asset valuations across euro-zone banks.
Given the large amount of capital raised by large funds, we think it is unlikely that value will be found in portfolio and NPL transactions. In our view, the more attractive approach will be to focus on individual assets purchased at an attractive basis and providing an attractive asynchronous risk-return profile.
The risk, if the ECB fails to address this issue, is further constriction in bank lending – a situation that would resemble the Japanese zombie banking crisis of the 1990s, with mountains of loans left decaying in their vaults.
Paul Vosper is managing director and James Spencer is investment analyst at Morgan Stanley Alternative Investment Partners