The UK's vote to leave the EU has caused investors to re-evaluate political risk. With elections on the horizon across Europe, political instability in the region has never been so pronounced, writes Russell Handy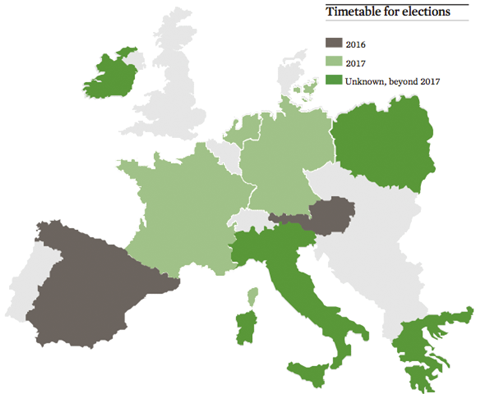 The Netherlands
Along with buoyant consumer confidence and rising purchasing power, Dutch economic growth should provide a supportive macroeconomic backdrop for real estate, according to Boris van der Gijp, strategy director at Syntrus Achmea Real Estate & Finance.
The Dutch economy is expanding at a faster rate than the euro-zone average, with GDP forecast to grow by 1.7% this year. The country goes to the polls next year.
The Dutch residential investment market is "on fire", says van der Gijp, with demand exceeding supply and total returns above 10%. "Initial yields of 3.5% for residential projects in Amsterdam's top neighbourhoods were unthought of last year, but are a common occurrence now," he says. "Rising prices are forcing some investors up the risk curve to more secondary locations and value-add product."
Yields at the core end of the retail market have fallen to around 3%, says van der Gijp, who says that with limited prospects for rental increases on the horizon, the retail sector "appears fully priced".
The Dutch office sector is back on investors' radar screens, he says, with continued demand for quality assets and increasing investment volumes.
France
Presidential elections next year and a heightened level of national security have combined to create uncertainty in France.
Although labour law reform was this year eventually forced through by prime minister Manuel Valls, France is faced with 9.9% unemployment, according to national statistics institute INSEE.
"We are still in a low growth environment," says Nathalie Charles, AXA Investment Managers Real Assets' regional head of asset management and transactions for Southern Europe.
Charles says she does not expect a huge impact from politics on real estate in the coming months.
Issues of national security following terrorist attacks have not gone away, she says.
While tourism in France has been affected this year, a high level of personal saving in France means that there is "money to spend", Charles says.
There is, she says, a "resilience" to the country's real estate sector, with the Paris region enjoying "reasonably good" office take-up and investment continuing in core, safe assets with low risk.
Spain
A third general election in just 12 months could be held in Spain, possibly at the end of this year.
Coupled with an unemployment rate of 19.6%, according to Eurostat, the country is a potential minefield for investors.
However, Madrid's political instability has not dissuaded investors from seeking assets in Spain, according to national advisory firm Aura Real Estate.
Deutsche Asset Management recently invested €493m in Barcelona's Diagonal Mar shopping centre.
The company's Madrid-based Iberian real estate investment business said the 90,000sqm asset had maintained a solid performance and continuously increased sales and visitor figures.
A steady flow of asset sales has kept Spain's real estate market active. El Corte Inglés is selling a €300m logistics portfolio, while the Ministry of Finance is selling 34 buildings in Madrid.
Aura Real Estate also points to Spain's nascent REIT regime, or SOCIMI. Almost €1.bn has been raised by four REITs, Merlin, Hispania, Grupo Lar and Axiare this year.
Italy
While the country is no stranger to electoral instability, a referendum on major political reform called by prime minister Matteo Renzi comes at a time of increased economic uncertainty.
Simone Roberti, director of research at BNP Paribas Real Estate in Italy, says that despite investors finding themselves in an environment of negative interest rates, the real estate sector is faced with "several uncertainties" over the coming months.
As well as the referendum on the Italian constitution, restructuring of the banking system – including a government bailout – could impact investors in Italy.
Manfredi Catella, chief executive of COIMA, which became Italy's first property IPO in a decade in May, says Italy is "well on track on committing to reforms".
"It could also provide opportunities that are quite unique," Catella told investors on a recent conference call.
Italy, he says, is "one of the best markets in Europe when you look at the spread of net prime yields," which he says are 50 to 80 bps over other European cities.
BNP Paribas Real Estate says the Italian real estate market is "continuing to benefit from strong momentum".
"Despite significant volatility factors, performance in the first half of this year benefitted from the completion of a number of transactions initiated in the second half of last year," the firm said.
Germany
With parliamentary elections on the horizon next year, the future of Angela Merkel is in the balance. Merkel, in power since 2005, has given no indication of her plans.
Her decreasing popularity has brought an increase in support for Germany's far-right Alternative für Deutschland party.
"We're very worried about the political (situation) there," Steve Buller, portfolio manager at Fidelity Investments, this month told delegates at the annual conference of the European Public Real Estate Association (EPRA) in Paris.
While political instability could have an impact on Germany, uncertainty around Merkel's future is also of relevance to the wider euro-zone.
Olaf Janssen, head of property research at Union Investment, remains confident in prospects for Germany, where unemployment is around 4.3%, according to national statistics office, Destasis.
"We expect to see even more interest in the German market from foreign investors," Janssen says, with discussions over Brexit back on the agenda after the summer break.
German real estate Spezialfonds generated their highest annualised total return since 2009, according to MSCI.
The IPD German Quarterly Spezialfonds index, which covers 180 funds with a net asset value of €45.1bn, posted an annualised total return of 3.7% in Q2 2016 – the highest since Q3 2009.
Janssen says that Berlin is Germany's most active office market, with more than 800,000sqm leased this year.
"Germany's top office markets will be characterised by falling vacancy rates and rising rents next year," he says. "It's not impossible that next year Munich could overtake Frankfurt as Germany's leading office market."
Poland
Despite 9.8% unemployment, the country continues to attract international investment and office occupiers, with the financial and tech sectors particularly enamoured with the choice of office space in a country that went to the polls last year.
Richard Aboo, partner and head of office agency, Cushman & Wakefield, says Poland has enjoyed increased activity in the past six months from both the supply and take-up side, which, he says, "clearly shows encouraging signals that Poland still remains an attractive place to locate business, especially in the tech and financial sectors".
"This is expected to continue to the end of the year with 2016 being yet another record breaking year," he adds.
Of the 620,000sqm leased in the first six months of this year, Warsaw accounted for 60%, or 372,000sqm, of Poland's total take-up.
Nearly 572,000sqm of modern office space was delivered onto the Polish market in the first half of this year, of which 350,000sqm (58%) was delivered in Warsaw.
Cushman & Wakefield expects 310,000sqm to be added to Poland's office stock by the end of this year.
With a development pipeline for 2017 and 2018 of more than 1.5msqm, of which around 771,000sqm is to be delivered in Warsaw, supply levels are likely to remain high over the next two years, the firm predicts.
The Polish economy, which grew 3.1% year-on-year in the second quarter, is enjoying improved business confidence, according to FocusEconomics.
However, the government's draft budget for 2017 foresees a fiscal deficit of 3.1% of GDP, slightly above the European Union's 3% deficit rule.
Austria
A re-run of the country's presidential election will take place in December after the far-right Freiheitliche Partei Österreichs challenged the result of May's vote.
Despite the political uncertainty, core assets in Vienna continue to attract overseas capital.
The largest deal for two years in Austria was completed this year by Bayerische Versorgungskammer (BVK) when it invested in an Austrian office through CBRE Global Investors and Universal-Investment.
The German pension fund for self-employed professionals bought the office tower in Vienna – its first deal in Austria – through the mandate.
"As Vienna is the second-largest German-speaking city globally, it continues to be an important business hub with attractive pricing/risk premiums," Klaus Kortebein, managing director of global key accounts at CBRE Global Investors said at the time.
Allianz Real Estate last year returned to the Viennese office market, buying the 'Haus an der Wien' office building for €94m, while Morgan Stanley Real Estate Investing (MSREI) last year bought the Wien Mitte building.
Greece
The country continues to struggle with the implementation of reforms outlined in its bailout agreement in exchange for fresh capital injections, says Sotiris Tsolacos, professor of real estate finance at Henley Business School.
"Progress on privatisations, liberalisation of the energy market, labour market reforms and dealing with NPLs among other preconditions set by creditors is slow, with reforms contradicting the leftist government's ideological foundations," says Tsolacos.
Major privatisations – seen as a catalyst to support the economy – are under way though. China's Cosco aims to make Piraeus the largest transit port in the Mediterranean.
A Fraport-led consortium will manage the previously state-owned regional airports and the Greek state's train operator is now in the hands of Italy's Ferrovie.
"The positive economic impact of such projects will take time to materialise," he says. "By choice the current administration has embarked on taxes to meet budgetary targets depressing further business activity and private consumption."
Markets and investors do not, he says, see a "credible growth plan", resulting in investor fatigue.
In the next 12 months, real estate investments will remain selective, he says, targeting mainly assets supported by tourism.
Tsolacos says distressed assets and NPLs will be on the radar of opportunistic investors who can pay "anything between one to two euros (non-performing for over two years) to 50 euros" per 100-euro loan.
Republic of Ireland
See Dublin City Focus.